Social Patch and the Pixel Pagent Faced Boy.
Anklepants is the electronic barrel organ of your Freudian nightmares . The nightmares where you are being psychoanalyzed by a traveling salesman with a penis for a face. It's a silly stuff that exists on the disturbed fringes of something 'artistic' but saves itself by being fun and accessible.
Taking the most rump-shaking bits of drum and bass, breakcore, IDM, house and whatever else this musical and actual antipodean chances upon, the final concoction is aimed at being really good fun. In person Anklepants is a polite though rather quiet unassuming guy with bad hair. However, the stage personae of Anklepants (or Reechard Farche) allows everyone to let go and devolve into excessive fun.
The album opens with the dancefloor philosophical entreaty ' ILIKEYOURFACEHEADSHOESANDDICK' in which the protagonist repeats how much he really likes our 'dicks'. It's a real barnstormer of a track that could be a killer party anthem if only it had a slightly more shouty chorus.
In terms of production and sound design Anklepants shows talent, and if his references are a bit close (Venetian Snares, Vibert, Aphex Twin) that's not bad thing, but it does undercut the originality of what makes Anklepants really great.
He's a New Romantic synth crooner, and a pretty good one, and he manages all of this under an animatronic ele-phallus face.
The second half of 'The übergründé _Memorising the names of the famous as conversation Ammunition' is a solid piece of work that exhibits a lot of potential but never really delivers. It's frustration itself.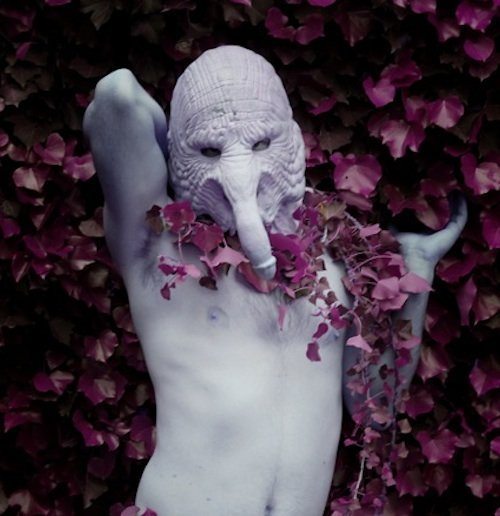 Is he making a larger point on permissive/transgressive gender roles by being both the cock and the tease? No. Put it out of your mind and away from your face.
The problem with this release is that Anklepants by straddling the positions of breakcore sex-beat meister (a la Duran Duran Duran) and twisted synth crooner, is that by having a ball in each groove he often fails to reach the heights of either. Tough love, or as Anklepants might put it – rough tongue.

That aside, huge tunes like 'insideyourfacedubstepbeanstalktoheavenfortheatheist' are amazing and the gut bucket dubstep bass drops keep the album bopping along to the main event; 'icky Wicky lollie pop (new fan dangle)'
[box] Evidently Anklepant's time in Berlin wasn't without some repetitive techno epiphanies. [/box]
This is tune was the one that attracted most people to the Anklepants performance and several years ago he came to my attention via a very twisted YouTube video of the self same song. This latest imagining is a lot harder than the versions of old. Evidently Anklepant's time in Berlin wasn't without some repetitive techno epiphanies. Whatever is done to it. IWLP is one of those songs that just really works; the beat is infectious and the accents and movements all collide in delicious ways to keep the heart racing and the eyes spinning.
What's more it's a dance floor killer, and if such things matter then buy it already and be thankful.
The final track 'Mammalian-Baby falcon's flight to rejuvenation' is again a view into the other performer that rounds out the Anklepants experience, the disturbed ID, which I think has the most longevity. Electronic music can be faceless and Anklepants with his over the top stage show and engaging voice goes a long way to making the experience more human – and what can be more human than the ugly/beautiful attraction of gentalia?

Overall, there is depth and worth here but the lack of cohesion in the how the album is put together makes it feel a like a sensational showreel rather than the polished effort of a master at work.
Despite this, the good outweighs the bad, and for all its faults Social Patching and the Pixel Pagent Faced Boy is a strong effort from an artist that is succeeding against the grain.
Recommended.
[button link="http://www.facebook.com/inonoutside" newwindow="yes"] Anklepants on FaceBook[/button]