[dropcap style="font-size:100px; color:#992211;"]A[/dropcap]s the established metal festivals grow ever more corporate, lumbering like giant behemoths too slow to realise their own demise….
Wilier, grittier predators boss the niche. Damnation Festival – a window-rattling, stickyfloor riot of real metal spirit. No moonlighting supermodels in roped-off VIP zones, no primped primadonna private-jet poseurs sleepwalking through their 1990s platinum albums, no bandanna'd bankers catching a little safe rebellion in a Derbyshire field.
As Trebuchet's Jed Saint summed it up in 2014: 'I leave it feeling like I've gone 10 or so rounds with a narked-off giant wielding a barbed mace.'
Damnation Festival 2015. The real deal.
---
US sludge outfit BLACK TUSK and English post-rock heroes MAYBESHEWILL  have been added to Damnation Festival.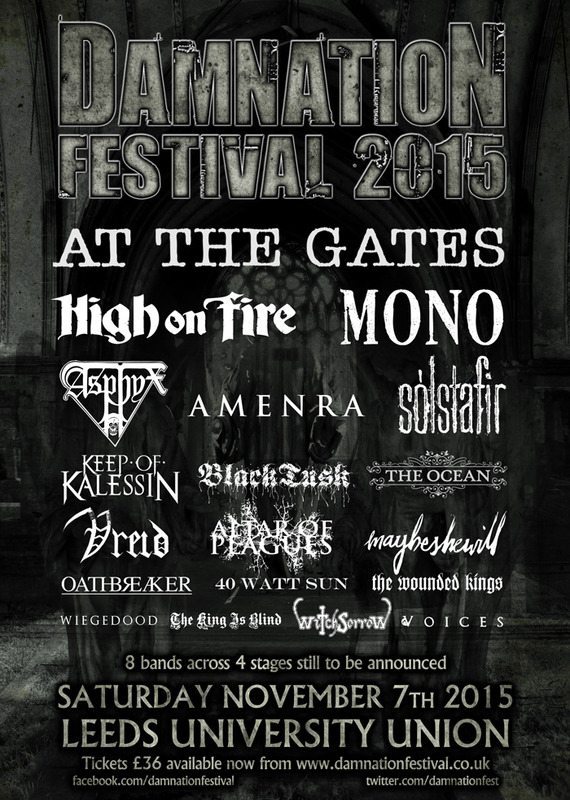 They'll be joined at Leeds University Union on Saturday be a selection of some of the UK's best rising death, doom and black talent; namely THE KING IS BLIND, WITCHSORROW and VOICES.
And making their debut UK performance will be Belgian black metal trio WIEGEDOOD.
Voices said: "All that is extreme and cutting edge both from the underground to the big players in extreme music pass through this festival and Voices are privileged to play amongst so many great contemporaries.
"Voices will be sure to bring only the most uncompromising sonic attack to Damnation Festival, as this is a crowd that can handle the jealousy, the obsession and the descent into utter and complete darkness."
And Witchsorrow added: "To be invited back to bring heaviness on Damnation once more is a very special thing for us.
"It's a truly great thing to be counted among such fine bands, and to be able to bring doom armageddon to such a unique festival. Prepare for total doomination!"
The six additions bolster a richly diverse four-stage bill which already boasts At The Gates, High on Fire, Mono, Asphyx, Amenra, Solstafir, Altar of Plagues, The Ocean, Vreid, Keep of Kalessin, 40 Watt Sun, Oathbreaker and The Wounded Kings.
With eight bands still to be announced and capacity reduced by 1,000 tickets in response to fans' concerns about overcrowding last year, it promises to be an 11th installment of Damnation Festival to remember.
Tickets are on sale now priced £36 from the Damnation Festival website and Facebook page.
The aim of art is to represent not the outward appearance of things, but their inward significance. – Aristotle