[dropcap style="font-size:100px; color:#992211;"]M[/dropcap]otörhead are a British institution.
Their name and logo is have become so iconic that high street department stores sell their t-shirts to people who probably can't name a single song (with the possible exception of "Ace of Spades"). But Lemmy's recent health issues saw a tour cancelled not once but twice, suggesting he isn't quite as indestructible as we thought. And one or two lacklustre recent festival appearances have suggested they're no longer quite the primal force they once were.
So, with their 22nd album Bad Magic, have the legends still got it?
"Victory or Die!", growls Lemmy as they launch into the raw and dirty rock'n'roll of the opening number. "Thunder & Lightning" barrels along like a runaway draycart, then comes the driving guitar-driven hard rock boogie of "Firestorm Hotel". Those first three numbers set the pace for the whole record. It's true that Lemmy's voice isn't quite as powerful as it was in their 80s heyday, but Motörhead still rock like a bastard even after all these years.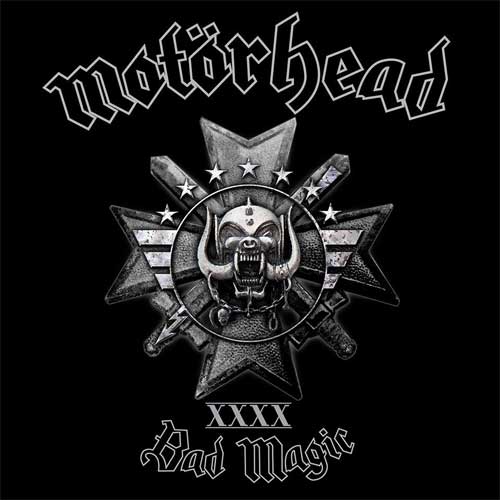 Other great moments include "The Devil", with a suitably demonic guitar riff, and "Choking On Your Screams", which falls on the metal side of the metal/hard rock divide with a particularly menacing vocal. The one change of pace is the slow blues "Til The End" where Lemmy drops his traditional gargling-with-broken-glass style and sings with a fragile, cracked vocal.
The album ends with a cover of The Rolling Stones' "Sympathy for The Devil" which doesn't quite convince, but aside from that, Bad Magic is a remarkably consistent record. Phil Campbell is economical but effective with lead guitar work, and Mikky Dee makes his mark on drums, especially his fusillade opening "Shoot Out All The Lights" and on the Maiden-like "Evil Eye".
You can argue all night about what genre Motörhead belong to. Lemmy has always denied they're a metal band, but they've been considered honourable members of the metal tribe right from the start. There's an awful lot of the attitude and fury of punk about them too, of course, but listening to this record you can hear deep roots in the rock'n'roll of the fifties and sixties that Lemmy grew up on. They, as much as anyone else, embody the primal spirit of rock'n'roll, turned up to Eleven.
Motörhead are still here, and they've still got it. Rock and roll will never die.
Bad Magic is available from 28/08/2015