[dropcap style="font-size:100px; color:#992211;"]M[/dropcap]ore than a little frustrated by the maddening roadworks of Leeds, it's touching half past three when I finally make it to the SU building.
Still, the prospect of a long days' metalling to come takes the edge off, and Damnation's setup is impressive right from the off. A student union is an ingenious place for such an event (their 10th anniversary, I might add), and to see the place packed with a sell-out contingent of the British metal community is something to behold.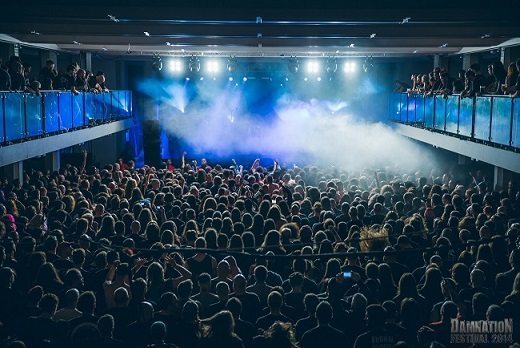 Photo: Gobinder Jhitta
Readily available are Stampin Ground, on the main (Jager) stage in the SU's Refectory. Any lingering pissiness from the drive over is instantly dispelled as I head straight for the front and get immediately sucked into a wall of carnage during 'Everybody Owes A Death'. Good start, I thought, as I charged the filthy orc horde, archers picking off my patchwork army of comrades as we desperately await reinforcements from the East (I've been watching Lord of the Rings again, sorry. Not sorry).
If I'm honest, the sound is a bit muddy for the Cheltenham 'core rabble, although some punishing drum-work and well-executed crowd rousing make for a decent set. "PAIN IS WEAKNESS" hollers frontman Adam. "LEAVING THE BODY" yell the crowded house obediently.
Next up is Winterfylleth on the similarly busy Terroriser stage.  To begin with, the Black Metallers' sound is subdued – with Chris's vocals especially being drowned in the mix. This improves as the set progresses, and the room is sweating for the unassumingly-clothed Mancs. It's certainly less explosive when compared to Stampin Ground's fare and the crowd reaction reflects this, with nodding heads in place of swinging limbs; testament to the variety in terms of both styles and audiences at this year's Damnation. They tell us they're playing some brand new stuff, to which someone in the room shouts "don't fuck it up!", which gets a laugh, but all in all it's possibly not Winterfylleth's best performance. They seem to be lacking a little charisma on the day and, truth be told, although the venue is full the reception is perhaps a little muted.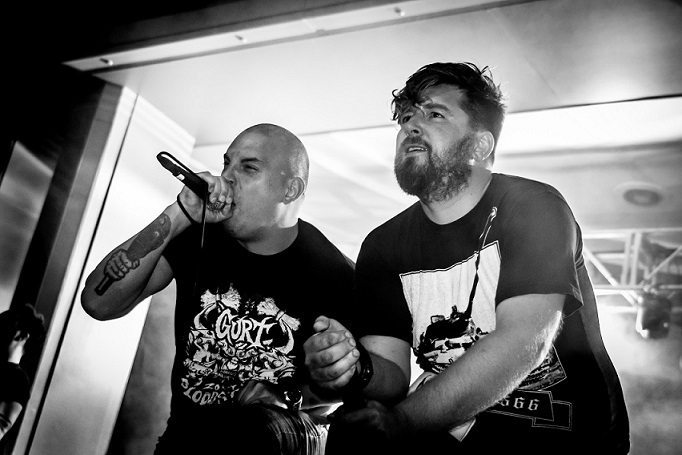 Raging Speedhorn by Tim Finch
Back to the Jager, then, for Raging Speedhorn, who start just as I approach the refectory, and Jeeesus is it loud. Pissed off and explosive, with confrontational vocals and frontmanship, Speedhorn draw the biggest and rowdiest crowd I've seen so far today. It's a crushing performance, featuring fucking beast-like vocals from a frontman duo who could happily out-roar a small passenger jet, above dense and sludgy riffery. 'Iron Cobra' is probably my high point of the set, but the window-rattling intensity of the whole thing makes for a definite highlight of the day.
[quote]to compare this to tinned sardines
doesn't really do it justice… it's closer
to tinned beans, or cous-cous squashed
unceremonially into a really small tub. [/quote]
From here to Iceland's Sólstafir on the PHD stage is a bit of a weird transition.  Granted, this transition is aided by missing the first seven minutes of their set queuing to get into the room – operating at capacity with a 1-in-1-out system in place. That said, although it's very busy inside, the room could definitely hold more, annoyingly. Now, I wouldn't say Sólstafir's is the tightest performance I've seen today – with the odd missed kick, for instance, perhaps taking it down a level – but if I'm honest I'm nitpicking to try and fault in what was a genuinely brilliant and passionately delivered set. If anything, it could do with turning up, and the fantastic progression and atmosphere generated by tracks like 'Fjara' really made the wait worth it. I'm actually disappointed when they have to finish. I was more than a bit mesmerised.
Top that, Orange Goblin! Back to the Jager stage which is, as always, mega busy. It's a fresh juxtaposition for my ear-holes to comprehend with the switch to thick, beating riffery and bellowed vocals, topped with groovy wah-wah licks (which fight for legibility in the thick mix soup). It's a proper rock and roll show, and well received by the Damnation faithful. Entertaining enough, but I've got to say following Speedhorn and Sólstafir's efforts a forgettable set in my eyes.
Anaal Nathraakh bring another level of chaos to the brimming Terroriser stage. Their pacy Black/Death stylings cue constant moshing on the lower level of the room, as crowdsurfers clobber their way forward. Finn the human joins the pit for 'Submission Is For The Weak', sword in hand, as my headbang meets a fist-pump and earns a lump the size of a pint glass. It's all good though – unlike the persistent technical issues with the bass rig. Once this is sorted, though, there's more intensity, more mosh, more wall of death, more metal.
Doom is the name of the game next with Saint Vitus on the Jager stage – slow, grooving riffs from the veteran metallers' classic 'Born Too Late' album lends a slower headbang to proceedings, as the number of beer casualties slouched in the corner trying desperately to instigate a second wind increases. Vitus' versatility emerges as they mix in a little pacier material, to unwaveringly good reception. The room is as full as it has ever been today, and the older metalheads in attendance are looking particularly pleased by the down-tempo mastery. Towards the end, though, my attention wanders.
[quote]I tried to keep count of just how
many fucks Cannibal Corpse declared
they don't give[/quote]
It's at this point I decide to check out Woodensthrone on the tiny Eyesore Merch stage, who are giving something speedier to a middling crowd. It's in the room known as 'the Mine', which apparently has no pits (well, not while I was there). The Black Metallers build atmosphere through intricate introductions, but the P/A is tinny compared to those in the other venues and it's a struggle to make anything stick. Not a bad diversion though, before Cannibal Corpse.
Cannibal Corpse needed to be on the main stage. The Terroriser stage is crazily over-capacity by the time the legendary Death Metallers take to the boards – almost every set I've seen today has been busy to touching capacity, but to compare this to tinned sardines doesn't really do it justice… it's closer to tinned beans, or cous-cous squashed unceremonially into a really small tub. The benefits of a smaller venue though are immediate when CC take to the stage, Corpsegrinder's commanding presence imposing and formidable.
The Buffalo bruisers pork their way through their gore-studded back catalogue with vicious windmilling and a near-infinite supply of f-bombs. It's a tough day to be a security guard, as the constant stream of crowdsurfers couples with being repeatedly whipped across the head by Corpsegrinder's furiously pivoting wall of hair.
Cannibal Corpse by Gobinder Jhitta
It's a belting set, as evidenced by the fact I leave it feeling like I've gone 10 or so rounds with a narked-off giant wielding a barbed mace. I tried to keep count of just how many fucks CC declared they don't give, but unfortunately that statistic escaped me.
Time for headliners Bolt Thrower, source of excitement for a lot of people I've chatted to over the course of the day, and of course the main stage is packed all the way back with the sell-out crowd for their brand of Death Metal.  Bolt Thrower have been around for quarter of a century, and it doesn't take them long to goad the nicely sauced crowd into motion with opening number 'War'.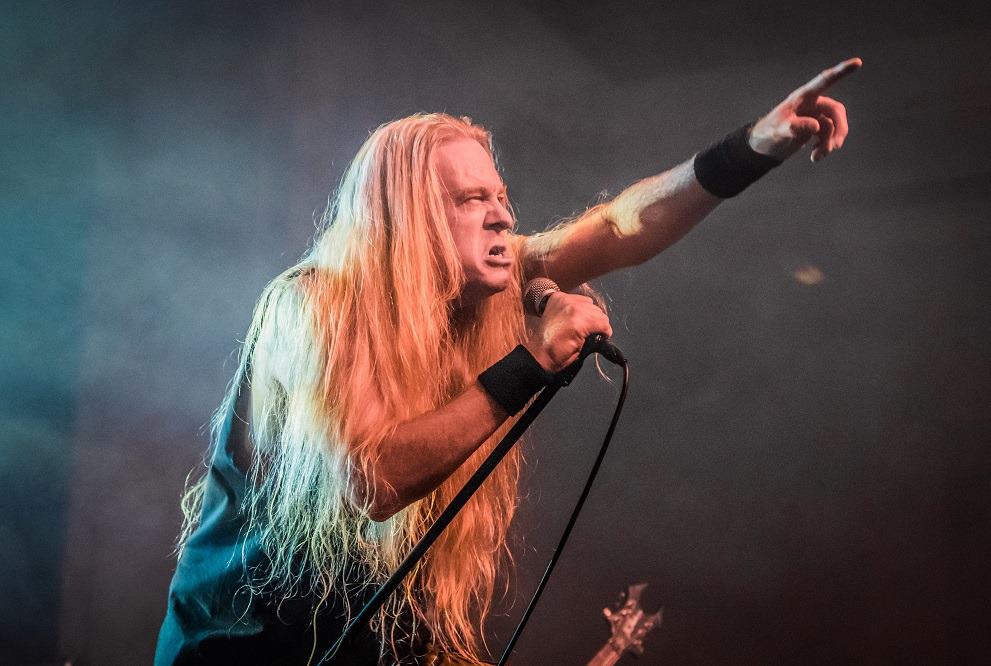 Bolt Thrower by Tim Finch
The production values are top notch, and as it looks like we'll be waiting a while for the opportunity to catch the Coventry 5-piece live again it's no holds barred. Vocalist Karl keeps everything ticking over nicely, as we're assaulted with gems like 'No Guts, No Glory'. I read somewhere that the Damnation organisers have been trying to book Bolt Thrower for over a decade. Touché, guys. A fitting end to a thoroughly enjoyable event.
On my way out, an ambulance negotiates its way onto the site, passing a couple of jaded metalheads having a cig. One sighs, turns to the other – "another one bites the dust".
No matter how heavy your event, it always ends in Queen.

Jed the Music Ed. is a Music Promoter/Booking Agent and general fixer with Rawkus Events. Jed's interests include a constant and reckless over-caffeination, irrationally spontaneous travel plans and maintaining an over-expensive (borderline hoarder) PC/retro gaming habit.