[dropcap style="font-size:100px; color:#992211;"]E[/dropcap]ven the temporary front steps to the building are metal tonight as London-based blackened death icons Akercocke hit Manchester Academy 3 (my favourite room in the complex due to its decent acoustics and intimate feel).
It's a Sunday night, and the downstairs bar is fairly quiet with its few student punters driving themselves immeasurably deeper into debt with the most expensive drinks prices I've ever seen in a student union-operated bar.
I follow the trail of black band t-shirts upstairs and land just as tour support The King Is Blind kick off their set. I'm greeted by a big, bald, beardy chap (frontman Stephen Tovey) who hollers at a half-full room, while his drummer gives the double kick a good old-fashioned hiding. It's pretty much exactly what I expected to walk into, to be honest (although I could have sworn the date was originally scheduled for the smaller Club Academy room, perhaps explaining the mediocre attendance thus far).
The King Is Blind's aesthetic is completed by some perilously pointy guitars and a bassist rocking the 'stock option on Guitar Hero' look. Between them, they deliver a death-metal inspired set with doomier moments and a two point vocal assault, with wild shrieks offsetting menacing hollers. The crowd reaction is a little muted however, and if I'm honest, they looked a little out of their depth.
This is the first full UK tour from headliners Akercocke since their break-up back in 2012 (with their last live performance back in 2011 prior to this year's Bloodstock Festival appearance), reforming with original guitarist Paul Scanlan and new album Renaissance in Extremis in the pipeline for later in the year. They enter the stage in a smoky haze of red lighting to an eerie backing track, before launching straight into it with signature explosive, gatling-sounding drumming courtesy of David Gray.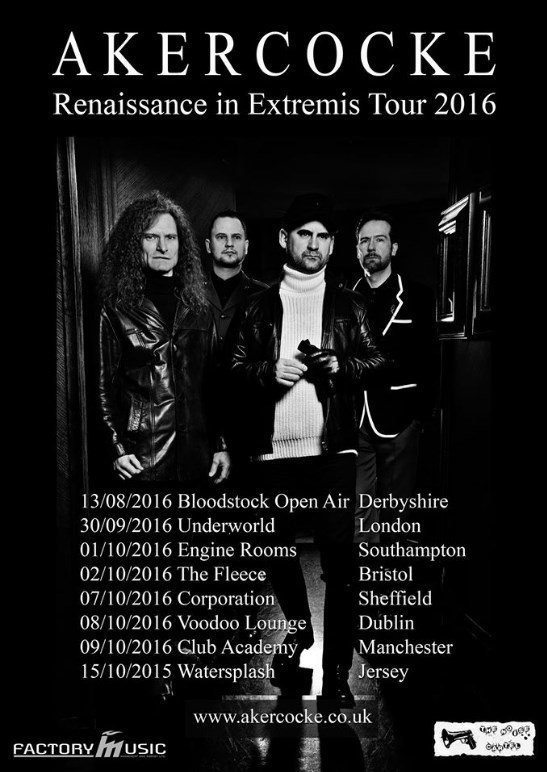 It's a bit of an off sound to begin with, the drums enjoying a crisp clarity yet everything else comparatively low in the mix (except perhaps the brown noise-low vocals of main man Jason Mendonça). This does get sorted out, yet it still comes across as pretty quiet in general for an extreme metal show (this one might be on me guys, fourth gig in a week meets hopefully temporary deafness).
I haven't yet decided whether this has much of an impact on a synth performance which features a keyboardist who doesn't seem to have much to do live and subsequently spends the vast majority of his time air drumming, like he's sort of wandered on stage and security haven't twigged yet.
The crowd is still fairly subdued for a band sold as a cult project and key influence in the extreme metal scene – perhaps due to the fact that it's a Sunday night – but there's a bit of windmilling at the front from the hairy contingent as crunchy, derivative metal guitar lines play out on more pointy guitars, and Van Helsing-summoning demonic shrieks carry us through the evening.
Akercocke's live show has an unrelenting pace to it tonight, to the extent that I'm surprised Gray isn't hooked up to an IV by the end, pounding away like a pubescent lad with a five-minute window before his morning alarm (or, indeed, simply a five-minute window). They're all sweaty and shirtless before long, melting in their uncompromising splat of speed and foul lyrics. 'Marguerite and Gretchen' is a bit more subdued, with somewhat wobbly low cleans perching atop a stewing guitar line, joined by foreboding bass before again cranking up the juice and belting the shit out of their instruments with 'Disappear'.
Their aggression is the only justification of a £15-ish ticket (£12.50 plus booking fees) I've seen so far, given they must have to rebuy all of their equipment after every show.
All jokes aside, a fairly forgettable night.

Jed the Music Ed. is a Music Promoter/Booking Agent and general fixer with Rawkus Events. Jed's interests include a constant and reckless over-caffeination, irrationally spontaneous travel plans and maintaining an over-expensive (borderline hoarder) PC/retro gaming habit.