[dropcap style="font-size:100px;colour:#46ffa5;"]C[/dropcap]ash and Jones may be gone but Dale Watson embodies all that good stuff from the past and shoves it unashamedly up the backside of today's music scene – All Hail
You know, county music ain't what it used to be. Like so many other genres, its entry into the radio friendly mainstream has led to its increased commerciality and blending with pop music. One man who is planted very much in the old school is American legend, Dale Watson. Describing his music as Ameripolitan to distinguish it from the young pretenders, his honky tonk and rockabilly infused blend of country could have come out of any of the preceding six decades.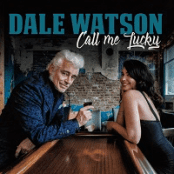 Having experienced immense loss when his partner died in a car crash in 2000, and subsequently struggling with personal demons, this is an artist who lives and breathes the heartbreak, hard drinking and redemption that is the very essence of country and this is exactly what I want to hear when I tune into a country radio station or drop my coin in the jukebox.
"Country music is a snake that started eating its own body"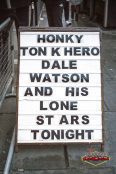 Sporting an immaculately coiffured huge grey quiff that would be the envy of those half his age, Dale has a cheeky glint in those steely eyes as he struts onto the stage at Camden's Jazz Café in front of an enthusiastic crowd, some of whom are sporting cowboy hats, and not the type usually seen at hen parties either, although there is a comparable level of frenzied excitement in the air. Dale is a charismatic rugged handsome man, no doubt and has the ability to make the audience melt right in his guitar picking hands.
"Rascal Flatts has more in common with The Backstreet Boys or NSync than they do Haggard or Jones"
Unlike many, Dale Watson is an incredible artist live. After listening to his back catalogue on replay, the live versions just seemed to have an extra layer of shine. Throughout the set the band blasted through tracks from the latest album, Call Me Lucky, whilst Dale peppered the whole thing with his unique banter, we loved the laid back twangy joy of Tupelo Mississippi and a '57  Fairlane. Other particular highlights were the toe tapping guitar riffs of A Couple of Beers Ago, and the classic drinking song, I Lie When I Drink. This was one of the most enjoyable nights of quality live music we've had in some time.
So with all that said, it came as quite a shock that before taking the stage at Bristol and shortly after playing London's Jazz Café, Dale put out a statement to say he would no longer be touring outside the USA.
---
[dropcap style="font-size:100px;colour:#46ffa5;"]H[/dropcap]i friends ,
I wanted to announce my decision to stop touring outside the US after this tour. I might come over for one off festival shows but after over 20 years of doing this, I'm facing the reality that it's not getting easier or any more profitable. Doing the same thing and expecting a different result, well, we all know the saying.
All this said, I want to thank my European, UK, Scotland, Ireland, Scandinavian and Australian fans for coming to the shows and supporting me all these years. Again, there may be a festival here and there that would fly us over for a one off show, but barring that, I look forward to seeing y'all stateside in Texas or Memphis. I'm going to concentrate on the Ameripolitan Awards and get the much needed exposure of the very talented upcoming artists so they can keep touring and make a living as I have in this crazy business.
I still have tonight in Bristol, England then Belgium, Netherlands, Germany, Switzerland and Madrid left on this tour, so these shows will be bitter sweet, but I am in good spirits about this decision. I'm NOT RETIRING by any means. Have bus, will travel.
Thank all of you for supporting my music and shows. See ya at the next one! Dale Watson
---
Before his announcement we were very lucky and thankful Dale gave up a little time to answer a few questions for us.
You were straight off the plane and in for a session with Bob Harris. How was the session and how is life on the road?
It probably wasn't our best performance and speaking for myself I made a clam on The Dumb Song but it is a live session so I didn't sweat it. It's such an honour to us Americans to do a BBC session, more so with the Legendary Bob Harris. He's been a kind friend for many years. As to the road, some tours are easier than others but I feel very blessed to have the demand to tour. So, no complaints.
You recently bought a house in Memphis. Does this mean that you will be spending more time in Memphis and less time in Austin, Texas?
Yes. I also bought a bar/restaurant in Memphis. It's Hernando's Hideaway, a famous roadhouse that all the Sun guys have played. It closed in 2006 and I'm ready-opening it this summer. We are going for the 50's and 60's era of the club's incarnation. I will still do my regular Austin shows, like Mondays at the Continental Club and Sunday Chicken $#!+ Bingo at C-boys along with the monthly Broken Spoke.
How do you balance managing your bars with your music career? How hands on are you?
I only have one bar now – Hernando's Hideaway. I'm very hands on. I learned I had to be from my last bars in Texas. I wasn't paying attention to Ginny's Little Longhorn and went on a month tour only to come back to my partners having remodelled the bar and took the old soul out of it. Hernando's will be only Ameripolitan acts. Celine Lee is my girlfriend and singing partner and she will handle booking. There is a restaurant side to the bar and that is 100% my business partner's dealings. He has a successful restaurant in Long Island so I have no need to be hands on there. He makes the best burgers EVER.
What a great pompadour. There are lots of jealous men out there. What is the secret, how do you get it to look so good?
HA, some days are good some ain't. My hair only goes one way. But if they didn't make Got2b glue I'd never keep it styled more than a couple hours.
You seem to enjoy playing the UK and if The Jazz Café show was an indicator, you have a very loyal fan base here. When will you be returning?
I've been very blessed from the get go as far as UK fans. Nashville Rash really hit a cord with folks here, back in 95 and they've never forgot me. My agent Rupert Orton is good at reading when it's the best time to come back. Obviously if we had a hit record that would pre-empt the return plans. Crossing my fingers. Ha.
Can you give us a flavour of how it was playing with WS Fluke Holland and recording at Sam Phillips' studio? Did you pick up any repeatable stories you can share?
Pure fun. Fluke has amazing energy and a positive attitude that makes him a joy to be around. He has a million stories and an amazing memory.
He told the story about when he worked for Carl Perkins and they had Blue Suede Shoes the number one song on pop and country charts. They were driving to do a national TV show that likely would have made Carl a household name at the time. But Carl's brother fell asleep at the wheel and they crashed. Fluke was asleep when it happened and woke up sitting straight up, slap dab in the middle of the road. He said he saw the divider lines right between his legs. He looked around at the car really twisted and amps busted and the big bass fiddle busted all up. He saw the driver and other band member look pretty bad hurt, but looked to the other side and saw Carl Perkins face down in a ditch that had water in it. Fluke realized the he himself didn't have a scratch on him. He got up and dragged Carl out of the water. Later as they assessed the damage to the instruments they were shocked to find not only did Fluke escape without a scratch but his drums didn't get a scratch either. It seems he had a guardian angel.  He didn't say that. I did. Of course because of that wreck he ended up going to work for Johnny Cash.
Only two jobs playing drums he ever had. Not bad.
If you weren't playing with the Lone Stars, who would be in your fantasy backing band?
Scotty Moore on guitar, Bill Black on upright bass, Dj Fontana or J.M. Van Eaton on drums, Floyd Cramer on piano. It's not exactly Elvis's band but close. I believe Scotty Moore and Bill Black together were giant. They just played the right part.
We like your tattoos. Can you talk us through them and if you have a favourite and why?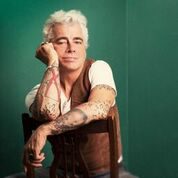 The arms have themes. Left is dedicated to family and the right home. The left has 4 main tatts, one for my Dad (had it done after his passing but now I'm older than he was in the tattoo). Under his portrait tatt is the music staff band that has the song he wrote, Poor Baby, in music notes. The other two are for my daughters. Raquel and Dalynn. Raquel's is a semi truck with the banner of the song I wrote for her, I Gotta Get Back Home To My Baby. Dalynn's tattoo is a portrait of her at three years old. Raquel's 25 and Dalynn is 20.
The right arm has Texas at the top. Underneath is the musical staff band like the other arm but the song is That's What I Like About Texas. Then the forearm has the three flags of home – Alabama where I was born, Texas where I was raised and the American flag. Guess I'll add the Tennessee flag soon.
On each wrist I have a black scorpion to remind me that I am me and that's ok. It comes from the proverb about the scorpion and the frog that gave him a ride across the stream. The scorpion stung him half way across. The frog asked him why he did that, now they both will die. He said, "I can't help it, I'm a scorpion." Nature – hard to argue with it.
Can you sum up how "Ameripolitan" differs from "country"?
To the mainstream Country is the music Nashville is putting out. And they are correct. That being the case, artists like me who do original music in the vein of Honky Tonk, Western Swing, Rockabilly and Outlaw are outsiders. Today's Country Music has its roots planted firmly in mid-air. Rascal Flatts has more in common with The Backstreet Boys or NSync than they do Haggard or Jones.
Simply put Ameripolitan Music is Original Music with Prominent Roots Influence.
On the fabulous Blackjack album, you sum up things nicely in Country My Arse. Where do you see country music going in the next five years or so? 
Country music is a snake that started eating its own body. I suspect in that time, it will eat its own head. There's no identity to the sound anymore. You used to know when you hit the Country station on your radio. Now you can't tell the difference between the genres.
The USA is very polarised right now – what can unite it?
Every country is polarized at this moment. No exception. On all my social media I purposely avoid any political posts. Music is the common ground. No matter your race, creed, colour, age, or politics. Besides, It doesn't matter what a musician, actor or anyone else thinks politically. No one should tell you how to think. Music should reinforce that.
You've had some dark times over the years – you seem happy now. Are you in a good place now?
I'm in a great place now. Time is a healer for sure. I have learned that we make a choice every single day we wake up. Good day or bad day. Not to say bad things won't happen but how you let that affect you will shape your day and your life.
We listen to you and we hear the ghosts of Johnny Cash, George Jones and Charlie Feathers sliding in and out of your own distinctive style. Who has been the single biggest influence on your music from the start?
Elvis, hands down.
Catch 'em while you can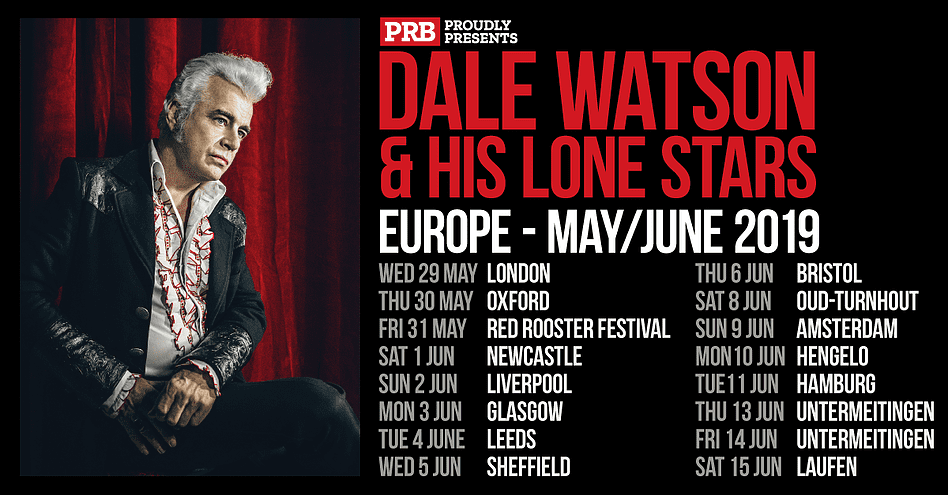 Words by Sarah Corbett-Batson and Carl Byron Batson
Live photographs copyright Carl Byron Batson – not be reproduced without express prior written permission

Photographer, published poet, former party animal, body builder, grave robber
to the stars and renowned chainsaw juggler, Carl can often be spotted on his
Harley Davidson pretending to be in Terminator 2. He is also frequently seen in
the press pits of old London town, camera in hand, avoiding being hit by bottles
of wee and crippling his opposition with secret Kung Fu moves.