[dropcap style="font-size:100px;colour:#46ffa5;"]T[/dropcap]he days are becoming dark and dreary as bleak December beckons at the door. A lamp-light through the mist appears, 'tis the rare and radiant maidens Larkin Poe with a 2020 tour.
Described as primal, beguiling and unsettling, Nashville-based sister duo Larkin Poe have announced a European Tour throughout May 2020. Following their sold-out show at London's Islington Assembly Hall late last year and an appearance at Black Deer Festival this summer, Larkin Poe – Rebecca and Megan Lovell – will play their biggest UK headline show to date when they headline  Shepherds Bush Empire on May 7. The extensive 2020 tour will also take in shows in France, Germany, Austria, Switzerland, Spain, Italy, Ireland, Netherlands, Sweden, Denmark, Norway, and Czech Republic. 
Ahead of the tour, Larkin Poe will be performing at Byron Bay Blues Festival in Australia (April 9 – 13).
The sisters recently performed at the Singapore Grand Prix, and on November 1 they will join Mavis Staples, Chris Robinson, George Porter Jr., Anders Osborne and others for Tipping Point 2019, special concert at The Fillmore New Orleans in celebration of New Orleans and Tulane University.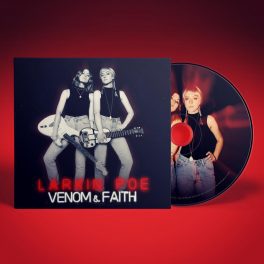 Steeped in the traditions of Southern roots music, the Atlanta-born sisters released their critically acclaimed fourth album 'Venom & Faith' last year. The album showcases their mastery in orchestrating, harmonizing and breathing new life into the musical heritage of their upbringing as they create a powerful, modern-day depiction of what roots rock should sound like.
Descendants of celebrated US writer Edgar Allen Poe, since forming Larkin Poe in 2010, Rebecca and Megan have proven a formidable duo both in and out of the studio. In 2014, producer T-Bone Burnett enlisted them for 'Lost On The River: The New Basement Tapes', a project that also saw contributions from Marcus Mumford (Mumford & Sons), Elvis Costello, Jim James (My Morning Jacket), Taylor Goldsmith (Dawes), and Rhiannon Giddens. The sisters have performed at Glastonbury Festival twice, and were named 'Best Discovery Of Glastonbury' in 2014 by The Observer. They have opened for and been in the backing band of Elvis Costello and Conor Oberst; and supported the likes of Gary Clark Jr and Bob Seger among others.
Larkin Poe are currently writing their fifth album, slated for a Spring 2020 release.
Tickets available HERE
---
STOP THE PRESS

….. If this wasn't exciting enough,

Larkin Poe

are nominated in the International Artist Of The Year category at AMERICANAFEST UK 2020 which is to return on 28 – 30 January 2020 at a bigger award venue – LONDON TROXY
TICKETS AVAILABLE HERE
---
[dropcap style="font-size:100px;colour:#46ffa5;"]J[/dropcap]ust announced by Mary Gauthier and Baylen Leonard, the 5th annual AmericanaFest UK will return to Hackney, London for 3 days at the end of January 2020.  The theme of the event is "Collaborate and Cross Pollinate" reflecting on how Americana artists work together across different genres and art forms.
The event culminates on 30 January in the prestigious UK Americana Awards 2020 which after 4 sold-out years moves to a bigger venue for 2020 – the gorgeous art deco Troxy in Limehouse, East London.
Last year's Awards show saw phenomenal performances from established Americana stars such as Rhiannon Giddens, Seth Lakeman and Graham Nash alongside fresh, bold, rising UK talents Jade Bird and Yola, with top awards going to Frank Turner, Brandi Carlile, Mary Gauthier and Bennett Wilson Poole.
This year's UK Americana Awards will recognise the huge breadth of talent across the genre with some incredible artists nominated this year including such diverse names as Yola, Frank Turner, Jade Bird, Mavis Staples, Larkin Poe, Highwomen, Ida Mae and Lukas Nelson & Promise of the Real.
The Special Awards carry on the tradition of honouring the great and good of Americana, and the AMA-UK are proud to announce the following, known for their incredible work within the genre of Americana, country, folk and beyond:
Following the "Collaborate and Cross Pollinate" theme we are delighted to announce that our special guest Musical Director for the Awards will be musician and producer Jonathan Wilson.
The Conference starts on 28 January at Hackney Picturehouse and the Keynote Speaker will be female powerhouse and living legend Joan Armatrading.  Further conference speakers and panels will be announced in the run-up to the festival.
The evenings of 28 and 29 January will see 75 artists from UK, USA, Canada, Australia and Europe showcasing across 8 venues in Hackney, including venues hosted by
influential North Carolina label Yep Roc
Canada House – featuring 2 nights of artists from across Canada including Prince Edward Island
House of Songs – celebrating 10 years of songwriting camps in Austin Texas and Bentonville Arkansas, hosting many UK artists for week-long stays collaborating with other writers from around the world
The fabulous mix of emerging and established artists performing includes The Secret Sisters, Jonathan Wilson and Ilse DeLang – the full list is below.
On 27 January Hackney's OSLO will be host to an extra special Charity Kick-off event – Americana Clash – celebrating the 1978 meeting of Texan roots rocker Joe Ely with London punks the Clash – West Texas Hellraisers Meet East London Hellraisers – and the friendship between the two Joes.
Americana Clash will really highlight our collaborate/cross-pollinate ethos, whilst also celebrating 40 years of The Clash's classic album 'London Calling'. This event is presented in partnership with our friends from Austin Texas & ACL Music Festival and will be raising money for Hackney Night Shelter as well as The Joe Strummer Foundation. Frank Turner, Grace Petrie and Danny Champ are already confirmed to appear with many more artists to be announced.
Delegate passes include 3 Day Conference, 2 nights of showcases and the awards show – early bird tickets are a saving of about £100, members log in for extra 15% discount. The 2020 conference will be held at Hackney Picture House and Hackney Empire buildings, the showcases will be at Oslo, Moth Club, Paper Dress Vintage, Hackney Church Brewery Bar and Empire Bar. All these venues are within 5 minutes walking of each other.  The awards will be held at The Troxy, a short train or cab ride away. Separate showcase festival wristbands and awards tickets are on sale NOW via DICE and ALT tickets (links on our website)
Full list of Nominees:
UK Instrumentalist of The Year
Ben Smith
Jim Maving
Siân Monaghan
Will Page
UK Song of The Year
Little Piece of Heaven by Elles Bailey (Written by Elles Bailey, Bobby Wood and Dan Auerbach)
The Fire by Jamie Freeman (Written by Jamie Freeman and Ben Glover)
Hear Your Voice by Danni Nicholls (Written by Danni Nicholls and Kyshona Armstrong)
Amy by Roseanne Reid (Written by Roseanne Reid)
UK Album of The Year
Here There's No Sirens by Pete Gow (produced by Joe Bennett )
Chasing Lights by Ida Mae (produced by Ethan Johns)
Bleeding on the Soundtrack by William the Conqueror (produced by Ethan Johns)
Walk Through Fire by Yola (produced by Dan Auerbach)
UK Artist of The Year
Jade Bird
Bear's Den
Frank Turner
Yola
International Song of The Year
Turn Off The News (Build A Garden) by Lukas Nelson & Promise of The Real (written by Lukas Nelson & Promise of The Real)
Letter to Madeline by Ian Noe (written by Ian Noe)
Saying Goodbye by J.S. Ondara (written by J.S. Ondara)
Me and The Ghost of Charlemagne By Amy Speace (written by Amy Speace)
International Album of The Year
Undress by Felice Brothers (produced by Jeremy Backofen)
Highwomen by Highwomen (produced by Dave Cobb)
Songs Of Our Native Daughters by Our Native Daughters (produced by Rhiannon Giddens and Dirk Powell)
Mint Condition by Caroline Spence (produced by Dan Knobler)
International Artist of The Year
Brandi Carlile
The Dead South
Larkin Poe
Mavis Staples
Showcase festival Line-up:
Amelia White, Amy LaVere, Amy Speace, Blair Dunlop, Blue Rose Code, Brand New Zeros, Callum Pitt, Catherine MacLellan, Chatham County Line, Chloe Foy, Cory Gallant, Daddy Long Legs, Danni Nicholls, Darling West, David Wax Museum, Dean Maywood, Dean Owens & The Southerners, Del Barber, Demi Marriner, Dennis Ellsworth, Dylan Earle, Dylan Menzie, Elliot Brood, Falls, Ferris & Sylvester, Flats & Sharps, Gill Landry, Hollie Rodgers, House of Songs In The Round, Ilse DeLang, Ira Wolf, Irish Mythen, Izaak Opatz, Izzy Walsh, Jack Klatt, Jonah Tolchin, Jonathan Wilson,  Joshua Burnside, Judy Blank, Kerri Watt, Kyshona, Lady Nade, Lennie Gallant, Lucy Feliz,  Lucy Grubb, Malin Pettersen, Mapache, Martin Harley Band, Megan Nash, Michaela Anne, Native Harrow, O & O, Pete Gow & The Siren Strings, Peter Bruntnell, Rob Heron & The Teapad Orchestra, Robert Vincent, Roseanne Reid, Sam Baker, The Secret Sisters, Smooth Hound Smith, Stephen Fearing, Strung Like a Horse, Sunny Ozell, Terra Lightfoot, The Ballroom Thieves, The Goat Roper Rodeo Band, The Orange Circus Band, The Vangaurds, Union Duke, Worry Dolls

Photographer, published poet, former party animal, body builder, grave robber
to the stars and renowned chainsaw juggler, Carl can often be spotted on his
Harley Davidson pretending to be in Terminator 2. He is also frequently seen in
the press pits of old London town, camera in hand, avoiding being hit by bottles
of wee and crippling his opposition with secret Kung Fu moves.