The Pint of Anything Tour is virtually sold out. Testament to the impact Chase Rice made at last year's C2C. Supported at The Shepherds Bush Empire by singer songwriter Owen Davies and Canadian country bombshell Madison Kozak, this was set to be a gig to remember.
[dropcap style="font-size:100px;colour:#46ffa5;"]F[/dropcap]irst out the chute was Owen Davies. Incredibly, Owen spent over ten years singing Opera, that's right Opera, so it was no surprise he managed to engage the crowd from the get go with his powerful vocal. Recounting how he got to this point in his career, he proceeded to tell the audience he had actually been busking when Chase Rice happened to walk past a couple times, tossed some cash in his guitar case and finally asked him to support him at some shows.
"Chase sauntered on looking more like a rapper than a cow poke"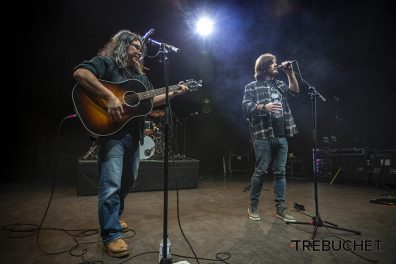 Owen went on to say this was his first solo show showcasing all his own songs and that he was blown away by the incredible amount of positive feedback. Who knows who'll walk past next?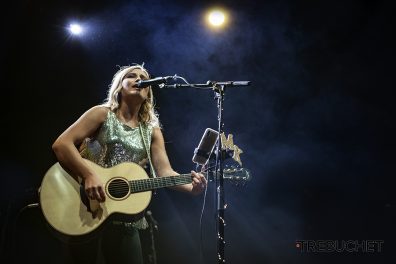 Nashville based Canadian Madison Kozak quickly followed on stage. Just her, a sparkly mic stand and a guitar, she initially looked lost out there in the spot lights but once she started playing the whole house started jumping. This obviously wasn't her first rodeo and she knew how to get the crowd to party, stomping her snake skin boots through the set and topping off the good time vibe by mashing up Take Me Home, Country Roads / Wagon Wheel. Now here's a girl destined for bigger things.
"he's probably got a big pick-up truck"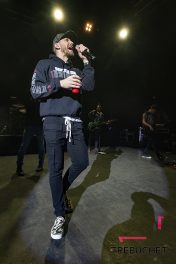 Destined to sell in bucket loads for the foreseable future, Chase Rice's recent Eyes on You was an instant classic, pulling you in from the first few bars of the intro and the Lambs and Lions album has barely been off our turntable. There was a real excitement in the room for Rice and he wasn't about to disappoint. John Souki and the band came out swinging and the place erupted as Chase sauntered on looking  more like a rapper than a cow poke and launching straight into Lions, this is the new face of new country so folks had better get used to it.
Jack Daniels Showed Up followed, proving to be another instant crowd pleaser and was set to meet Jesus further down the set. A perfect song sung live and the audience had obviously had their fair share of that tasty nectar as they sang along to every word without a single care in the world, they were here to party.
It must be said, there was an awful lot of female interest for Mr Rice with a large part of tonight's crowd made up of swooning ladies of all ages. Let's face it, Chase is a good looking guy (I heard it being said over and over), I imagine he goes out doing manly things like hunting and fishing and he's probably got a big pick-up truck.
Chase had no problem whatsoever enticing a female fan on stage and serenading her before dueting (Unforgettable) with the beautiful Madison Kozak.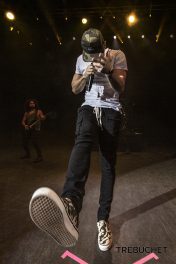 This new / new country tends to split the community down the middle but regardless, it's a fabulous mix that has a huge appeal to the younger generation.
Chase Rice has a balance between both ends of the spectrum, there is some real fusion elements to the show with the boys on guitars making you think you might be at a full on metal gig but also some more roots moments as Chase plays other instant classics like aforementioned Eyes On You and Three Chords and The Truth. Whatever your pleasure, this show will be a hard one to beat.
Don't forget to get yourself a copy of the new album
"THE ALBUM Part 1", out NOW  https://chaserice.lnk.to/TheAlbumPT1FA

All images copyright Carl Byron Batson – Not to be used in any form without prior written permission.

Photographer, published poet, former party animal, body builder, grave robber
to the stars and renowned chainsaw juggler, Carl can often be spotted on his
Harley Davidson pretending to be in Terminator 2. He is also frequently seen in
the press pits of old London town, camera in hand, avoiding being hit by bottles
of wee and crippling his opposition with secret Kung Fu moves.