[dropcap style="font-size:100px;color:#992211;"]T[/dropcap]
he convergence of the human hand and the latest artificial intelligence technology is explored in Scott Eaton's debut exhibition, Artist+AI: Figures & Form in the Age of Intelligent Machines. 
The exhibition combines the latest in generative artificial intelligence with the centuries old practices of drawing and sculpture. All of the featured works are a result of a dynamic interaction between Scott's traditionally trained hand and the AI tools he has taught to work as his assistants. In doing so, Eaton, an interdisciplinary artist with a background in anatomy, sculpture and engineering, underscores the impact AI is set to have on art-making and in particular how it will change our perception and understanding of the human form.
Eaton creates and trains AI to translate his drawings and animation into photographic, figurative representations as well as abstracted sculptural forms. His interest in this emerging field of AI is not in creating agents that create art autonomously, but rather in making art assistants, AI collaborators that take direction and enhance the creative possibilities available to the human artist.
Eaton says: "In the teaching process, AI learns its craft by continually comparing different visual representations—in this instance line drawings and photographs. After millions and millions of views, it gradually begins to understand how to transform a drawing into something photographic, and eventually it learns to faithfully produce figures. At this point it becomes a capable collaborator in the creative process.
"The AI has no choice but to do what I ask, no matter how difficult or unreasonable my request. The result is often a wondrous, unexpected, interplay of visual ideas, both mine and the machine's."
Figures & Form in the Age of the Intelligent Machines is composed of three parts: animation showing time lapses of drawings and sculpture emerging from the AI cauldron; a series of drawings and prints of the collaborative compositions; and a selection of sculptures realised in the round by artist + AI. The work resonates diverse influences ranging from Klimt, Schiele and Bacon to Rodin and Boccioni. Pictured above is Eaton's reimagining of Rubens' 1620 masterpiece Fall of the Damned via 1,000 hand-drawn figures subsequently painted using a trained AI neural network.
Artist+AI: Figures & Form in the Age of Intelligent Machines opens at Somerset House on 18 June.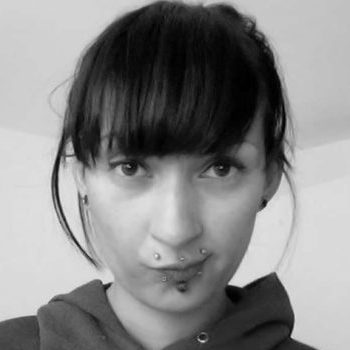 Naila Scargill is the publisher and editor of horror journal Exquisite Terror. Holding a broad editorial background, she has worked with an eclectic variety of content, ranging from film and the counterculture, to political news and finance.