[dropcap style="font-size:100px;color:#992211;"]U[/dropcap]nfortunately, 2018 so far has been a relatively slow year for me on the live music front.
Not through gig snobbery or other silly reasons, but sadly through circumstances conspiring… not to mention that horrible thing called 'being a grown up'. Luckily, that wasn't on the cards for me on Grand National Day! Whilst the vast majority of Liverpool was swarming with a huge and parasitic invasion of cheap suits, tacky dresses, fake tan, badly done make up and more than enough testosterone to quarantine the city centre as a chemical spill zone, there was a minority who sought refuge in metal! With a full wallet, pack of cigarettes, fully charged camera, notebook, pens and my trusty gig partner, it was off to EBGBs for some death and technical groove metal delights!
Opening band Oceanis are mainstays of the Liverpool metal community. With members having been in previous bands across the once thriving metal scene in the city from the early 2000's, the five piece have tonight down as their return to the gig front after several months out. They find themselves in good company, as the other bands on the bill share a common theme – they've all played/are playing Bloodstock at some stage in their careers! (Talk about a big line up!)
Given the size and nature of the venue, it's safe to say that this is going to be an intimate show, and right off the bat, Joe (vocals) takes full advantage of the ridiculously long microphone cable he's been provided with and launches right into the thick of the crowd, effectively opening up the performance to everyone. With his commanding presence, both physically and musically, combined with the dynamic, groove-laden, heavy Technical Metal assault of the band, Oceanis get things moving at a rather quick pace. From the first note you can clearly see that there hasn't been any kind of stagnation in their lengthy absence from the stage, and that initial kick is all the momentum needed to drive the band's performance on!
The interactions with the crowd are fantastic – there's plenty of back and forth, both filling the silences between songs and simply showing how much Oceanis enjoy themselves on stage. Terrible puns and one-liners rain in, and ridiculously named new tune 'Emily's Moving Back To The Mainland Pretty Soon' (working title) juxtaposes the closing tracks' serious heaviness  and crushing precision. All is right in this performance. Oceanis are a band who are open with their musical influences in their sound, yet rather than imitate or reproduce, they assimilate and remanufacture them to an identifiable yet uniquely familiar sound. Be it the Gojira-esque riffing and vocal roars or the subtle hints of Blues in the leads, the thick progressive metal hints of Mastodon or the hammering nature of Groove Metal titans Lamb Of God, it's all easy to hear but simultaneously distinctly individualised to the band.
Visions Of Disfigurement are up next, and with them comes their unrelenting barrage of Slam-styled Death Metal. The 'Slamchester' four piece have played Liverpool a handful of times now, and each time I've caught them it's been in venues like this. Small, confined, intimate and perfect for their approach. The harsh wall of crushing guitar and bass riffs, guttural vocals and pounding drums has a hypnotic effect, drawing in looks of stern seriousness and feverent headbanging from the crowd and even some looks of confusion from those who just can't 'get' the Slam approach. It's not a genre everyone can take too, but the heavy factor alone is enough to win over the crowd.
With the cliché tracks about sex, death, dismemberment and other filthy, nasty and expected things, the four piece waste little time in stirring the willing participants down at the front of the venue into a frenzy. The bodies begin churning in their own self-contained maelstrom and a mixture of tracks both new and old like 'Forced Urophagia' and 'Clit Snipper' pack enough punch to cause technical issues (bass drum mic blow out, I believe). In all, the combination of ruthless musical delivery and ferocious vocals does the job well, creating an air of anticipation for Ingested and This Is Turin. Slam may not win many people over, but it certainly does well in adding fuel to the fire to drive up the excitement for the night.
This Is Turin are up next and, much like the opening band Oceanis, the five piece bring us back to a more accessible spot on the Metal genre spectrum. With their blend of Technical Metal, Hardcore and Melodic Metalcore, the Winsford five-piece manage to draw the whole crowd in once again, something you would expect from a band with a very bright future.
Despite being plagued by some roll-over technical issues from the previous band's uncompromising bombardment, This Is Turin come out firing on all cylinders. Their dynamic performances need little in terms of explaining – this band has delivered on stages this size and much bigger, ranging from supporting Stampin' Ground and Raging Speedhorn to sitting nicely on the Sophie Lancaster stage at Bloodstock Open Air. The Melodic Metal/Hardcore fusion works brilliantly, displaying varying levels of subtle musical atmospheric manipulation through the vocals to the chaotic but highly controlled melodic passages and heavy hitting break sections. The crowd, greatly appreciative of this, and still riding the high from the Slam-induced frenzy reciprocates the effort Turin put in and repay them with a more animated performance.
Despite this, there was little in the way of interaction with the crowd. In some lights, you can see this as good – no bullshit, just maximum music time, but in a venue like EBGBs, it's an unwritten rule that interaction is expected. You cannot simply perform in such a small, intimate setting, you need to involve the crowd in more ways than just delivering the goods and creating a subtle yet very detectable musical atmosphere which raises the listener's sense of anticipation. Perhaps the sound troubles put them off their usual game a little? Perhaps it just wasn't their night? People see things differently after all and I have enjoyed this band live in the past more than I did tonight, but I can't deny that they delivered a solid performance of a level I would expect them to in terms of the execution of their music.
As the night drew to a close, headliners Ingested took to the stage. Having been recently announced for Bloodstock Open Air 2018 and hyping their latest album release to boot, the stage was set for a performance to cap a damn fine night. The crowd were hyped for this, the previous bands had done their part in plugging the bill and making sure the stage was set, all that was left was for the headliners to deliver.
Ingested are long time veterans of the North-West UK Death Metal scene. Formed in 2006, debut record appearance on a three-way split entitled 'North-West Slam Fest' (2007 w/ Crepitation and Kastrated), three full length releases and hotly anticipated new release 'The Level Above Human', the five piece know the drill by now. With a crowd ready to receive blistering, brutal death metal, the band step to the stage to do their part.
From the start, the music is unrelenting and the crowd match its ferocity with a chaotic frenzy of action. Filthy, raw vocals are hurled across a solid foundation of pummelling guitars, distorted bass and drums which pound like a jackhammer. The music flows naturally, nothing seems forced in the way the breakdowns come or the crushingly heavy Slam sections surface; it's all there, signed, sealed and delivered to a more than willing to receive crowd. 'Better Off Dead', from the band's forthcoming album, serves as a call for carnage and the crowd, frenzied in the desire to please, answer it with full force.
Like a sledgehammer, Ingested hits hard. The riffs, jumping from buzzing Death Metal to crushingly heavy slam styled breakdowns compound the heaviness, and the revelation that this is the final stop on the band's recent tour only serves to push both the crowd and musicians up a notch. The pressure cooker which had been simmering away all night finally gives at this point and the explosion is magnificent. Band and audience push each other harder and harder in a dangerously nuclear cataclysm, a self-sustaining cycle continues right up to the end of the night. There's no time to stop, think or catch your breath. There is only time to brace for impact as the ear-splitting deluge sweeps you along with it.
In all, a solid night. A well stacked and rounded bill, a running order which helped raise the atmosphere and drive the performances, and four highly talented sets of musicians with craft hardwired into them all willing to deliver to a crowd who were easily satisfied (if a bit battered) by the time the night ended.
Ingested, This is Turin, Visions of Disfigurement and Oceanis played at EBGBs Liverpool on Saturday 14th April. Ingested's new album 'The Level Above Human' has been released since the time of writing and is now available from the usual outlets!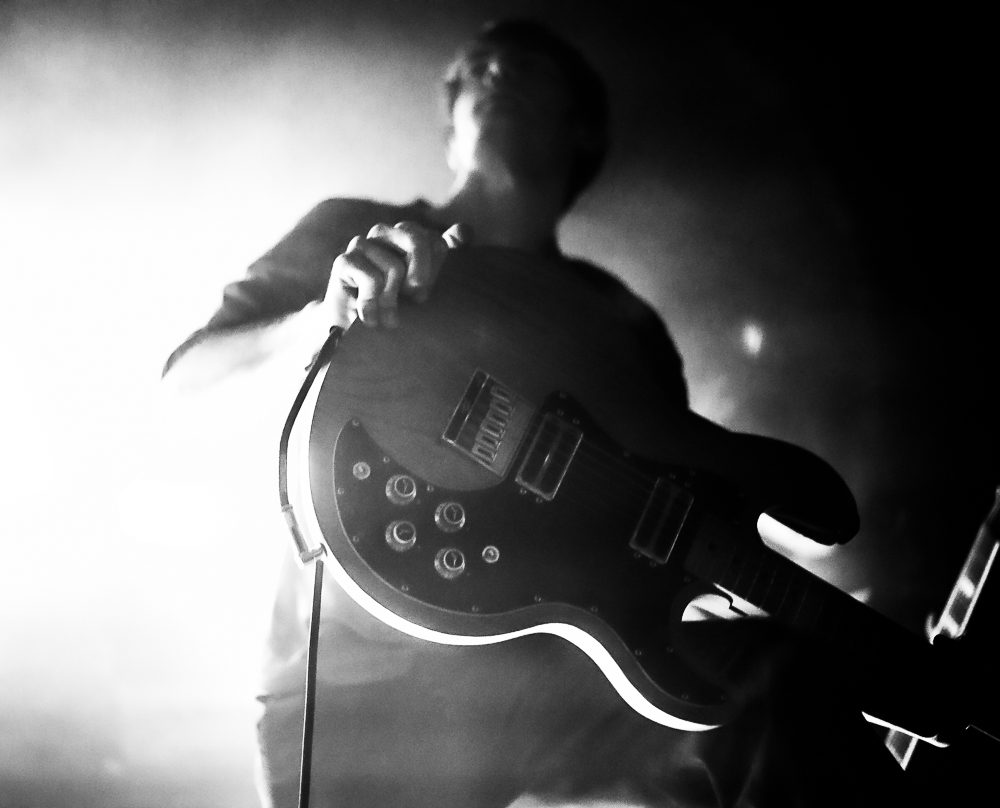 Born in the 80s, grew up with the 90s and confused by the millennial generation, I am Peter, more commonly known as Fraggle (long story, don't ask, details are a little hazy!)
With a degree in biochemistry, an ever growing guitar collection and a job handling medication, things are far different to how I expected them to have turned out, but the one thing which hasn't changed is how important music is in my life—it is one of my main passions, be it playing it, listening to it or attending it and experiencing it in the live setting (the way it is meant to be).
Blessed with a 'proper punk/metal spirit' (quote from Kailas), you will often encounter me at gigs or festivals with a beer firmly clutched in one hand and shirt in the other… Or these days, a pen and notepad too, maybe a camera if needed.