[dropcap style="font-size:100px;color:#992211;"]G[/dropcap]eoff Diego Litherland is a Mexican born artist based in Wirksworth, Derbyshire. Having spent his early years in Bolivia and Ecuador he moved to England and graduated from Falmouth College of Arts in 2002 with a first class honours degree in Fine Art Painting, in 2012 he completed an MFA in Fine Art at Goldsmiths University of London. He's currently a lecturer in Fine Art at Nottingham Trent University.
In the MFA show at Goldsmiths Litherland showed among his more well known landscapes a suite of portraits of captains and explorers from an idealised future reminiscent of Star Trek; the images where conflations of that science fiction influence with a classic almost renaissance style of painting giving the images a strange set of references mixing high art with popular culture while painting images of the future in a style associated with a distant past.
"For those wanting to explore these worlds, to step into this possible future, Litherland provides plans, painted maps that are part cartography, part painting, part future artifact. These strange hybrid creations are a combination of satellite images, energy lines, geometric forms and abstract gestures, they don't offer the viewer a geographic knowledge of these worlds, but a wider epistemology to a more interconnected way of living," Lacey contemporary Gallery
This combination of seemingly incongruent visual imagery manages to avoid being entirely nostalgic and is blended, especially in Litherland's landscapes into hopeful and exciting windows on a possible future albeit one where human technology has undergone a serious upgrade.
The period of discovery which the painterly style references is 16th century and this must be a conscious attempt to draw on some of the pioneering positivity of that age mixed with the more familiar science fiction book cover art which is still abundant today.
While much science fiction is a veiled critique of the present Litherland's work only hints gently at ecological and ideological issues often opting for a poetic title such as 'Forever Just Keeps Going' (below) One of many interpretations might be the way we hold onto memories or how we are often directed by pleasing and slightly distant ideas of a perfect past.
One of the striking and essential qualities of the work is that the machinery: ships, satellites, space suits and bio domes are painstakingly rendered and appear to make sense as working technology, Litherland must spend hours poring over vehicle and craft schematics as well as old posters and book covers of classic space sagas.
Although these are realistic and representational images there is a sense of the surreal about them, as below, certain planes often showing natural forms are presented through a geometric shape acting as a kind of portal. This creates a sense of parallel worlds where our more familiar world is the projection being moved or maintained by the industrial space age machinery.
Some commentators talk about Litherland's clear concern about the natural world and his website states,
"Geoff's work explores the tension between the natural world and its grasping appropriation by human influence," Artists website
Although this is one aspect it seems overshadowed by the sense of myth and the evocation of a new age of discovery where the images become portents of an actual reality where human civilisation has managed to guarantee its survival into the next eon while clinging to classical forms of life.
Artists website here.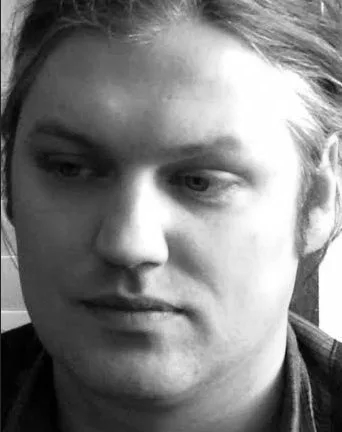 Michael Eden is an artist and researcher working in London and the south east, his artistic practice is concentrated on painting and he divides his time between this and lecturing in art history and contextual studies.