2:54, Secret Headline gig at the Queen of Hoxton, with History of Apple Pie and Deaf Club.

Crammed into the small dimly lit venue at the Queen of Hoxton, we embark on a secret gig into the world of four piece, 2:54. A surrounding by Breton tops: larger, chunky stripes; smaller. Green, pink, and blue of course. An audience offset with the lumberjack non-conformist shirts so typical of Hoxton.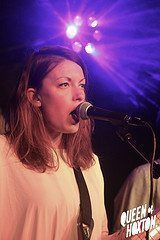 Things are looking good for the sisters Hannah and Colette, appearing on most hot lists for 2012. Think C86: luscious, enigmatic, meandering shoegaze, guitar pop. 2:54 hone a sparkly psychedelic distortion similar to the Banshees/ Cocteaus, whilst still somehow reminiscent of the Big Pink. The singer Colette's haunted, cold voice has elements of Siouxsie Sioux and a grungier Florence Welch.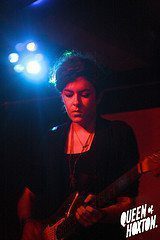 Sisters Colette and Hannah are known for wearing their characteristic black leather motorcycle jackets and red lipstick. Tonight Colette appears on stage first, dressed in a flowing ghostly white dress, suited to her haunted lyrics and echoing hushed tones.
Hannah stands starkly dressed in a clean cut black suit, fitting to her distinctive, brash guitar sounds, split between a harmonious melody and a more abrasive feel.
low subtle vocals, you can just make out the lyrics
The set opens with 'Cold Front', it draws you in, with low subtle vocals, you can just make out the lyrics. The hispster girls start to writhe as the boys begin to pulsate with the rhythm. After 'Cold Front', Colette invites us to stand closer to the stage. We move forward, and begin to step into this beautiful glow of electronic sounding guitars, accented with harmonies and enticing vocals, equally serene and determined at the same time.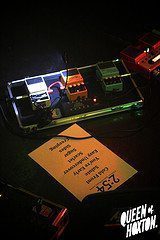 Colette's eyes appear to turn from blue to black and back again, as she stares poignantly into the distance. 'Scarlet' is engaging, absorbing and seductive, you can just make out the rolling hushed tones of the lyrics. This is shoegaze indie goth, with disjointed tones and a jangly feel.
The rolling vocals of 'you love what you said, you put the beat in my bones, here in my heart, you make it easy to see..' are lush and enticing. It's as if the beats emanate from her bones, as her thoughts sound improvised and unexpected. The lyrics appear as random echoes of her mind, on issues of love, obsession, closeness, silence and memories, moving from confusion to clarity and back again.
Hannah keeps her head down, she resembles Helena Bonham Carter in Fight Club. Marla, in magnificent indie goth style, appears lost in her guitar sounds. Colette is gentle as she bigs up the first two acts: 'did everyone see Deaf Club and The History of American Pie?… Good Noise.' In 'Sugar', the whispering voice is accentuated as Colette pulls back from the mic, vocals disappear into the distance. As they draw you in, the guitars crash eternally and the drums begin to make a marching call.
Almost perfect, if only they had played 'Got a Hold': wonderfully wonky and discordant. The last song in the set is 'Creeping'. The feel is longing and sludgy, lost and searching, with a harmonious and machine-like duality, with digitised guitar at the end of the set.
As the final song leaves us with the pronounced statement, 'I can't afford to stop now,' I'm off to buy a motorcycle jacket.
Photos: Tom Wholohan