An attempt to recreate or capture the melodic theme to his own childhood, Yppah (Joe Corrales Jr) named this album 81 to reflect the year of his birth. Childhood musical influences usually tend toward the theme tunes of significant television or cinema experiences, parents' record collections, or the music that was playing on the radio in and around the golden age of ten – when music begins to be one's own, rather than the reflected tastes of family or friends.
If 81 is to draw us a picture of Yppah's childhood, it is one that must acknowledge Boards of Canada's ambience of open spaces and big skies (BOC's Twoism was released when Yppah was about 14). Although, where Boards of Canada's music suggests daunting icy vistas, sparkling but cold, Yppah's are warm and comforting.
And whilst Yppah's album does evoke BoC's arctic electronica, there are provisos. 81 has far more guitars, much more prominent beats, and vocals. So not really like Boards of Canada at all, one could argue. But the scent is there.
The Gulf Coast resort of Galveston in Texas has been providing wave-hungry surfers with short-period, fleeting swells for somewhere in the region of five decades now. Whilst the water is warm and the sand perfectly white, what the waves of the region offer in terms of fun, punchy shorebreak, they lack in frequency. Flat spells last months. Yppah, finding himself drawn to the sport, catching the occasional wave on the south Texas coast, made the decision that generations of surfers have made before him – move to California.
And with that move comes a two-edged joy. Freed of the gentility and traditions of southern living, California has long prided itself on the rootless corporeality of its attractions. Sun, sea, simplicity.
Oh make me feel good, rock and roll band
I'm your biggest fan
California, I'm coming home. – Joni Mitchell 'California'
Occasionally the dream doesn't even turn sour. If it does so for Yppah, it's a safe bet that it hadn't done so over the course of recording 81. The album, although it is largely instrumental, is as evocative of the southern Californian spirit as a Jack in the Box take-out bag filled with Red Hot Chili Peppers records.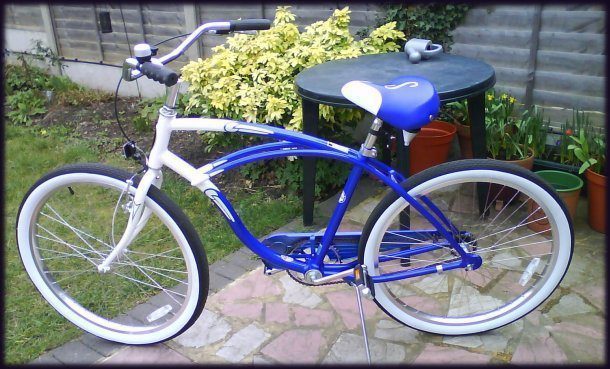 'Blue Schwinn' kicks the album off in a homage to palm-lined boardwalks and fish tacos – named after the iconic fat-tyred beach cruiser bicycle that is still the de rigueur transport of choice in the beach parks of the region. There is an underwater quality to the production of the short track, keeping in theme. Cocteau Twins vocal layering and splashy reverb complete the picture.
'D. Song' introduces the vocal talents of Anomie Belle to the album, and an exceptional set of talents they are. Her versatility is outstanding, moving from witchy seduction on this track to lush sensuality on 'Film Burn' later on the album. Yppah builds a song around a simple repeated line: 'you, can you keep a secret?', but the tube-filtered keyboard line, bringing Ibiza trance to mind, and an echoing topline melody (owing much to Depeche Mode's 'Never Let Me Down') really become secondary to the allure of Anomie Belle's arch seductiveness.
'R. Mullen' dips into Boards of Canada territory again, although on a more approachable scale. Made so by a joyful female vocal sample that is strongly reminiscent of a toned-down Ofra Haza, accentuated over the course of the track by Cocteau Twins guitars and a chopped and sequenced male vocal.
'FilmBurn' sees another facet of Anomie Belle's voice, this time reverbed and post-processed to a trip-hop soundbed that is impossible to hear without imagining it to have come off Maxinquaye. The treatment is such that it's easy to imagine Belle's voice as a soundalike to Martina Topley-Bird's on that album, but it's worth making the effort to concentrate on the Yppah track and really listen – Belle's voice has a crackling, cajoling knowingness to it that is nothing like Topley-Bird's. The similarities are entirely in the production, and whilst the Tricky version of trip-hop was immersed in the night-time reveries of industrial England, Yppah's is brighter, more open and optimistic. If less overtly sexual.
no underbelly of sleaze or avarice, ambition or aggression
And there you have the album's single biggest limitation – that there is no underbelly of sleaze or avarice, ambition or aggression to the sound. And whilst the beats are glorious, and the textures are undiluted ambrosia to the jaded soul, on the tracks without Anomie Belle's filthy, filthy whisper, there is just no acknowledgement of the baser instincts. And it needs that depth to be truly great, instead of just very good.
'Paper Knife' comes close to that grit, beatsing up a clean surf-guitar melodic hook with a proper stomping bass and Buddy Holly kicks. Driving, and verging on dangerous, the song still defuses the real rock grandeur it should achieve, by layering on some droning vocals maundering about aimlessly over the top and denuding the track of any delicious menace it would have had without. But, oh, the beats are fine indeed.
clean augmented chords and satisfying changes – it's something of a formula
'Golden Braid' drags 1970s psychedelia through the indie janglepop filter of early 90s Mancunian guitars 'n' 808s bands, and then back to its Californian origins. Somehow it works, again more of a testament to the gutsy beats that Yppah programmes under the melodies than to the quality of the composition. Volume swells, dynamics, clean augmented chords and satisfying changes – it's something of a formula. Very effective, hard to get right, but just a touch frothy and undernourishing.
'Three Portraits' again features Anomie Belle, although in an echoed-out suggestion more than a clear vocal line. The insistent bassline and flute melody are the making of the track, catching the ear. Some strings, presumably added by Belle (also a violinist) provide some sonic frippery, but without being prominent enough to actually distract from the sound-collage/impressionism of the whole.
This is the issue though. The album, for most of its length, is a series of superficially satisfying sonic textures and emotional impressions, but doesn't always build a melodic or vocal drive to really trap the attention. But given that the album's proposition is the concept of recording the elusive half-remembered soundtrack of childhood, it's quite authentic.
A deeply satisfying album rammed with the lounging gait of trip-hop and the hundred-yard stare of phased electronica, 91 may have been a more apt title. Or for the really cleverclogs: Brand New [it's] Retro.

On NinjaTune

Sean Keenan used to write. Now he edits, and gets very annoyed about the word 'ethereal'. Likely to bite anyone using the form 'I'm loving….'. Don't start him on the misuse of three-dot ellipses.
Divides his time between mid-Spain and South-West France, like one of those bucktoothed, fur-clad minor-aristocracy ogresses you see in Hello magazine, only without the naff chandeliers.
Twitter: @seaninspain