[dropcap style="font-size:100px; color:#992211;"]F[/dropcap]resh off the back of announcing a full UK tour, RoQy TyRaiD spares a minute to tell us what he wants with this side of the Altantic…
We decided to ask him about the attitude shift between the UK and US underground scene(s).
What's your mission here in the UK this time round?
My mission is to connect with the good folks, expand my art's presence, absorb UK's deep Hip-Hop/Grime subculture, and enjoy my evolution as result. Last time was an introductory course. This is the advanced class. I'm here for legend, now. Hype. Hella hype.
How does touring Europe differ from touring at home?
The massive difference in the amount of people akin to organic hip hop is bait. The level of respect shown towards indie artist of my caliber is night and day. I find successes out there, of course, as that's where I'm from. Goes without saying. But you feel less "in the trenches" out here. I am a giant among giants; we speak the same language. US is the birthplace, but it can take notes on proper balance from UK and Europe.
Do you think that international touring drives your music in different directions?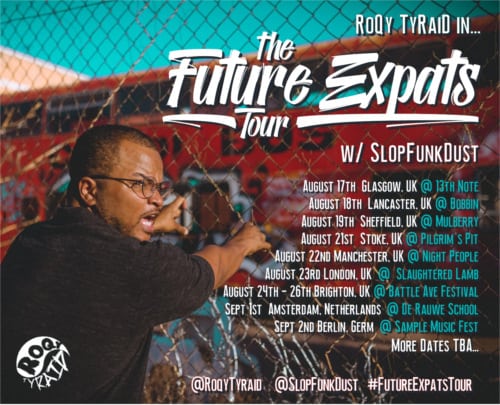 For sure. I have creative freedom to make art I know is well received by my like-minded folks out here. I'm free to experiment a little more. It's exciting, actually. We'll see how my next album sounds. I already know, but you'll see.
What do you find to be the most marked difference between the Hip-Hop culture or scene here and in the US?
Balance. I listen to influencers like Julie, Target, and Sloth for instance, on a semi daily basis. They're so varied, it's awesome. Plus, I frequent SBTV, LinkUp, GRM. So, I'm pretty up on the latest records from different subgenres, right? There is more of a balance between genres. I might hear MIST, I might hear Novelist. I might hear Simz, I might hear Stefflon Don, feel me? In America, my genre is truly "underground", despite the economic power it yields. We have our avenues, festivals, media platforms, but it's working class minus A-listers of the subgenre. I appreciate it, though. Made me the warrior I am. Fought my way here to Europe.
Do you have a lot of interaction with fans in the UK?
Definitely, especially nowadays. As my music circulates the globe, more folks checking in happen to reside on that side of the pond. I appreciate folks out here. I dig it. Some of my biggest supporters are from the UK. It's why I made coming back a huge priority. And I'll continue to come here and rock with my brits, as long as the love remains.
How about other artists? Who are your favourites British or British-based emcees at the moment?
Are you kidding, bro? I love Grime/UK Hip-Hop. At any given time you may catch JME, Ocean Wisdom, P Money, Black Josh, AJ Tracey, MIST, Novelist, Leshurr, Simz, Skepta, Wiley the gaddamn godfather, Stormzy, Devlin, Krept + Konan – I'm looking forward to breakin bread at Krept + Cones – Big Narstie is hilarious. Yo! I want to say, the big ass battle in 2016 that saw Chip trading blows with errrrone? HYPE. Bugzy Malone gets spins in the gym. Henney from G Lane. Troubz. Giggs and his crazy feature verses? D Double E? Tempa T is pure rage and I love it. Childen of Zeus? Kano? Yungen Blakrok? Rascal, obviously? Need I keep going?! Lethal Bizzle is another favorite. 'Wigback Ting' goes hard in the gym, brl.
Where are you most looking forward to playing on this UK leg?
Everywhere. Sh- answer, but it's the truth. I can't separate one expectation from another. This is going to be insane.
What can people expect at a Roqy Tyraid show?
Consummate showmanship, engagement, energy, lyricism, crazy production, comedy, drama; a damn good show. Maybe a wheel up or two, since we're in the good area and all.
Why should people buy a ticket?
Because this is going to be one of the best damn shows of the season, that's why. An awesome display of ceremony mastery. Y'all need to see what this dude from the states is working with. Traveling to LDN feels like the scene in Black Panther when T'Challa flies into Wakanda. So, needless to say, this is becoming somewhat of a surrogate home. And when you're comfortable and at home, you perform your best. And to be blunt, I'm a titan in my generation of emcees. So, don't play yourself out by missing the event. I'm back!
What are your plans for the rest of the year?
Spend as much time in the UK and Europe, cultivating music, connecting with likeminded titans, and building my damn army. Expect many more releases. Things are going to get real interesting. Bet that. As a person? Just enjoying my life a day at a time while excepting evolution.
Do you find that being an indie/underground rapper can be both a blessing and a curse?
Absolutely. I have more creative freedom and less music industry politics to abide by, but it's still working class with inherent struggles. Wiley posted on instagram earlier today, about everything coming in full circle, which is something I talk about constantly. There's a shift in the universe; us indie heads, lyricists and eclectic spirits, we're finding our way back to the table.
Is it more of a struggle to get your music heard?
Truly. Visibility is so damn important as an indie emcee. With the advent of social media and DIY music engineering, the culture is inundated with "rappers". So, it's difficult finding every changing way of standing out above the crowd. And with an ill-perception of indie hip hop not being commercially viable, obtaining backing to propel your art may be something droves of truly talented acts may never have. Sad, but true. But I know all it takes is for folks to hear me — so I work diligently. It's paying off, clearly.
Would you say what you do is all down to elbow grease, or making the right connections, or both?
Both. Definitely both. Work hard so you can figure out how to work smart; but without meeting the right individuals, you're inevitably dead in the water.
Any parting shots?
Thank you to all my supporters, aka The RoQ Riffs; in the UK, EU, Americas, Africa, Asia, and beyond. Shout out to my team, one time. Get 'PLYNwcha' on your streaming service and check out the video. More releases on the way. Follow me on social media and say "yo!" — I'm a personable dude. Outside of grabbing merch or buying tickets to a show, the most important thing you can do for me is to tell everyone who RoQy TyRaiD is. And lastly, The Culture Is Back!
Watch RoQy TyRaiD's brand new video for 'PLYNwcha' here:

RoQy TyRaiD's UK tour with SlopFunkDust and Razorrawks starts on Friday 17th August in Glasgow.
Friday 17th – 13th Note, Glasgow (Tickets)
Saturday 18th – The Bobbin, Lancaster (free entry)
Sunday 19th – The Mulberry Venue, Sheffield (Tickets on the door)
Tuesday 21st – Pilgrim's Pit, Stoke (Tickets)
Wednesday 22nd – Night People, Manchester
Thursday 23rd – Slaughtered Lamb, London (Tickets)
Friday 24th-Sunday 26th – Battle Ave Festival, Brighton

Jed the Music Ed. is a Music Promoter/Booking Agent and general fixer with Rawkus Events. Jed's interests include a constant and reckless over-caffeination, irrationally spontaneous travel plans and maintaining an over-expensive (borderline hoarder) PC/retro gaming habit.