For the Process issue of Trebuchet sculptor Nairy Baghramian spoke to Trebuchet about the way she recontextualises familiar materials as means to understand our history through the grooves we walk through language.
Baghramian's sculptures capture the imagination by hooking tricking us into recognising familiars shapes in unfamiliar things. She skirts around the lexicon of form to take us somewhere uncanny. We think we know we're going to encounter a toy or a chair but when we look closer not only are they not what they appear to be, but also they have their own immanent sense of being. A self possession that takes on an existential theme in her latest works.
Continuing here are fuller excerpts from the interview that we based our article on to allow the reader to get a more personal understanding of this remarkable artist in her prime.
What do materials mean to you and your artistic practice (aluminium/metal)?
When you think about materials, the first step is to define what a material actually is. Because conceiving of material as synonymous with matter would surely be too simplistic. Needless to say, I handle a wide variety of physical materials in my work and am surrounded by them in my studio. Still, on the conceptual level, the intangible and intellectual aspects, the political, linguistic, social dimensions constitute at least as important a material as any physical substance.
Then again, if we look into the history of art, we find that even conceptual artists, who sought to steer clear of the physical altogether, ultimately couldn't do without a vestige of tangible materiality. The same is increasingly true nowadays of performance art, in which props subsequently undergo a change of status and come to function as sculptures.
My selection of materials is guided in part by the context and the idea of what I want to add to or subtract from the situation and the site's social reality, how I want to reinterpret and recast that reality. I often need a body or volume in the space only to evacuate it, to question its dominance. Or I afford volume to elements that typically don't have any social depth, as in the 'Maintainers' series, where I bring an ostensible production process to a standstill. The wax that's normally consumed in the refinement of a metal surface stays in place and appears as a material in its own right, on a par with the representative cast-metal piece.
Which role does the physical play in how you think about your projects?
Sculpture obviously encourages physical interaction, unlike painting, whose surface, though it definitely has a tactile allure, never genuinely wants to be touched. A sculpture manifestly begs you to question its surface texture, mass, heft, and presence in the space, to feel it for yourself. Works in public settings, in particular, can hardly avoid being touched in one way or another, and that poses a distinctive challenge that the sculptor should always keep in mind.
The works in my 'Privileged Points' series, for example, which made their début as a permanent installation in the Walker Art Center's Sculpture Garden in Minneapolis and were later also part of the 2017 Skulptur Projekte Münster and exhibitions at the SFMOMA, Luxembourg's MUDAM, and elsewhere, were occupied by children once the shows opened. If I hadn't painted the bronze sculpture in light pastel tones with a thick brush—my way of questioning the durability of sculpture and especially of bronze as a classical material—this unconstrained and physical form of engagement wouldn't have come so easily.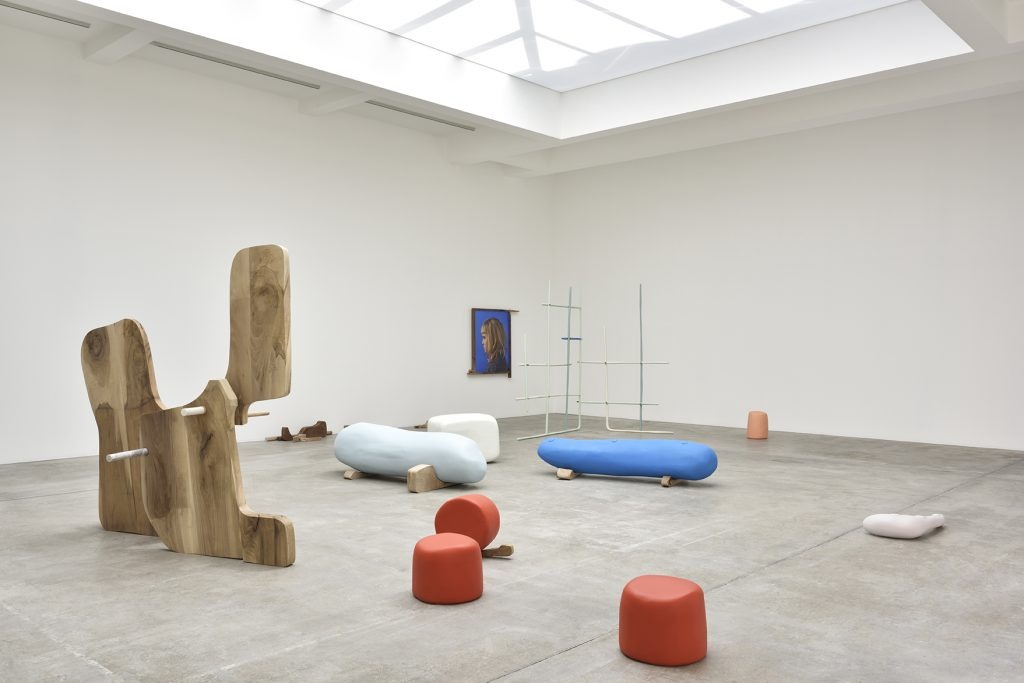 How has your relationship to materials changed over the course of your career?
I would describe it as an open relationship. Materials are with you for a part of the journey, and some of them leave you and then occasionally come back to you. However much I enjoy working closely with these materials, I also like being unfaithful to them. Questions and mutual influences come and go, and that process is what ultimately gives birth to a sculpture.
Last year, for a work titled 'Knee and Elbow', my contribution to the project 'Ground/Work' at the Clark Institute in Williamstown, I worked with marble for the first time, a material with classical connotations. We associate it with a uniform grandeur and hardness, but each marble block is actually individual and quite brittle and fragile. It took me some time to find my way to resolve the confrontation with the legend in which this material has come to be shrouded over the centuries. What I did was work the surface—the skin, you might say—of the abstract-figurative forms with a chisel, gently wounding it to draw out its vulnerability.
I delved deeper into this affair with marble in the 'Misfits', the new series I made for my exhibition at the GAM in Milan.
What have you discovered in the materials you use?
As you grapple with a theme or an idea and your thoughts around it evolve and coalesce, materials creep up on you, or perhaps I should say they offer themselves. The next stage is a mutual interrogation and exploration of possibilities, which results in an agreement, a friendship.
Most recently, this happened to me when, as I was conceptualizing my show at the Marian Goodman Gallery in Paris, walnut wood came to my mind. My artist friend Danh Vo brought it back, working with wood from the farm of Robert McNamara's son Craig, so it came with considerable historical baggage. A few years ago, he reused my title 'Slip of the Tongue' for the exhibition he curated at the Punta della Dogana in Venice in 2015, and I conversely now adopt the contextualized wood for my 'Misfits' series. So there's massive wood as a material that's new in my art, but the history in which it's steeped and that defines its significance is present as well.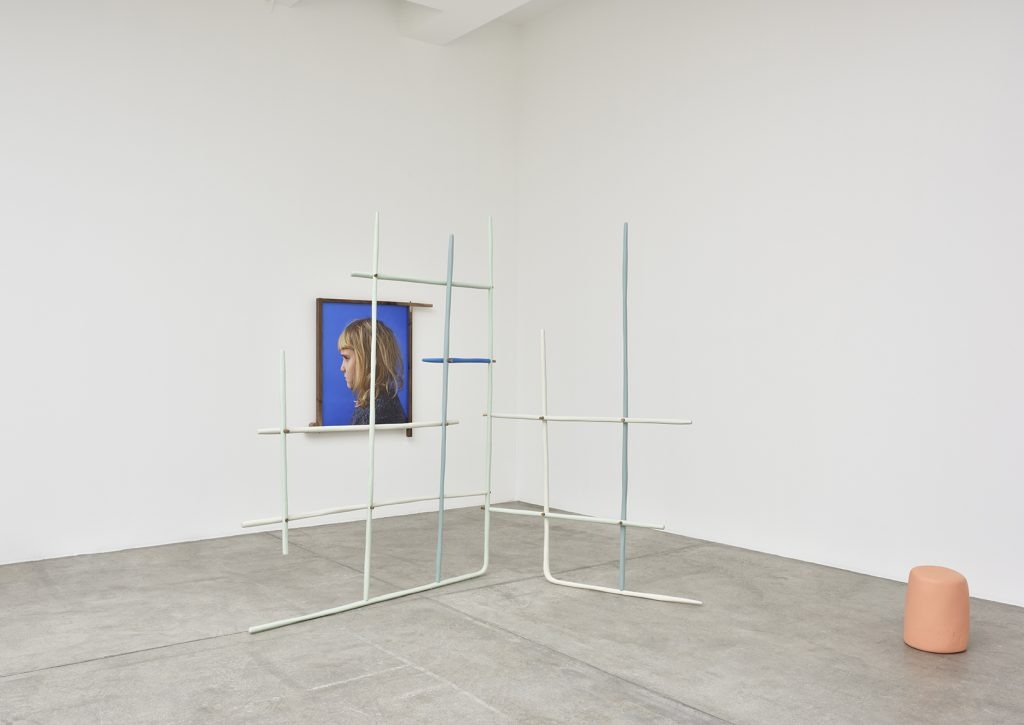 Some might argue that you've innovated the use of aluminium as an artistic material. How would you respond?
Maybe I've been successful here and there in questioning or reinterpreting the established status and perception of a material. If I have, though, that's not about a specific material; rather, it's symptomatic of my underlying approach to familiar or as yet unfamiliar materials. The classificatory division of materials into poor and noble ones is sterile, and an artist who accepts it as a given will merely perpetuate the expectable. The materials then have no choice but to fulfil their longstanding representative purpose. I never wanted to be thought of as an artist who works exclusively with one or another material, let alone turn it into a kind of trademark feature of my work. On the contrary, the selection of a material is always also a negotiation of the given realities I find myself confronting, and the diversity of materials and possible ways of repositioning them is a key part of it.
Do you consider the history of who has used a particular material when choosing to work with it?
I'm more interested in what's been done to it and with it—the material's own history—and in where my affair with it can take us.
Read more in Trebuchet 11
Main image: Nairy Baghramian, Jumbled Alphabet, 2021. Photo: Rebecca Fanuele. Images courtesy the artist and Marian Goodman Gallery
The aim of art is to represent not the outward appearance of things, but their inward significance. – Aristotle