[dropcap style="font-size:100px; color:#992211;"]H[/dropcap]ead dobbing and bobbing might be a summer thing only found when the sun is out and things are going well.
No festivals for me this year, so if you're like me and the best you can do is play tunes in your garden and semi-sulk about the way things are, then it's time to risk some new music. In this review's case, Jule Vera: a new sparkle of what is summer. It's the kind of sparkle that might make one smile, but also more of a clinical dissection sprinkle of an album that is less than original. I will dangle a quick question in your direction: what counts as copyright infringement? But before we try to answer that question, we turn to the artwork of Jule Vera's album cover….
In the changing of colours in the summertime: people tend to wear a little more sparkle and flare; a preoccupation in showing off their best assets is shown, a chance to display one's best features, and in this is a point of discussion for the artwork of Waiting On The Sun.
This girl has got the look for the pop industry. Although there are five of them in Jule Vera, (four lads and Ansley Newman, the frontwoman) we don't see the whole band. I'm not sure why the focus is on Newman, because they all contribute to the sound and in all respect they are all good looking lads. I surmise this might have been a marketing ploy on part of the record label, Weekday (underlings of Sony).
Looking at the cover work I'm seeing a representation of Newman that is in the spotlight, but is split in portraying her beauty – not confident but proud – a cut nose. But maybe this is the curse of the artist in question? The artist is Brendan Walter (brendanwalter.net), an artist that has worked with the likes of Fall Out Boy and Weezer. Album artwork can make or break an album, so why break the image of such a beautiful face? Why miss the faces of the handsome band that accompany Newman? Days gone by I would be calling for a sacking of the artist, but is that fair?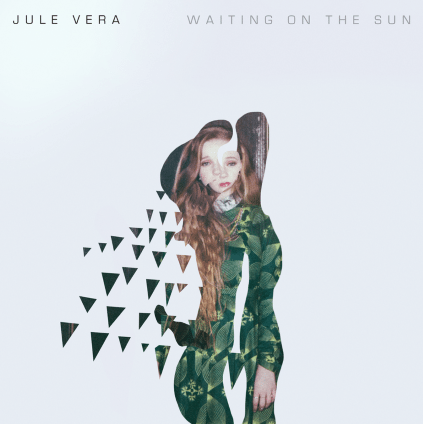 To the music, thanks for waiting…. Guess what? They used to rock. Proper kinda sing-a-long rock with beat and rhythm, kicking the shit out of the drum kit and places on the Vans Warped Tour. They were signed to Pure Noise records with the likes of Less Than Jake, but have since been picked up by Weekday Records/Sony and have gone popular. Money does speak. Their old stuff from Pure Noise and is quite fun.
Got riffs anew aplenty? Maybe not. When the album (Waiting on the Sun) promo says influenced by Paramore, Taylor Swift, Queen and Michael Jackson, they may have kissed goodbye to the sebum-glossed Vans tour.
Do start with track one: its tradition mostly, but also it may be the most original Jule Vera get. The rest is a slippery slope. Show Me, has some fun and wacky guitar in it including a peculiar Queenish aura….
With track two, Something Good, a familiar start brings the pianist in, as well as the air of something I've listened to recently but cannot put my finger on (and definitely not Jule Vera). Had a biscuit, and a think, and… Anthony and the Johnsons. The lyrics are enjoyable, very poignant for Newman, who spends her life making and producing music: "when is something good going to happen to me?". Oh, bless.
As for the rest, you've heard it all somewhere else before, and quite likely read the reviews the first time around. Jule Vera may be happy to rehash old material, this reviewer is not.
If you like pop music that sounds the same as everyone else, go for it. I hope they make the charts.

NAP & Nico. is a writer, a painter, a poet, a illustrator and writer of a disabled squirrels children's storybook . An academic yet to set the world on fire, but who is holding a Zippo beneath the Zepplin carrying modern society's scene that will wonder why they hadn't heard of NAP & Nico before.