I've always found Highbury Garage (I'm still refusing to call it Relentless Garage) a rather sterile venue, but when the evening began with a male unicyclist, Count Adriano Fettuchini, stripping down to frilly knickers and nipple tassles, some vibrancy and perhaps the parody spirit of true burlesque brightened up the place.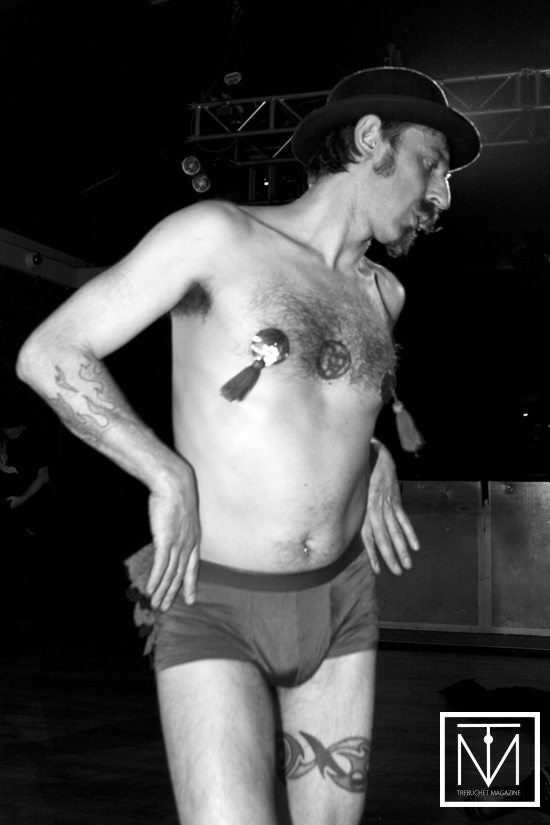 Later that evening, we experienced what one might term neo-burlesque, or indeed post-feminism, as a glamorous woman by the name of Roxy Velvet stripped down to a merkin and nipple tassles whilst eating fire.  She was actually pretty good at eating fire, but I don't think that's what the men in the audience wanted to put in her mouth.  There was another stripper called Suri Sumatra.  She didn't eat fire.  She danced around and took her clothes off.  How very progressive.  When you're watching yet another night of all male bands, it's a shame that this seems to be the only way that women get on the stage at such events.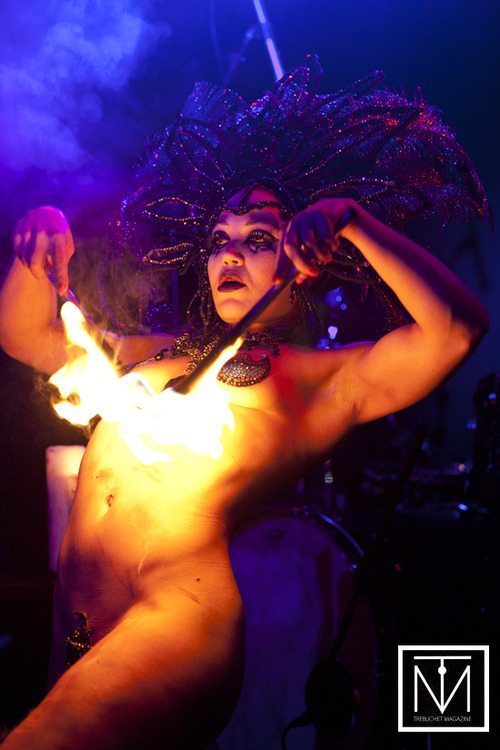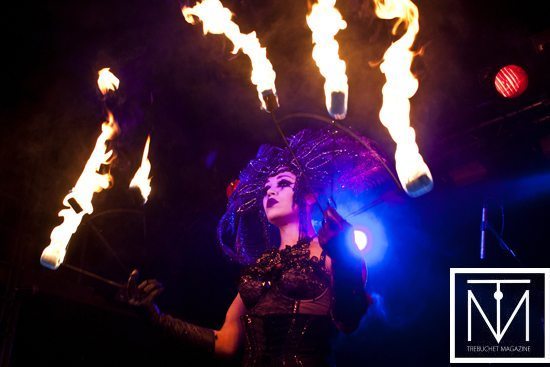 Old punk band 999 played the type of set you'd expect from fat middle aged old school punks with slightly squealy guitars, all well and good but you felt that they should be in a spit and sawdust pub in Hackney rather than supporting The Grit.  Actually given that Dalston, original home of Gypsy Hotel gigs, is now achingly hip, they should probably be in a dodgy punk pub in Stockwell.  We surely have about six months left before the embourgeosification of Brixton spreads to Stockwell and the area becomes too cool for punk.
fat middle aged old school punks with slightly squealy guitars
No doubt in a smaller venue, there would have been old blokes in DMs moshing and pogoing near to the band, which would have instilled some atmosphere.  However, the echoey sound of the venue and the distance between band and sparse audience detracted from the set.  There was one young woman in creepers bouncing up and down on the barrier.  Usually when there is only one person over enthusiastically dancing alone to a band, she or he turns out to be the partner of one of the band members, but she can only have been their daughter.
Roddy Radiation may have played guitar in The Specials, but when you're watching his band, the Skabilly Rebels, do Specials songs without Terry Hall, it feels more like watching a wedding covers band, albeit a very competent one, than a legend in action.  It was enjoyable, but I'd rather save up to see The Specials.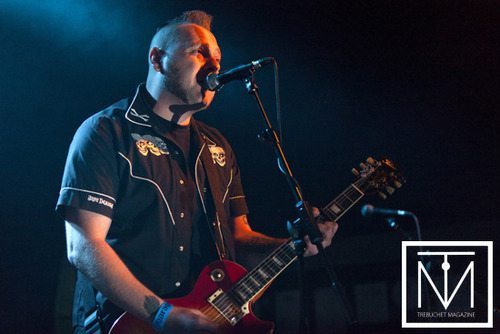 Appearances can be deceptive – if you haven't come across The Grit before you might assume that they are a psychobilly band.  Certainly all the signifiers are there – the quiffs, the job-stopper tattoos, the slap double bass.  However these boys eschew the psychobilly hallmarks of stripped down sound and tales of the undead. The Grit wear their Clash influences on their tattoo sleeves, combined with elements of their North East roots – the sing-along choruses and harmonies nod to Northumbrian folk. You don't have to be a Geordie or even a man to jump up and down and drunkenly slur the chorus to A Geordie's Song, "I'm a Geordie, I'm a man, with no place to call my own…."
In common with 'London' by The Smiths, 'Smalltown Boy' by Bronski Beat or 'This is For the Poor' by The Others, this is for anyone who left that suffocating town where everyone knew their mam and moved to the big smoke.  The lyrics are again less influenced by the stereotypical non-political psychobilly stance and more by their punk influences, with stories of alienation, politics and romance, expressing both a fascination with and a repulsion of binge drinking and contemporary culture.
They had a new drummer, but very few new songs, indeed their last few gigs have consisted for the main part of songs taken from their two albums, "Shall We Dine" and "Straight Out The Alley", the title of the second album presumably paying homage to the smoking alley between the 12 Bar Club and the rehearsal rooms and tattooist on Denmark Place, which is reflected in their lyrics referencing both the North East and London.
While these songs were appreciated by the faithful, it would have been good to hear some new material.  However they played with confidence and conviction and while a half empty Garage was never going to have the atmosphere of a packed gig at now defunct The Gaff down the road, we happily bashed into each other in front of the stage, spilling our plastic containers of overpriced weak lager.
More drink till you flop than drink till you drop.
Photos: Carl Byron Batson