Trebuchet, the band… Trebuchet, the album… The name seems familiar, but I just can't place it…
Comprised of four experienced hands from California's underground indie and post-rock scenes, this band is definitely allowing them to get something else out of their system, with a folky sound that's charming, winsome and disconcerting in a seemingly effortlessly endearing way. A little rough and ready at times, but only so much so that it complements their stripped-back approach to composition, allowing every unexpected twist and turn in their music access to the listener's full attention.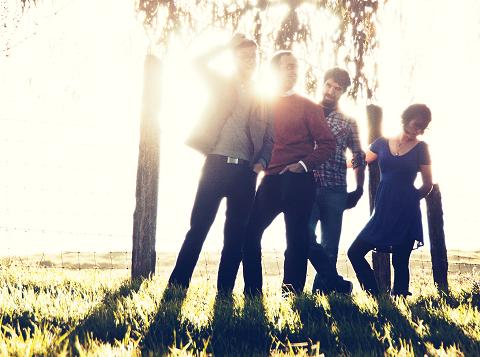 Pleasantly layered and not over-populated instrumentation sees them building and bringing down the magnitude of each song, taking turns on the boy/girl lead vocal and harmonising duties – to the point that they refuse to name any one member as their lead singer – to lend a great deal of variety to the six tracks offered up here.
just enough bitterness and disquiet
These vocals sometimes come across a little bit achey-breaky heartbreaking as they go about their storytelling, but they steer well clear of any hick country connotations and are set to lyrical turns with just enough bitterness and disquiet to neatly counteract the twee nature of some of their instrumentation – a chirpy ukulele backs a lovelorn, love-lost and loveless lament for feelings "washed down with a bottle of cheap wine" on opening track, 'Fast Asleep'.
Trebuchet – Fast Asleep by Riot Act Annie
Much as I hate to go about the business of a review-by-comparison, anything that puts me in mind of Neil Young's dastardly work of genius, 'Everybody Knows This Is Nowhere' can't go by without comment. It's far too great a compliment. And that's exactly what the track 'Close Only Counts' does with its harshly gentle little opening guitar line. It's a brutally bleak little ditty about a man's loves that are as fleeting as the seasons. When the instantly ear-catching, harmonised "ha ha" vocals cut in, the realms of melancholic genius aren't a million miles away.
While they never really leave the arena of melancholy, the band certainly isn't all doom and gloom. Both 'He Ran' and 'The Seafarer' are wistful tales of characters throwing caution to the wind in the pursuit of free and contented lives. The nautical track's perfectly-pitched, wavering vocals get across a great sense of the challenge in pursuing some near-hopeless, romantic aspiration. Throw in an uplifting little instrumental break, and the band is on something of a charm offensive.
But just when they may have warmed your heart, they move to break it. 'Joel's Wife' is all piano, strings and pedal steel guitar, creating an appropriately mournful tone for this account of the titular wife's funeral at the titular Joel's chapel. The album closes on a slightly cheerier note, revisiting the set up of the album opener, with a question mark hung over a love – this time reaching a more positive conclusion than "you've managed quite a mess, now leave what you have found".
original, interesting and characterful
The six tracks on this short album show a great deal of promise, and it's a little cruel that its brief running time ends on a lyrical coda of "please stay". So long as we can all agree to maintain such original, interesting and characterful output, I'm sure the world can cope with Trebuchet the band along with Trebuchet Magazine.