[dropcap style="font-size:100px; color:#992211;"]C[/dropcap]ut and carved, another prodigal son of Lazarides Gallery proves his mettle.
As my return to the art review world goes, this particular choice of exhibit certainly was memorable and comfortable. Often with these reviews, the artist is someone you don't know, a new performer to the scene or an underground sensation that you were just not cool enough to recognise. This isn't the case with Vhils, aka Alexandre Farto.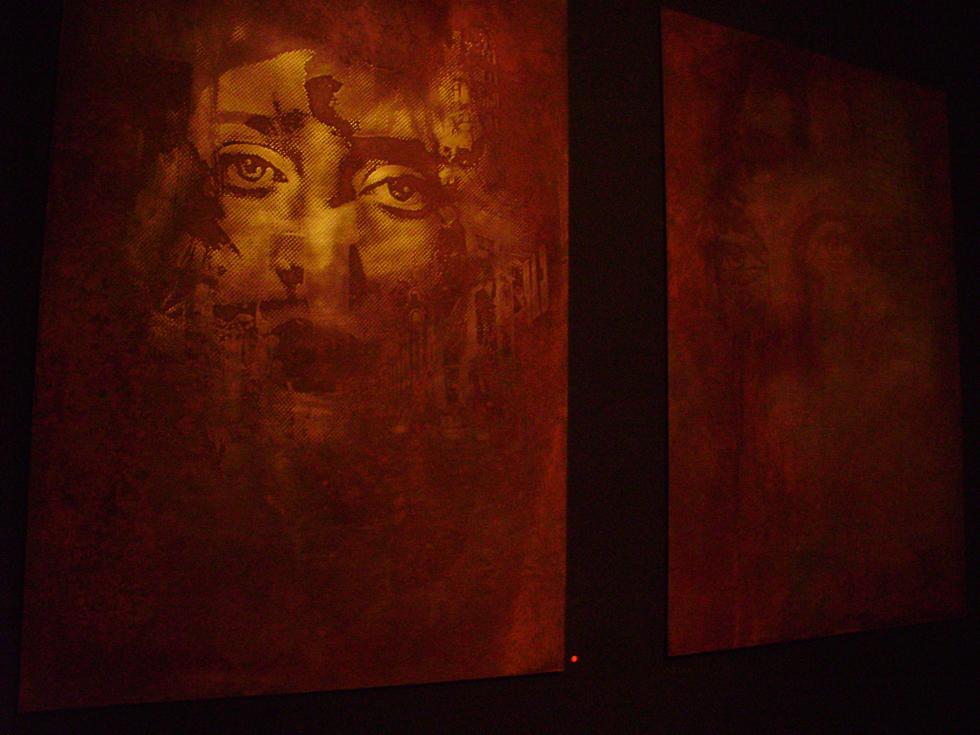 Having had all the acclaim of Banksy  but much less of the overt 'sell-out' stigma, Vhils has had his epic carvings and subtle portraiture displayed all around the world. I first encountered his work whilst roaming Hell's Half Acre by the Lazarides Gallery, a special installation within the Old Vic Tunnels.
I say special installation, I should really say a demonic nightmare of an installation that made me stare into the face of the devil and be haunted, followed by the face of God and left cold. Needless to say, I really shouldn't have gone after raving all night.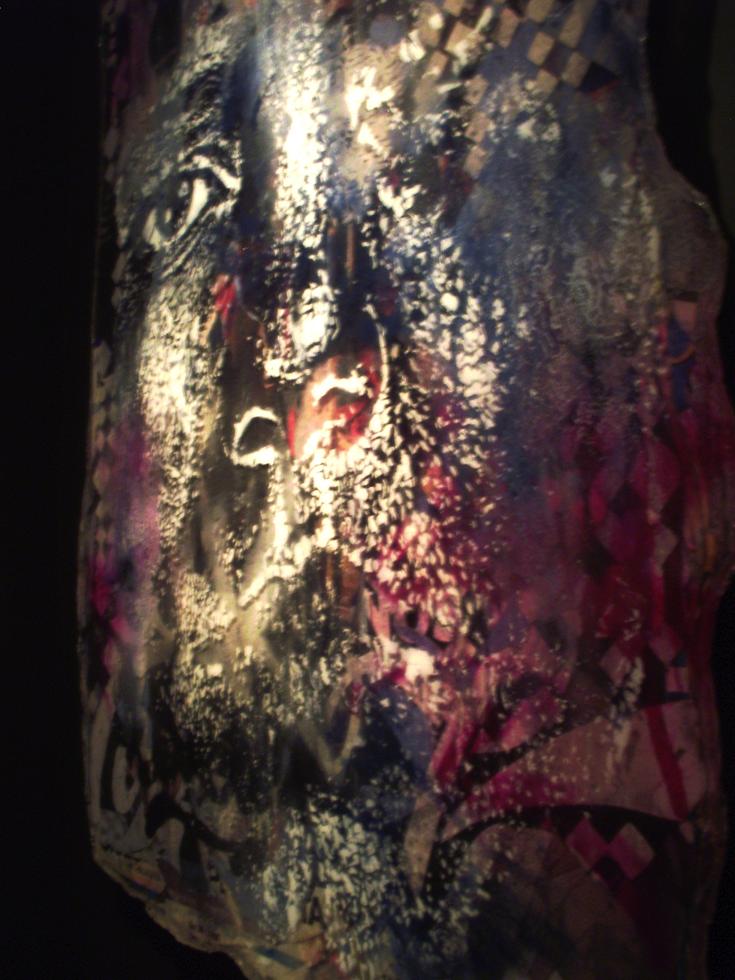 Vhils' were two of the friendlier pieces however, with 'Nice to see you again' literally etched into 10 foot plaster. The sheer impressiveness of his works stuck in my mind, despite the residual horrors which Lazarides Gallery had infected me with. Therefore when looking at the invitation to his new exhibit Devoid, I immediately recognised the artist's style and was very excited for the opportunity to peruse the slightly more compact versions of his work.
Lazarides Gallery benefits from a Soho-adjacent location and subsequently hosts a more "urban" style of installation. I had previously reviewed Miranda Donovan's exhibit of model village ghettos (The Home Unleashed) and so had a few expectations for this latest offering.
Probably too many now that I think about it and I feel almost apologetic to Vhils, seeing as a few of these expectations were unfulfilled. On a quick scouting mission and a brief stop at the bar, I had already noticed one thing. Hipsters take up way too much space.
After seeing that much knitwear and vintage kitsch, the impulse to retreat was stronger than the hairspray used to hold up all those ironic quiffs. I held myself in check and persevered through the media horde, with the idealistic hope that Vhils would see me right. I was expecting that his work would kick kitsch's teeth in.
[quote]not only kissed kitsch's arse, but also lent it money[/quote]
And certainly with many of his pieces, metaphorical molars were lying strewn about the floor beneath them. Yet there were some parts of the exhibit that not only kissed kitsch's arse, but also lent it money.
The material used for the pieces included iron plates, wooden doors, epoxy resin, paper and Styrofoam. A scrapheap of neatly cut, delicately etched and ruthlessly crafted wears, I found his use of materials to be very refreshing. Generally artists nowadays stick to their guns, with a collection being practices in design and method.
Not in this case, where each material depicts new horizons and the method to form it varying greatly. Iron plates were neatly cut into rectangular portraits, etched with acid, rusted to add flavour and then polished by hand. Doors were carved and composed into new shapes. Posters were laser cut, spray painted and crystallised in resin. Styrofoam was cut with hot wire. Vhils certainly doesn't lack range of skill.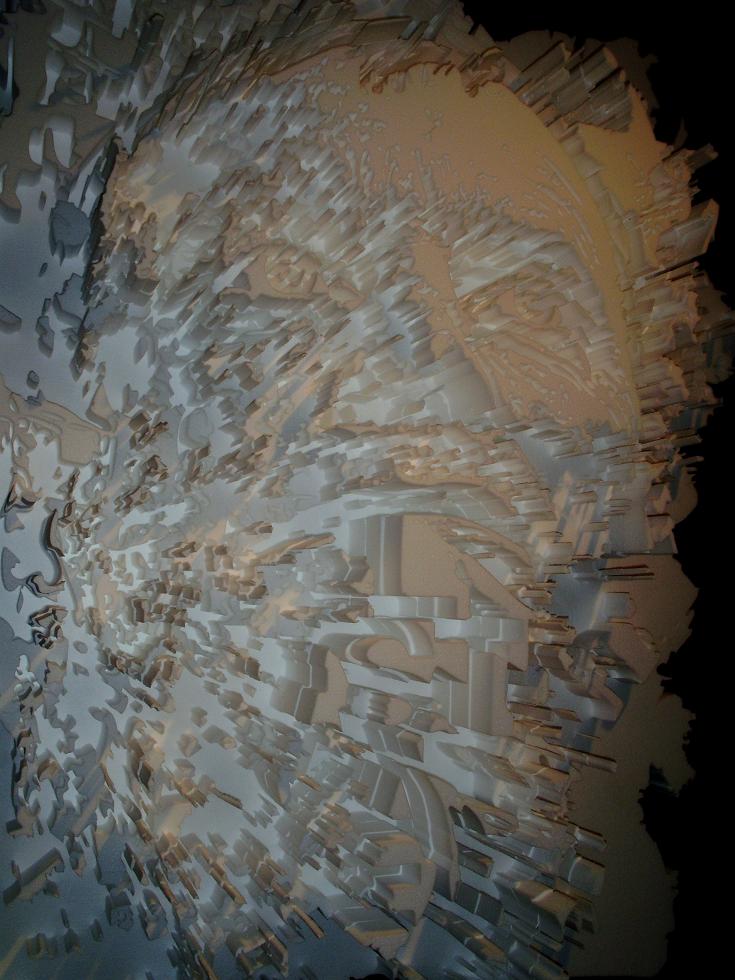 Conversely, despite the range of materials and processes, the subject matter of all these pieces resonated with each other. Eyes filled with meaning and hidden sorrow look out upon the viewer, an omen of death glares from the branches of a tree, a skyscraper climbs out of an abyss of geometric shapes and neon wastelands.
Don't get me wrong, this may sound like pretty powerful imagery and it was. What's lacking is an issue of translation. Playing with the audience's perceptions is one thing, but occasionally one would misinterpret something that is maudlin or sentimental as just plain trite.
Correction, this isn't a translation issue but a hackneyed dilemma. To explain I will use the work 'Ataxia 4' as an example.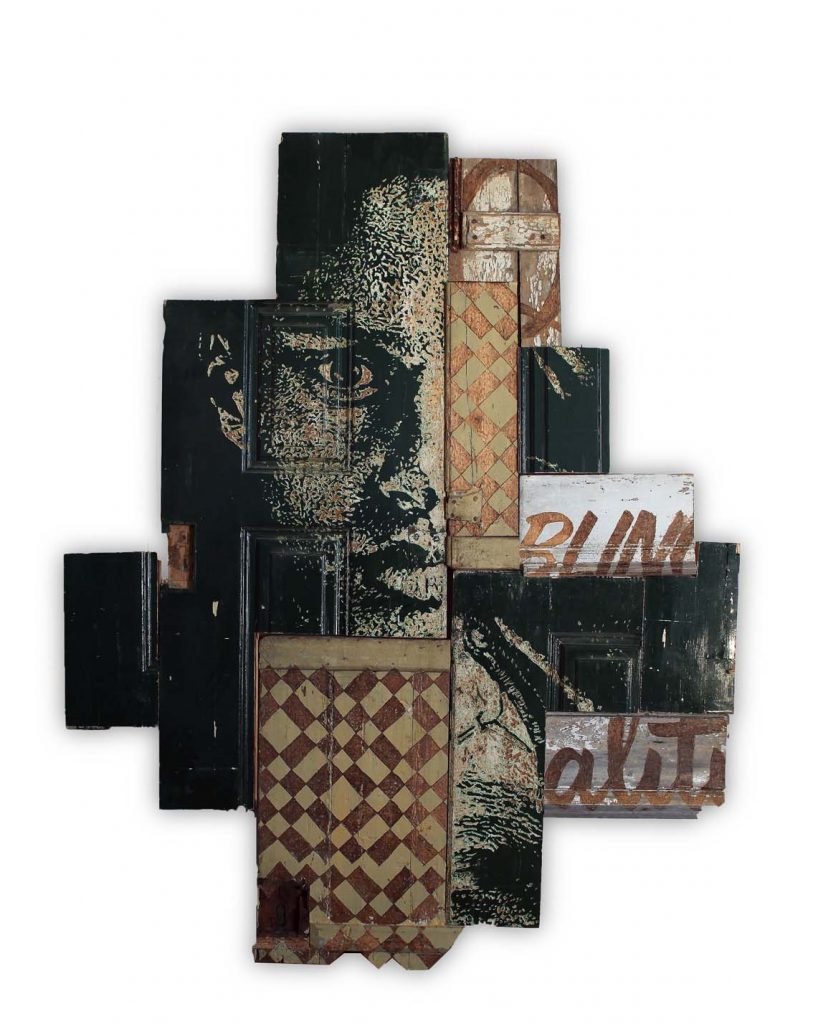 A composition of wooden door cut-offs, sculpted and assembled like a pre-historical game of Tetris, 'Ataxia 4' depicts a face surrounded by uneven chequered patterning. The carved patterns appeared less about aesthetics and more about nostalgia, looking like laminate flooring or cheap lino. Moreover, the snippets of comic book style script only added to this nostalgic aura.
It's feels like he is trying to merge his mother's kitchen, his favourite Wham video and a superhero love scene, all on some doors to other people's homes. I want to get annoyed with the whole comic sans and bad cardigans of it all, but instead I find myself lost in analytical meltdown.
If doors are gateways to the soul, then are the faces which appear on Vhils' work (larger than a man's and infinitely better looking) meant to be the gatekeepers? Or am I reading too much into the use of readily available and pre-painted wood. There must be Freudian meaning within this puzzle, if only we could open the doors and unleash the Pandora's Box of evil thoughts. Pull the other one, it's got knobs on.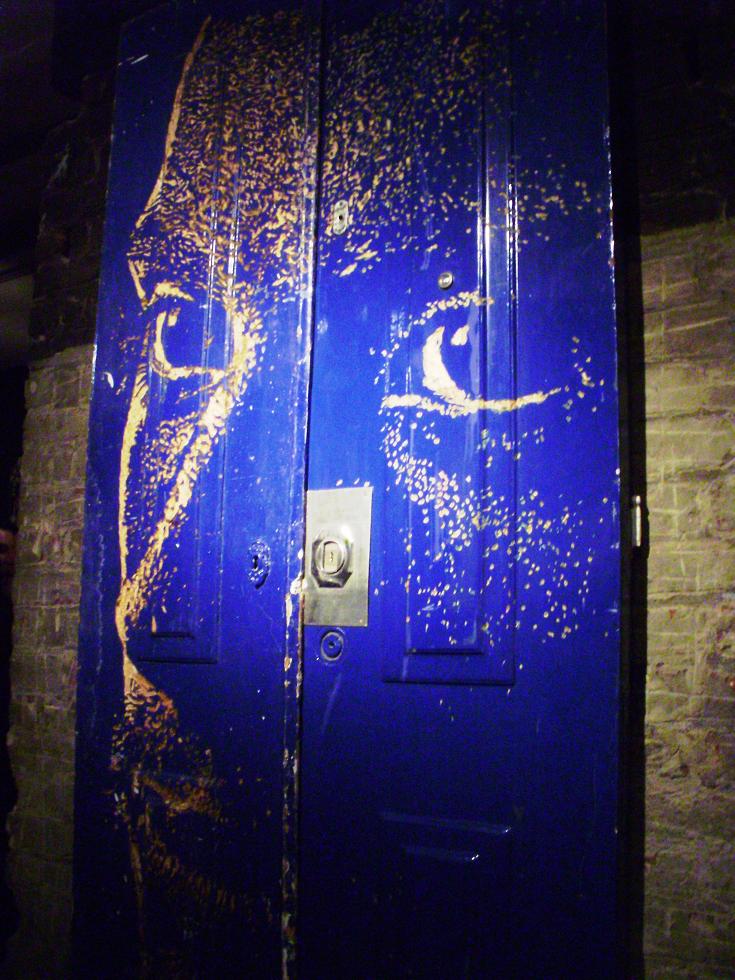 All jokes aside, the rest of the work in Devoid was definitely not devoid of inspiration. Rusted iron with enchanted shining eyes smouldering out at the viewer, with the ghost of a cityscape in the distance, these pieces were called 'Reflection' and spoke to me in ways Vhils' doors could not.
Echoed in the large resin structures, the poignant decoupage used here combined many different styles. I dare to say that pointillism played an inspiring role, combined with spray-painted stencils (I knew a Banksy hat tipping was in store) producing roughly-hewn and brightly-coloured visions of an identity lost to mass produced matter.
As pop art goes, the 'Crystallize' series whispered a hidden brutality, a trademark of Vhils' previous work.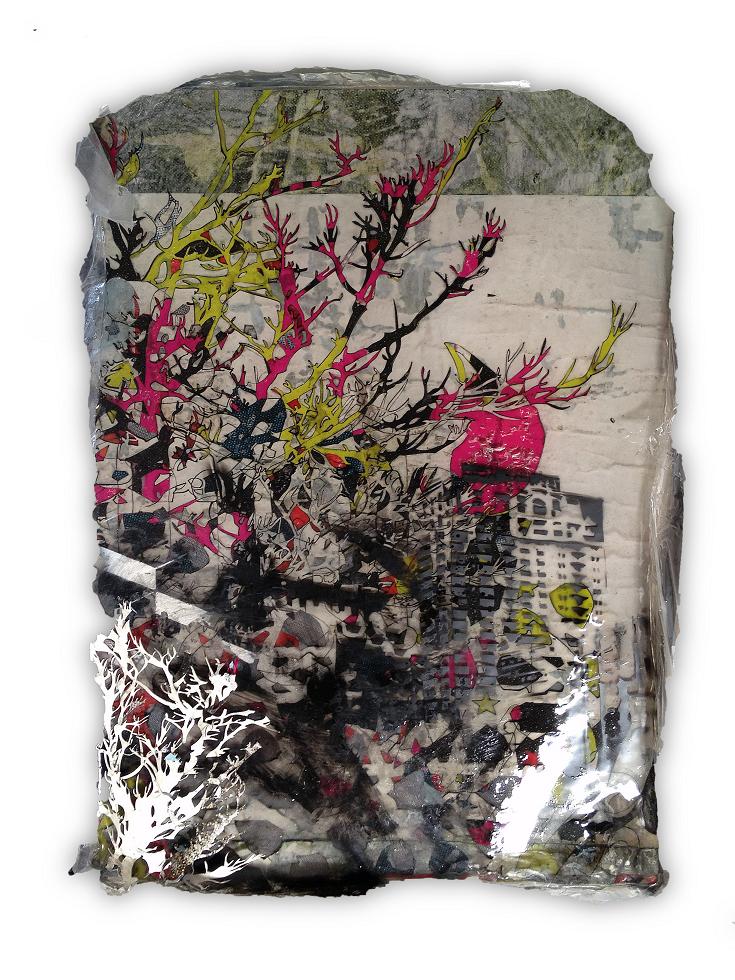 Crystallize Series
That said, as you turn a corner you are faced with the postcard-sized pieces of the 'Fossilize' series. Gothic naturalism meets Kall Kwick, the pieces appear to merge together to form pages of a schizophrenic and disambiguated comic book. If A-Ha had been stuck in this comic book, 'Take On Me' would have been more like a Fight Club anthem.
Nevertheless the most impressive pieces within Devoid were the Styrofoam sculptures. Styrofoam has always annoyed me, with its squeaky tendencies and forceful will to not comply to the simplest instruction. Hold my coffee dammit, not tear down one side and form a hole in the bottom! Needless to say, I was very impressed by the use of Styrofoam in two of the largest and more three dimensional of the sculptures.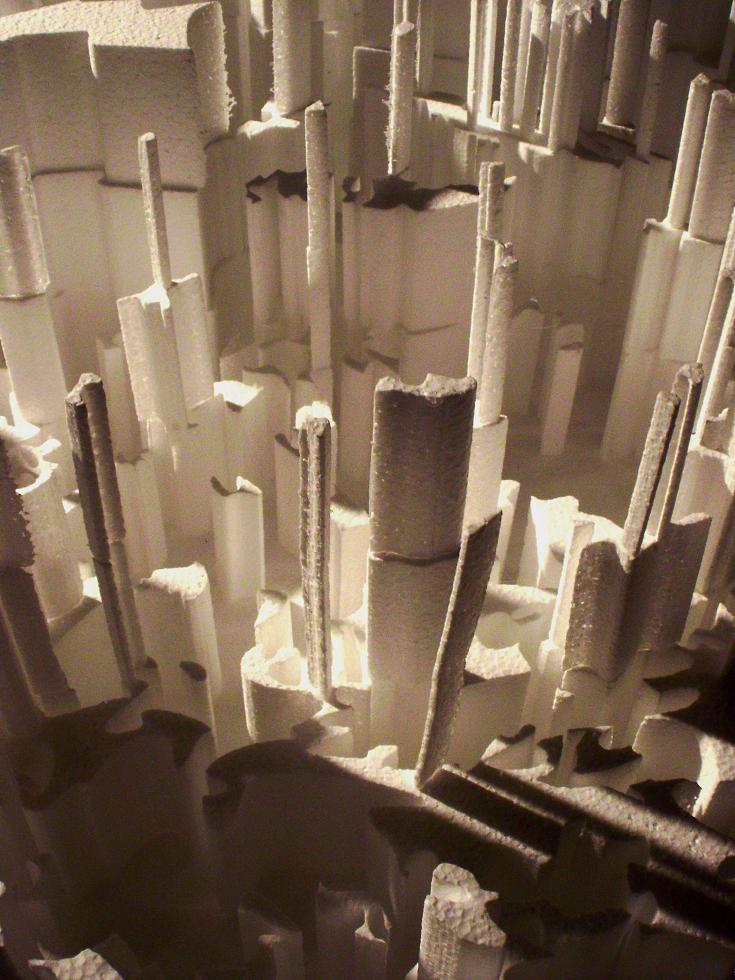 Adding an almost holographic affect, the pieces 'Diorama 8, 9 and 10' utilised visual trickery and detailed craftsmanship to form an elaborate architecture. A white cityscape within the shadowy image of a face, once again we encounter the isolation of an identity emerging from sprawling urbanity.
Regardless of any predisposition against doors, Vhils latest exhibition is deep, rich and amazingly crafted. Reflecting introversions of lost souls and haunted cities, I recommend taking the chance to read the narrative of this work and maybe, just maybe you will read the same hidden message as I.
Installation photos: Ruthie Carlisle
Studio photos: Lazarides
Vhils – Devoid
Lazarides Gallery
30th November – 17th January
11 Rathbone Place, London, W1T 1HR
[button link="http://www.lazinc.com/" newwindow="yes"] Lazarides[/button]