[dropcap style="font-size:100px; color:#992211;"]I[/dropcap]t's bad form to miss the start of a band's set, but when it means entering a venue to the startling sound of Virginia Wing, the faux pas is almost worth it.
Virginia Wing
Their sound is loud and dreamy, but the dreams are those of a fevered mind. There's something dizzying and woozy in their synth and organ noises (leaving this listener feeling just a little short of seasick), with a steadying rudder of solid rhythm section, a discordant guitar (contributing a larger part of the noisy atmospherics than any leading part of the tunes), and with some disarmingly understated vocals at the fore.
It all leads the listener towards some place dark, distinctive and a little bit quirky. The band seem to carry little in the way of stage presence, but on this occasion this only lends them an air of detached cool.
Bleached
Stage presence is something that's in no short supply for Bleached. Their set is a series of punchy tunes, as they mix up Jennifer Clavin's lead vocals (all California twang without a hint of fakery) with a three-way near-harmony, hinting towards classic girl-group pop music. It really gets going with an exciting, swift one-two of 'Next Stop' and 'Looking For A Fight' from this year's debut album, Ride Your Heart.
From there it's blow after blow, a non-stop onslaught of fuzzy, shimmery, crunchy, hooky rock – with more than a smattering of surf in its make-up. 'Dead In Your Head' is a highlight in the set, its central bass riff and intermittent cha-cha guitar input sounding out of this world, or at least out of this time, with an element of that distinctly sweet sound of the 80s alternative to it.
They look like superstars, particularly when the pink-haired Jennifer drops the guitar to strut around the stage, concentrating her efforts on singing. But for all the variety to their tunes, they fall just short of landing that killer blow; the knock-out tune that'd leave the uninitiated with a ringing in their ear; that catchy number that could distinctly leave an impression on all they encounter.
With that they could be world-beaters, but they're not far short and are certainly contenders.
Veronica Falls
Distinctive tunes are in no short supply for headliners Veronica Falls, as they swiftly prove by opening their set with stand-outs from each of their two albums: 'Beachy Head' and 'My Heart Beats'. The years they've now spent mastering this live show are obvious, as they go about things with an impressive confidence, continuing with 'Tell Me' –  the kind of song that provokes the question, "seriously, these riffs aren't already taken?".
Title track from this year's release, Waiting For Something To Happen is every bit as jangly and joyous as it is on record, but with a welcome frenetic air when performed live.
Their set is made up pretty evenly of choice cuts from both their albums, with songs from their eponymous debut sounding like they've matured nicely – 'Right Side Of My Brain', now sounding particularly powerful and considerably beefed-up, without losing any of its twee charm. They also fit in a new song, showing no great deviation from the sound of their second record, but also that they're far from out of ideas.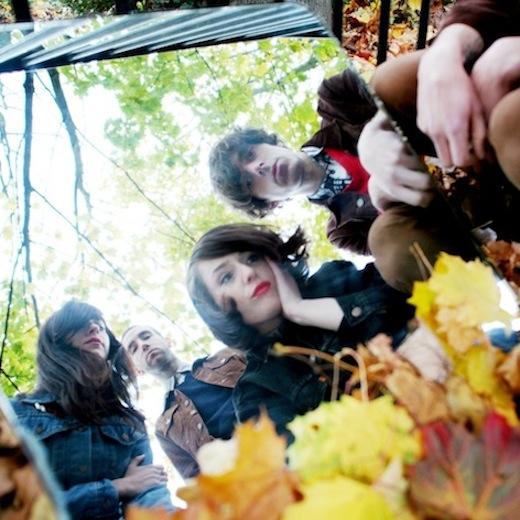 Veronica Falls frequently thank the large crowd for coming out, and although it's a typically stoic-if-not-lifeless London audience, they do sound their appreciation – to the point of yelling for more, before the band has even been through the pantomime routine of leaving the stage to be beckoned back for an encore.
That encore does come later on ("we really don't take much convincing", one of them quips), and it's a worthwhile exercise, as it allows them to first close the set with a barnstorming rendition of 'Come On Over', before bringing the night to a close with the only sure-fire way of topping their heart-melting pop sound: an inspired cover version. In this case, an utterly charming rendition of Roky Ericson's 'Starry Eyes' sweetly rounds off a delightful performance.
Veronica Falls + Bleached + Virginia Wing
Tufnell Park Dome, London, 23rd October 2013