Vayu Naidu Company and Pandit Hariprasad Chaurasia– 'A Triumph of Light'
3rd November 2010, The Barbican Centre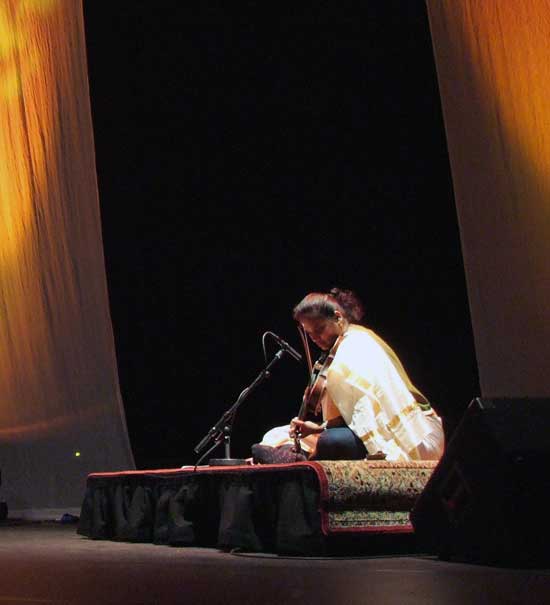 Let there be light, and there was. For 2010's Diwali celebrations the Barbican Hall hosted 'A Triumph of Light', and much like Rama and Sita on their journey through the moonless night sky, a host of travellers found their way through the dark and chaotic tube strike afflicted London to the light and truth of Vayu Naidu's Ramayana and the musical offerings of Pandit Hariprasad Chaurasia.

The Vayu Naidu Company put on an electric performance, with Colin Seddon constructing armies with his masterful world percussion and Jyotsna Srikanth bringing soulful harmony to the story with her Carnatic violin playing. The maestro storyteller Vayu Naidu captured the audience and never let them go, telling the epic tale of heroes, demons, monkeys and goddesses. And what's a good story without a monkey or two?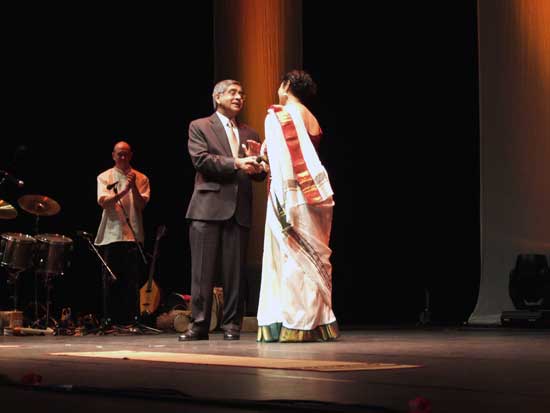 After a sweet interval, this is to be taken literally since Burfi sweets were distributed to an eager crowd, the audience awaited with palapable awe the arrival of Hariprasad Chaurasia and Yogesh Samsi on stage. Their music, which echoed off the Barbican's ikea-like rafters encouraged an atmosphere of meditation and celebration. They brought the evening of light, life and laughter to an end with wonder and power. The combination of flute and tabla transformed the Barbican into an Eastern paradise where tales like Vayu Naidu's Ramayana were truly possible and if a tube strike should happen, you could always borrow someone's golden aerial chariot.
The performance was done to critical acclaim and was attended by the High Commissioner of India to the UK, who said that the Vayu Naidu Company storytelling and the musical concert by Hariprasad encapsulated the spirit of Diwali in the year of the 60th anniversary of the Republic of India.
The aim of art is to represent not the outward appearance of things, but their inward significance. – Aristotle