[dropcap style="font-size:100px; color:#992211;"]A[/dropcap]cross the austere stone facade of the Palais des Papes blows a gusting mistral that, despite the 32 degrees signalled by the digital displays above Avignon's pharmacies, rips through the cropped jeans and Hollister hoodies that are this year's de facto uniform amongst dance and drama's hopeful.
Somewhere over the eastern horizon the same maddening wind is truncating the Ventoux stage of the Tour de France, and contributing to the unexpected spectacle of Plucky Brit Chris Froome doing his bit for the small non-EU nations by attempting to win a bike race without a bike. Here in Avignon, mid-festival, it is not the gradients which are contested, but the flat ground. Any flat ground.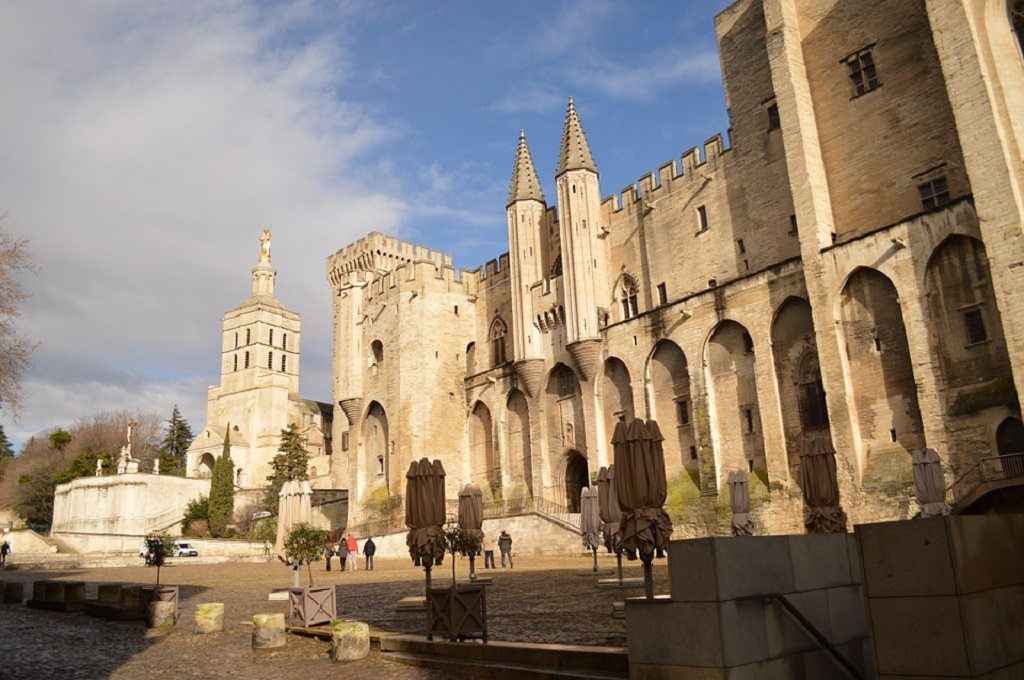 Nowhere, not Edinburgh, not Cannes, has the spontaneity of creative expression that exists at the Avignon festival. There are, as at any drama fest, scheduled acts at designated theatres – ranging from the musty dives above newsagents seating twenty, to grands salons inside the palace, to modern ampitheatres carved out of honey-toned rock – but few amongst the hordes thronging the city have any interest in, or indeed can get hold of tickets for, those. In their place, and in every place large enough to lay a pair of beach towels, is street theatre of a calibre unrivalled.
French street theatre (for although this is an international festival, the predominance of companies and players are home-grown) straddles an artistic line between avant garde performance art and sink-estate political grafitti, by way of an exponentially edgier version of Cirque du Soleil visual extravagance. If you have ever been unlucky enough to experience  the Republique's television output (and yes, Fort Boyard is still running), you may have sniggered smugly to yourself at the clean, party-line, 1970s safeness of its endless supply of gameshows, fawning chat formats and inane magazine programmes. Why, to sell a format as ribald and deprecating as Eurotrash, did Antoine de Caunes have to pitch his wares to UK TV, not French? Where is the spirit of Private Eye, of Spitting Image, of The Office, Spaced, or The League of Gentlemen?
The answer (obviously, for this is a theatre review) is in theatre. Street theatre particularly. And it can be seen wherever people gather in large groups, whether that be in the banlieues of the higher-numbered Paris arrondissiments, on the boardwalks of beach resorts, or here, on any unoccupied piece of flat ground between Avignon's station plaza to the very steps of its imposing papal palace.
Established theatre discourse talks of breaking the fourth wall – that imaginary barrier between audience and player which, whilst helping to create the suspension of belief and veneration of the spectacle upon which any performance depends, also impedes true penetration. It is the goal of the dramatist to invoke, create and control the ambience and environment in which the spectator is engaged. This is hard to do when (as is the case in a number of Avignon's endorsed theatres) the very building is often more imposing, dread, and dramatic than the work performed.
No such restriction applies to the street performance. Breaking the fourth wall? There aren't even the consolations of the other three. Innovative approaches to the physicality of theatre, of audience integration and multi-directional focus are not directorial affectations when actors must enter the stage space through an assembled crowd of spectators. The distinction is minor, but the recurring challenge in every street piece this Bastille Day in Avignon, is how exactly do you signal a curtain drop when there is no curtain?
There are multiple approaches taken. One brave soul, performing a two hour (and scintillating) one-man enactment of Alfred Jarry's Ubu Roi simply addresses the audience directly. His dramatic opening involves emerging, naked, from a refrigerator. To do so, he must first strip, and enter said fridge. He asks that we look elsewhere as he does so. We do. Later, after a stunning performance of the sort which raises Richard Littlejohn to frothing incoherence and involving tomato blending, plucked chicken and an excoriating (and relevant) denunciation on the corruption of power, it dawns that the bonhomie and goodwill from the audience which has been crucial to the performance may well have stemmed partly from his appeal for our collaboration in the initial set-up.
Other troupes have other approaches to the physics of street performance. Firejugglers clear a space with poured flame – effective if perhaps counterproductive. An elaborate meta-textual setup about the internecine feuding within an on-the-skids operatic trio opens with an escalating argument between two riggers as they set up lights and mics. The audience, as yet unformed, gathers out of nosiness to snoop on what looks like an interesting fracas before it gradually becomes clear that the perfomance has been in full swing all along.
This hors-texte jouissance is a recurring, if not dominant, approach throughout the unofficial acts taking place on Avignon's streets and squares, and is a direct response to the unwalled performance space. What might be looked upon as an unbearable restriction in a formal theatre – the nudity of curtainless boards – is embraced, Flann O'Brien-style, as an interactive working tool that is either a very post-modern or, more likely, entirely pre-modern dramatic technique.
(If the spectator's brain is capable of further induced suspension of belief and a foray into hors hors-texte, it's worth taking a walk out to Avignon's campsite. At any given hour, impromtu rehearsals spark up, Fame-like, amongst its temporary residents. There, you can even offer amendments to the scripts. If you ever wondered how to make an episode of Glee even more camp, the answer is, demonstrably: add tents.)
Set against a backdrop of urban space which succeeds in condensing an Allo Allo cliche of French pavement cafe, surrounding vineyards, hilltop chateaux and leaf-dappled boulevards into a couple of square kilometres, Avignon's street performers compete for the attention (and small change) of whoever happens to be passing. True, there are those whose efforts merely induce a cringe – human statues, club-jugglers and tutu-wearing neo-ravers miming to Art of Noise instrumentals clog the early morning slots and are no more challenging or engaging than their Oxford Street counterparts. Early evening though, heralds the arrivals of the semi-professionals, staging compelling and truly engaging oeuvres on themes from early-onset dementia to the social cleansing of renewed urban spaces. Directorial approaches grab healthily from Beckett, South Park, and Brass Eye mockumentary.
Which brings us to the actual theatre piece puportedly being reviewed.  Une Femme Au Soleil, the physical theatre/dance opus presented by Franco-Swiss choreographer Perrine Valli to the Avignon elite at the prestigious (and palatial in every sense) Montreuil stage. Framed on both sides by strips of grassed turf, Valli's stage set-up (in contrast to those in the city streets outside) strives to construct further walls and restrictions for her performers. Dancers Marthe Krummaenacher,  Sylvère Lamotte and Gilles Viandier trace subtle, languid shapes on the hemmed-in canvas, conveying various tableaux of desire, strangeness, incandescence and remote disengagement.
Une femme au soleil – Perrine Valli – création from adc on Vimeo.
Only the latter seems wholly relevant to the subject – an attempt to reflect, in dance, the alienation and atmosphere of Edward Hopper's paintings.
Hopper, alongside Arthur Miller, did more to burst the illusion of American social mobility and economic empowerment than Happy Days ever did to construct it post hoc. Whilst the mirror game dancing of the two female dancers is sensuous and alluring; stories of marital tension and social stress are hinted at via the shapes and rhythms affected by the ensemble, there is little here that echoes the profound emptiness and absence which permeates Hopper's paintings.
How can such intimate physical interaction between dancers hope to convey those immense imaginary spaces between elbow-to-elbow late night drinkers in his best-known canvas? Loneliness in crowds – it can surely be constructed onstage, but Valli's sensual shapings, though entrancing, fail to convey any of the hopelessness of Hopper's American nightmare.
Or perhaps it is futile to attempt urban alienation in such a locale, now that the wind has dropped and the evening has turned to a silken balm. Sporadic Bastille day fireworks ink the indigo sky with glittering blossom and mixed age groups laughing under Kronenbourg parasols look as welcoming as old friends. It is difficult to bring the mean streets of Chicago or Manhattan to the warm sandstone of Avignon's late evening stroll. Or maybe Valli should simply have set her turfs down on the boulevard and took her chances with the passing trade. That hallowed Montreuil fourth wall is perhaps not worth the price.
A news broadcast flickers out through the green-stickered windows of a PMU bar. Chris Froome's yellow jersey has been reinstated. It seems that even if you can't bring Hopper to Avignon, you can win a bike race without a bike. Just as well, a Ricard-quaffing wag quips. The English fans might have started throwing chairs around otherwise.
---
Editor's note. The above review was written before news of the same day's terrorist attack at Nice emerged.

Sean Keenan used to write. Now he edits, and gets very annoyed about the word 'ethereal'. Likely to bite anyone using the form 'I'm loving….'. Don't start him on the misuse of three-dot ellipses.
Divides his time between mid-Spain and South-West France, like one of those bucktoothed, fur-clad minor-aristocracy ogresses you see in Hello magazine, only without the naff chandeliers.
Twitter: @seaninspain