[dropcap style="font-size:100px;color:#992211;"]T[/dropcap]
he UK rappers Skengdo, AM and Drillminister have collaborated with Russian artist Andrei Molodkin to create three new installations made with the blood of gallery-goers. The works, formed of empty vessels in the shape of the musicians' lyrics, are the most recent additions to Molodkin's Young Blood series (2019) based on censored protest music, and will be displayed at the Saatchi Gallery in London from 5 – 10 June. 
In December 2018, Skengdo and AM (who perform as the duo Skengdo X AM) became the first UK musicians to receive prison sentences for a musical performance, when they violated a gang injunction from the Met Police by performing their song "Attempted 1.0" (2018) at a London venue. The injunction prohibits Skengdo and AM from performing songs that mention rival London gangs in their lyrics.
AM says that the injunction stems from the UK government's desire to suppress drill music. "They don't want us to realise that we can use our influence to help a certain type of people coming from a certain area. The system wants to keep us down."
Drawing parallels between the censorship of UK drill music and state suppression of art in Russia, Molodkin says that drill rappers are "being used as a scapegoats by the government for their failings", adding that "real information is suppressed data".
Drillminister, who is running for London Mayor 2020, says that he hopes to use this collaboration as a way to protest the "sanitisation" of UK drill music, whose practitioners are predominantly black and come from council estates in London. He says that UK drill employs "a British version of ebonics", which reflects real social issues faced on council estates in the capital, noting that the spending cuts and austerity measures enforced by the government are the real drivers of the recent increase in gang-related violence in the UK.
The multidisciplinary collaboration between the rappers and Molodkin has also produced a track entitled The Media (2019), performed by the three rappers, with an accompanying music video directed by Molodkin. The music video will be debuted at a charity event at the Saatchi Gallery in London this Friday, accompanied by live performances from Skengdo X AM and Drillminister. Funds from ticket and vinyl sales will go towards Brixton Wings, a charity which provides educational, music and sports programmes to children and young adults from disadvantaged backgrounds.
Source: The Art Newspaper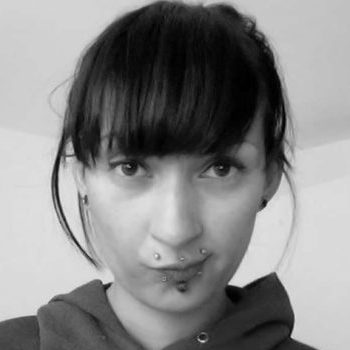 Naila Scargill is the publisher and editor of horror journal Exquisite Terror. Holding a broad editorial background, she has worked with an eclectic variety of content, ranging from film and the counterculture, to political news and finance.