[dropcap style="font-size:100px;color:#992211;"]R[/dropcap]ussian performance artist Petr Davydtchenko will be exhibiting a video work showing him eating a whole live bat as a protest against the actions of big pharmaceutical companies during the coronavirus pandemic.
"I eat a bat alive to destroy the power of Big Pharma," Davydtchenko says. According to a press statement, the work was made in protest after some of the world's biggest pharmaceutical companies 'refused to take part in a World Health Organisation [WHO] proposal that would ensure that any medicine would be patent-free and fairly distributed to those in need'.
The WHO suggested a patent pool earlier this year to aid the production costs of potential Covid-19 vaccines or treatments, and to make it easier to distribute them worldwide. According to the Telegraph, although many of the companies—such as AstraZeneca, GlaxoSmithKline and Pfizer—said they supported the 'equitable distribution' of vaccines and treatments, they refused to give up any intellectual property rights, citing the large amounts of money invested in developing a treatment.
The video shows Davydtchenko eating a bat that was procured from a cave in the south of France, according to a spokesman. The video also shows the artist's new face tattoo of the pharmaceutical company Pfizer's logo and will be part of an exhibition called Perftoran (5 July – 30 August) opening next month at the Palazzo Lucarini Contemporary in the Italian town of Trevi in Umbria.
The artist adds in a statement: 'The bat is an instrument of power on [a] geopolitical field between China, America and Europe. Who will be first to own the vaccine will automatically be the first one to own the world.'
This is not the first time that Davydtchenko, an alumnus of London's Royal College of Art, has made works using animals. He previously lived off roadkill for three years and exhibited the resulting documentation and works in an exhibition at the Palazzo Lucarini Contemporary last year.
Source: The Art Newspaper
Image: still from Petr Davydtchenko performance video. Courtesy of the artist.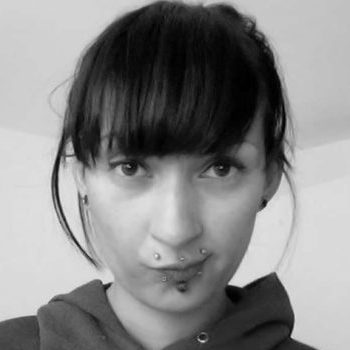 Naila Scargill is the publisher and editor of horror journal Exquisite Terror. Holding a broad editorial background, she has worked with an eclectic variety of content, ranging from film and the counterculture, to political news and finance.