Thorp Stavri is producing one of the largest curated projects to open during Frieze week, bringing together 10 curators and over 80 artists in a 67,640 sq ft industrial warehouse.
Here, Millie Walton speaks to co-founders Eric Thorp and Nicholas Stavri about the project, the role of the curator and what accessible art actually means.
How did Thorp Stavri come into being?
Nicholas Stavri: We first met a few years ago while working for Cristea Roberts Gallery. Although we were working on some great exhibitions with museum level artists that we had both studied at university, we'd spend most of our time discussing the new artists we had come across at degree shows or exhibitions in smaller project spaces –  this is where my real passion lies. Back in 2019, artist Christopher Stead approached us with a potential exhibition space and gave us a push to pull together a show for that year's Frieze week. I guess that push was the catalyst for us to move those post-work pub chats into something more formal.
Eric Thorp: Yeah, Chris got in touch with me after reading something I'd written. He basically said, "I liked your article. I need someone to curate a show in this space – do you know anybody?" I kind of took that as an indirect invite and said, "Well I'll do it". I had dabbled in curation a bit prior to that show, but that was the genesis of Thorp Stavri. Nick and I had chatted about getting something going that was supportive of artists without being explicitly commercial and it seemed like the perfect jumping off point.
In your opinion, what is the role of the curator? 
NS: A curator's role is that of a facilitator. I often think of our work as a catalyst. It's the process of portraying a narrative or message through a deliberated selection of artists and providing them with the means to express themselves. We've been fortunate enough to secure some really interesting venues that give artists some flexibility with what they want to make and exhibit. We often encourage artists to really push their boundaries in terms of the type of work they want to show and the scale they wish to work to. In addition to the role of a facilitator, curators also have to decide how the viewing public experience the works and exhibition by researching how to show artworks in historically coherent and entertaining ways.
ET: Simply put, it's making exhibitions. I know people curate all sorts of things now, but I think in the traditional sense it's organising and arranging shows. What we do differs from the norm I think, as we don't work for a gallery or museum and we aren't pitching ideas to be in galleries or museums per se. We're also not trying to get into selling art so that gives us a bit more creative freedom – combined with the constraints of very low budgets – but you can't have it all.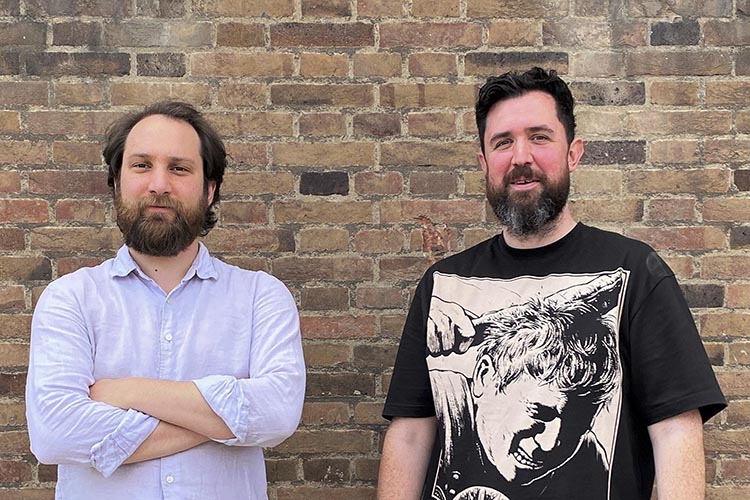 How do you define "good curation"? Can you give any examples of recent curatorial projects that have impressed you?
NS: I think good curation is working with someone who can do something you can't and broadening the horizons of creativity. That also goes for any good collaboration. It works best when you're coordinating a show alongside the artists and working through the various components together, making it work as you go along. Some curators are academics, but I believe that the most interesting aren't necessarily. There is so much exciting work happening at a grass roots level and it is often these self-funded projects that have a real energy about them.
A few projects that have really stood out for me include: Splash and Burn, curated by Charlotte Pyatt, which is a brilliant cultural initiative that uses creativity to encourage conversation on unsustainable Palm Oil and the effects it has on the forests and wildlife. Bums by Skip Gallery – I loved watching this show unfold over socials. Skip does such a great job of disrupting the elitist art world and does their best to make art universally accessible. Another great project is Quench Gallery, run by Lindsey Mendick and Guy Oliver. Quench endeavoured to help artists sustain their practice through the various lockdowns. Uniquely, they don't take any profit from the sale of artists' works… I popped down to Margate last weekend and caught Jakob Rowlinson's Visions of a Whispered Past. The show is brilliant, the space is lovely and there is a really positive energy at the gallery! If you're in Margate, please pop by.
ET: Good curation is really understanding what it is that you're showing and presenting it in an interesting, innovative and thoughtful way. It's also understanding your audience and endeavouring to show them something they will benefit from, enjoy and find thought provoking.
Good curation is also spinning plates. There are a lot of frustrating and tedious elements to bringing a show together, as well as all the interesting fun stuff, and it's about keeping all of it going until it comes to fruition.
I really like what Collective Ending are doing – each project is unique and they really care about showcasing emerging talent. Same with Castor Gallery – Andy Wicks really transforms his spaces for each show with incredibly intricate installs. I think he does most of it himself – really beautifully crafted shows and the gallery really supports early career artists. 
One of your aims is to present art in an accessible way. What does that mean exactly? 
NS: At the very least, presenting art in an accessible way means that the works on show can be experienced by as many people as possible. This might mean that films which include speech are subtitled, or transcripts made available. Hang and plinth heights should be considered as well as allowing additional space between artworks, plinths and other objects for people who may be using mobility equipment to move around easily and safely. It also means that barriers to information are reduced and we take a proactive approach in inviting local residents, schools, colleges and community groups to events at the site – not just sending them an email or putting up a poster and hoping that they turn up. 
We also tend to work with artists that are either still in education or have recently graduated in an attempt to provide access to these larger non-traditional spaces that can, if the artist chooses, enable them to produce and exhibit works to a scale that they may not be able to so soon after graduating. It's also important that we offer admin and practical support to artists that may need it, helping them with applications, pitches or logistical support where needed. It's things like that which were not available to me when I graduated which made it hard to justify a studio and in turn, led to me moving away from producing artworks of my own and and into the role of a facilitator.
ET: This is a great question and it's something we agonise over constantly. We are trying to take some of the exclusivity out of art, and that applies to artists as well as the audience. Although the art world buzzwords d'jour are 'inclusivity' and 'diversity' I feel there is something duplicitous about a lot of galleries and museums using them. Maybe that's a very cynical stance.
With each project we try to engage the local communities surrounding us and make sure they are part of the fabric of what we do. As Nick said, we reach out to local residents groups and schools and invite them to come be part of it with talks and tours and workshops. It's not something that happens "to" the community, it happens with them.
Where we show art is part of this too. We hope that by taking art out of 'white cube' and traditional gallery spaces – which can be intimidating and alien for a lot of people – and putting it in buildings that are a part of local people's landscape, it becomes more accessible. 
We also want to make opportunities for artists more accessible. We mainly work with people at the start of their careers and give them the chance to show work in really great spaces, with total freedom. To show your work in London you have to either be very lucky or make it happen yourself and we want to try and change that by offering alternatives.
How do you think curators can offer artists, especially those that are in the early stages of their career, more support?
ET: Give them some of your time. Go and see them in their studio and if you can, give them the opportunity to show work without the constraints of commercial bias. Of course, you can't help everyone, in the same way that you can't like everyone's work or want to collaborate with them, but being open and approachable definitely helps. 
Also, create opportunities: residencies, open calls etc. They make a massive difference and level the playing field a bit. I know some galleries will only look at artists that studied at certain art schools and that kind of thing is a massive problem – this snooty, insider, exclusive attitude – it's changing a bit, but not fast enough. 
NS: Yes, opportunities! Create more of them, but think about who they are being aimed at and how they are presented. An early career artist doesn't have to be sub 30 and fresh out of university. I know many artists that have joined education as mature students and have gaps in their CVs and because of that, they can be more easily looked over. People take breaks from producing their art for so many different reasons: financial, for childcare, to look after their mental and physical health… Make it clear that the opportunities that are being put out there are open to all. For example, if you're putting on a residency, is it possible for a mother to spend that much time away from their child? If it is difficult, can the residency period be split into more manageable chunks?
What annoys you the most about London's art scene, or perhaps, the art world more generally?
NS: It's got to be the egos, the one-upmanship and the name dropping! I really don't care for it. I've never really taken myself too seriously or been one for the glitz and glamour – it just doesn't gel well.
ET: Nick Stavri.
Are there any early career artists or galleries that are exciting you at the moment?
NS: As I mentioned earlier, Quench Gallery – what they're doing there is really refreshing. As for artists, for me, Ally Rosenberg and Catriona Robertson. They have both taken on some really exciting residencies recently that have enabled them to push their work into new avenues of exploration. Ally has a show opening with The Artists Contemporary on the 16th Sept and Catriona is going to be part what looks like an amazing show with pigeon__park opening on the 25th Sept
ET: Loads of artists – too many to list really. As far as galleries: Castor as I mentioned earlier. Also, Harlesden High Street are continuously doing really interesting stuff as are Circa. I know they're not 'early career' but I love Cabinet and Vitrine – always exciting.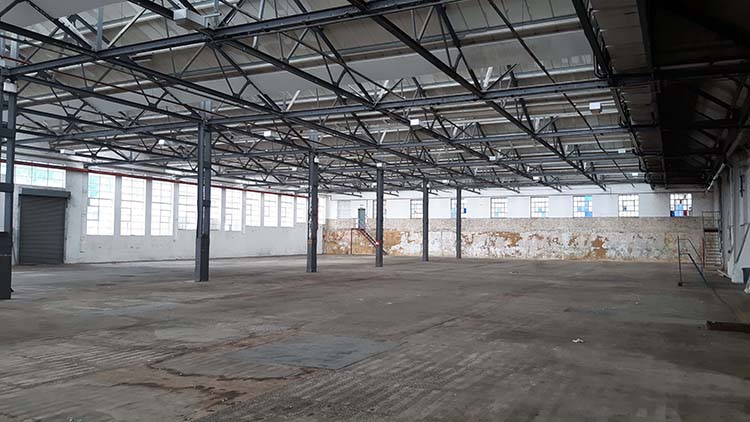 Tell us about The Factory Project. How did that come about and what can we expect from the show?
NS: The Factory Project is something that has been rolling around in my head for years… A much smaller version of it was instigated back in 2015 and it has been an idea that I've wanted to build on since then. Fortunately, this warehouse complex has enabled us to do that. Still, The Factory Project wasn't what we had in mind when we first found out about the space. Initially, before viewing the site, we had intended to produce one massive Thorp Stavri show. But after loads of back and forth, we decided that the opportunity to present an exhibition in a site like this is far too rare not to share with our contemporaries. So, slowly the project grew and grew. We now have 10 curators and over 80 artists exhibiting at various locations throughout the 67,640 sq ft site. I've been thinking of the project as a sort of music festival, where you can travel from stage to stage (exhibition to exhibition), catching your favourite acts while discovering loads of new ones.
ET: This will be our third show working with Projekt. They've been instrumental in us exhibiting in such remarkable spaces and this will be the first project to happen at the Factory Road complex, so it sort of unofficially launches a program of stuff there. 
When the prospect arose to exhibit artists in such a monumental space we felt it was too large an opportunity to keep to ourselves. We wanted to share it with curators, and in turn artists, that didn't have permanent space or galleries behind them. We wanted to give a solid representation of what was happening at a grassroots level in London. The show will be what those nine other curatorial groups have come up with. There are some amazing ideas so hard to say what to expect as a whole.
How did you go about selecting the participating galleries and curators?
ET: We just chose people around us that we felt were doing important things and perhaps not getting the shine they deserve and then approached them. It's a bit of a tricky sell – on the one hand we're saying, "we have this huge space and we would love you to do something in it" and on the other, we're saying, "we have no budget and might not get any and we would like you to be super ambitious." I guess the people that accepted were the ones that were used to making stuff happen on nothing. But it's important to have that attitude with projects like this – you have to beg, borrow and steal to make it happen. Although we have now secured some funding it's very last minute and covers the bare minimum, as well as giving each group a small budget. It was important to us that we could help out in any way we could. 
Aside from your own project, which exhibitions are you looking forward to seeing in the coming months?
ET: I really want to see the Heather Phillipson installation at Tate Britain and Paula Rego. Also, Alvaro Barrington has a show coming up at South London Gallery – that guy's insane – just doesn't stop. I'm looking forward to Diamond Stingily at Cabinet and Chris Stead has curated a group show, opening at Manor Place in Elephant and Castle, which includes a lot of good people. The painting show at Hayward has a great line up and I'd like to see the Helen Marten show at Sadie Coles too.
I had a daughter last year so I don't get to see as much stuff as I used to – plus the whole global pandemic – but she's quickly becoming a gallery baby – she loves zooming around on the shiny floors. I'm now that annoying parent whose kid gets way too close to stuff.
NS: I saw the Rego show, it's brilliant and a total must! It closes at the end of next month, so there is still time to catch it. I hate how these museum shows creep up on us. It always feels like we've got forever to book tickets and see the show, then somehow the show will be closing in a few days time! Funnily enough, the next show I'm looking forward to seeing has also crept up on me. It's the Vanguard show at the Bristol Museum, it's a sort of survey investigating the instrumental role that Bristol played in the development of British street art. I've also been reading a fair bit about Kenny Schachter's new show, NFTism: No Fear in Trying which opens very soon. I don't know much about the world of NFT, but I'd like to learn more. Especially with regard to charities raising funds through the ability to enshrine a percentage of secondary market sales into the code of an artwork / the NFT based certificate that is tied to a physical artwork –  it's an interesting world.
The Factory Project, produced by Eric Thorp and Nicholas Stavri, runs from 9 to 21 October 2021 at Thameside Industrial Estate, Factory Road, London, E16 2HB. Tickets can be booked via: https://www.eventbrite.co.uk/e/the-factory-project-tickets-166677367493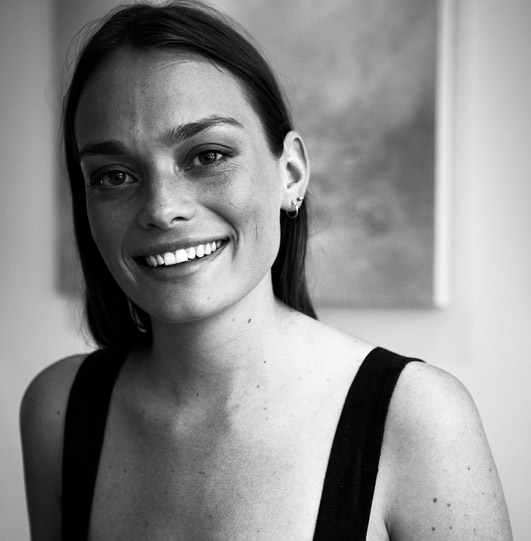 Millie Walton is a London-based art writer and editor. She has contributed a broad range of arts and culture features and interviews to numerous international publications, and collaborated with artists and galleries globally. She also writes fiction and poetry.