Some so-called psychobilly bands just aren't really psychobilly.
Sadly split-up Clash fans The Grit and up-and-coming Clash fans The Zipheads spring to mind. The Peacocks attract a predominately psychobilly/rockabilly crowd but musically they lean more to punk, new wave and indie.
Their last album, After All was constantly on my CD player and was one of the few in my collection that I could get away with playing to all of my friends without it being forcibly removed from the stereo; the perfect party album if you like. The band has to my mind, never quite nailed it live, but they always seem to be on the verge.
New album Don't Ask opens in an energetic frenzy with the radio friendly 'What I Want' comprising drawed/muted indie-style vocals, punk drumming and petulant lyrics. Perhaps a mission statement?
Several of the tracks would not have been out of place on the previous album, such as the boppy 'All I've Got is What You See'; the pleasantly jangly 'How Long?', and the hillbilly pop tune 'The Long Way Home', but there is a shift away from the rockabilly side of their earlier work towards the mainstream, catering more than ever before to Reading Festival teenagers in Green Day t-shirts. This may indeed be the album that launches them headfirst into cider-drinking, sweaty audiences bouncing up and down to those fast beats and power pop choruses that invade your brain and refuse to leave.
It can't be denied that most of the song structures are pretty formulaic – you can almost always tell when a bridge with a chord change and backing vocals is coming, or when the drums are about to crescendo. And there are a lot of drum crescendos. But you also can't deny that they know how to make the most of the formula. There is little here that is truly original and one might hazard a guess that the playlists on their i-pods include The Buzzcocks, The Clash, The Stranglers, Green Day, Dr Feelgood and The Strokes. There is even an opening line that paraphrases 'Sweet Dreams (are made of this)' by Eurythmics.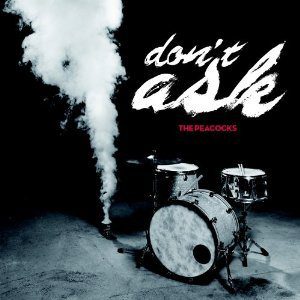 The vocals on the chuggy 'Need A Break' sound like Pete Shelley after forty Bensons and the chord progression in the introduction to 'How Did They Do That?' sounds suspiciously similar to 'Autonomy by The Buzzcocks (the chorus is reminiscent of Oasis). Well, Oasis with a slap bass. 'It's All a Lot of Bollocks' is fairly nondescript and adolescent, a verse with the vocal melody of 'Don't Fear The Reaper' by Blue Oyster Cult followed by a stadium sing-along chorus. When they ask, "What's the point?" I was tempted to wonder too. 'The Girl's in Trouble and the Boy's in Panic' has an interesting stripped-down start with heavy toms and reverbed vocals, but settles into a disappointingly predictable chorus.
[box] When they ask, "What's the point?" I was tempted to wonder too[/box]
Lyrically The Peacocks have always favoured relationship issues over tales of zombies or punk politics. I dread to think what was happening in their personal lives while they were writing 'After All' – those lyrics are, shall we say, harsh.
'Don't Ask' shares this bleak anger and cynicism at times, but overall there is a more optimistic feel going on with some moments of warmth, most notably on 'With You', a rare uplifting romantic song of having met "the one" (a song that wouldn't be out of place on a soundtrack to an American high school movie). In fact, the entire album with its tales of awkward crushes and mood swings from existential angst to hormonal joy would make a suitable soundtrack for such a film, with power pop number 'Up and Down' best reflecting the bi-polar nature of their material.
[box] smudged eyeliner and bruised legs[/box]
Adrenaline-soaked punk tune 'Nothing Left to Sing' is a particular highlight and if it doesn't make you launch yourself into the pit with scant regard for your own safety and emerge a few minutes later with smudged eyeliner and bruised legs, then frankly there's no hope for you.
Similarly 'Re-hash Boogie' is a two-minute blast of fury, starting with a rockabilly-style verse then morphing into a driving moshpit chorus with heavy slap bass and drums, although if I were them I may have steered away from any references to rehashing.
Another stand out track is 'Don't Pretend to Care When You Don't' with a bouncy country rhythm and catchy chorus with heartfelt words. By the time the album ended on 'I Shouldn't Bring Up What I Can't Put Down' I was bouncing around the room.
Curiously, as they get older The Peacocks seem to mutate into a band that will appeal to a younger audience. The music may not be breaking any musical boundaries, but they retain their youthful anger and energy; lyrics that can break hearts and beats that can break bones.
Stay in the pit; stay sick on snakebite.
Released on 8th October 2012 on People Like You Records.
[button link="http://www.peoplelikeyourecords.com/artist.aspx?IdArtist=321″ newwindow="yes"] The Peacocks[/button]