Seduced by art: From art virgin to art collector

It sparks off debates, encourages us to take a look at topical issues, delves inside the subconscious, and allows us to have a laugh at the world and ourselves.
What is art for you? Going to an art event, gallery or opening night is not just about looking at artwork and knowing what it means – it's about being inspired, finding new things that you don't understand, and challenging yourself to be outside of your usual comfort zone. An opening night is a great chance to join in a lively, buzzing event where there's usually free bubbly and conversation, a lot of quirky folk and a gaggle of cultured people.
…the thrill of spinning round to find the next artwork that pulls me into its embrace
Recently, I have been trying to explore exhibitions by taking others with me and looking through their eyes as well as mine. As an artist I'm often quite specific, picky, and maybe even snobbish about what I view and appreciate. I dart across the gallery space in a sometimes haphazard way, going towards the things that draw my attention and letting excitement guide me. Then perhaps later I come back to the bits I missed. I enjoy the thrill of spinning around to find the next artwork that pulls me into its embrace, and seeing where it leads me.
We all interpret and understand art using our own experience and context within the world it as a starting point.
I notice that my friends who are beginners seem to be putting themselves under enormous pressure to look at each and every artwork in a show in turn, giving each it's fair amount of consideration. I applaud their commitment to attempting to immerse themselves, but I also think they should be confident enough to look for as long as they want to, not as long as they feel is 'right'. No one will tell you off if you don't like something or just don't get it. That's the thing – it's all highly personal, we're all sparked off by different things. We all interpret and understand art using our own experience and context within the world it as a starting point.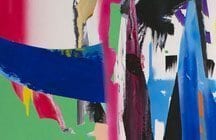 That said, I wouldn't advise my approach for everyone – fellow artists of mine enjoy challenging themselves to look at work they would not normally engage with. They've probably got the right end of the stick.
In 10-20 years time, most households in the UK will own an original piece of art
Art can be a conduit for many things, and in today's design led world, more and more people own original art. We furnish our homes with art inspired design & contemporary furniture, whilst indulging in the latest fashions. The art experts I have worked with this month believe that in 10-20 years time, most households in the UK will own an original piece of art, be it bought in their local gallery, from an artist studio or an art fair. Perhaps even online – through high quality curated and selected online art platforms such as Degreeart.com or Rise Arts.
This week, London will see the launch of a new contemporary art fair to be held at The Bargehouse on the Southbank. 'The Other Art Fair' is showcasing 100 selected artists who will be presenting their work to buyers, collectors, curators and gallerists.
The artists have surfaced from behind the façade of galleries and gallerists beneath which they are normally hidden
In October I wrote about the Frieze art fair. I felt particularly uneasy about having the true forces in the art market thrust in my face – the money, galleries, and powerful few. This to me felt contrary to what seems right. Surely talent and creativity should be driving art and artists? Not money and reputation. So I have been looking forward to this new art fair which is a unique opportunity to meet the creatives, spot and buy artwork directly from some of the brightest talents in the UK. The artists have surfaced from beneath the façade of galleries and gallerists beneath which they are normally hidden at such a high profile event.
A great shift towards artist empowerment
The best thing about this is that there is no middle man – so most likely you are getting a better price, and the payment goes directly to the artist. Now I know I could be biased, but this seems the way forward to me: In our current economic crisis, which has been dubbed the 'Economic Armageddon' for us artists, financial support has been taken away from the arts but there is a great shift towards artist empowerment (I wrote about it here).

Every November, Art Review publishes its 'Power 100' – the most influential people in the art world. This year, significantly, at the top was Chinese artist Ai Wei Wei, where in past years it has been a gallerist (like Larry Gagosian in 2010) or curator (such as Hans Ulrich Obrist in 2009).
A new era in the British art market
I look forward to seeing if The Other Art Fair really works – in theory it has the winning formula. I know and respect the work of many of the artists showing, and I anticipate discovering new exciting young emerging artists as well as established independent artists demonstrating this new era in the British art market. I hope for their sake that it is successful because the buzz in the art world tells me that a lot of work, time, money and effort has been going into it on the artists' part. It should be a stimulating array of creativity.
We're tipped to watch out for Paul Larricart's urban spray-paint designs & the haunting landscapes of Emma Kemp, with other highlights including Tahnee Lonsdale's allegorical colour abstractions, and favourite contemporary art duo Twinkle Troughton and Tinsel Edwards presenting their wickedly satirical canvases. Several of these artists have also been selected for the 'London Calling' exhibition in 'the OC', or Orange Country Centre for Contemporary Art –  a pivotal USA showcase of emerging British talent.
Working outside the gallery system
As the celebrated contemporary British artist Charming Baker commented, "The Other Art Fair is a wonderful door-opener for some major new talent.'' His example of operating as an unsigned but highly successful artist is a sign of the changes going on within the London art scene with artists and collectors looking to forge new connections for themselves. His own career has not taken the traditional path. Like in the music industry, he spreads the word using viral techniques such as YouTube and social networking, working outside the gallery system.
Anyone can become an art collector
So it's not like a normal art fair, it's not part of the gallery system, and it includes a full-scale secret garden where you can purchase picnic basket lunches.  Any more surprises from the Other Art Fair? Well, there's a '99p art shop' by Jasper Joffe and Harry Pye, with original paintings and handmade objects all for under a pound. If you are feeling a bit flusher, you could venture into the fair's 'Art Under £100' area. It seems the size of your wallet should be no object to beginning your art collection.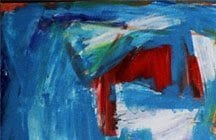 Anyone can become an art collector this week, and I suspect quite a few will make that first step. Weirdly, for a long time it never crossed my mind to collect – not the originals at least. For years my ever shifting collection existed on my walls as snippets of inspirations ripped from magazines and photocopied from books, interspersed with my own art – both completed and in various stages of development. But recently I have been collecting originals, and it's marvellous – I am very proud of and inspired by my collection. Plus I'm making a solid investment on artwork that is increasing in value all the time, whilst also recognising and supporting artists whom I respect. I'm completely seduced by it all – all I need now is more wall space.
The other Art Fair is on 24th – 27th November,  http://www.theotherartfair.com
Sidebar image: Painting by Tahnee Lonsdale. Embedded images by Cain Caser, Jennifer Louise Martin, Melody Reynolds

---
Nicola Anthony is an artist and art writer living & working in London. She seeks to discover things which make her mind crackle with creative thought. Catch @Nicola_Anthony on twitter, or her artist's blog

Nicola Anthony is a British artist known for her public art around the world. Her text sculptures are made of metal, words, memories and narratives. She has worked internationally with NGOs, art institutions, public spaces and cultural research bodies to create art which tells the stories that are often left unspoken.