Erarta Galleries London with The Fourth Height + Urs Bigler bring The Crown to Diamond Jubilee London.
---
The photographic exhibition is "the multicultural trash- dreaming" vision of The Fourth Height, a troika of colourful Russian artists (Dina Kim, Katya Kameneva, and Gala Smirnskaya) working in collaboration with renowned Swiss photographer Urs Bigler. Following the successful exhibition at Volta New York last year, Russia comes to London's summer celebrations in the shape of an extraordinary, much talked-about exhibition.
The exhibition presents a series of highly aesthetic photographic images that capture the artists as they stage three intertwined narratives: The power of femininity, capitalism versus Russia's folk tradition, and the societal and geographical challenges the Russian continent-country has faced since its birth.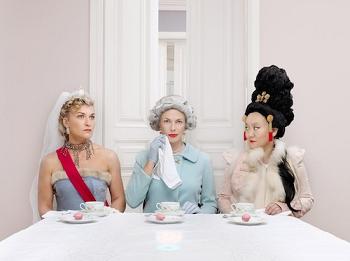 Drawing upon the visual rhetoric of the feminist movement, and referencing such iconic artists as Cindy Sherman, The Fourth Height, like Sherman, examine identity and representation within society.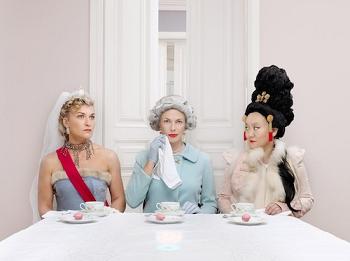 Where Sherman focused on women, The Fourth Height have chosen as their protagonist the complex notion of "Russian-ness" in the post-Soviet reality. The fabricated identities and transformative ambiguities within the photographs raise post-war, social, geo-political, and feminist issues. These striking images see the three artists representing Europe, Russia and Asia confronting the dilemma facing Russia today, with Europe seemingly represented by Britain's very own head of state.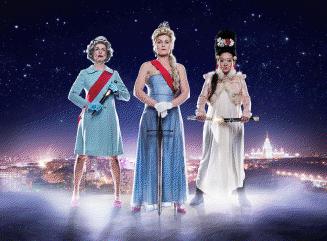 A rich traditional heritage interlaced with style, wit and a large dose of irony produces images unseen in Russian art since the heady days of the Tsarina. This triumvirate of artists refuse to accept the old idea of Mother Russia as a simple bridge between the two cultures of East and West, with Russia seen positioned uncomfortably between the two continents. The Crown explores the new era, gently and playfully suggesting that Europe is perhaps in need of a younger face, Russia is now a main protagonist, while Asia is becoming increasingly similar to the West, though perhaps sinisterly so.
20 July – 31 August
Erarta Galleries
8 Berkeley Street
London W1J 8DN
erartagalleries.com
---
Founded in Moscow in 1992, The Fourth Height are best known for their performative work that reflects mass culture through irony and fantasy and addresses post-war and feminist issues. Most famous for their video pieces including The Deed, The Taste of Victory and Gene Pool.
The Fourth Height's works can be found in the Tretyakov Gallery, The Russian Museum and the Moscow Museum of Modern Art.
Urs Bigler was born in Switzerland in 1981 to a photographer father and continued his photographic education in Bern and Lausanne. Bigler is known for his photographic combinations of art and entertainment, fashion and history. The Crown is the first project he has realized with The Fourth Height.
The aim of art is to represent not the outward appearance of things, but their inward significance. – Aristotle