[dropcap style="font-size:100px; color:#992211;"]H[/dropcap]alf a bottle of whiskey into Shake Some Action magic happens.
Rock and Roll is the addiction you can't live without. Symptoms include racing hearts, a tightening in the groin, and an ecstatic exhalation of breath that expels the shit of life allowing energy, light and rebellion in against the flow of business as usual.
It's expected that ne'er do well teens should rebel and test boundaries but arguably it's the old who need escape the most. The atavistic gnashing grooves of the Groovies are still vital some 50 years (plus) since they emerged from the psychedelic wilderness of west coast America. Where others went 'furthur', the Groovies went faster. Emerging at the same time as the Haight's brown rice psychedelic snobs, the Groovies never sat easily with peace and love, reeking as they did of cars and fucking. Not that there was any animosity. Guitarist Cyril Jordan muses that Pigpen of the Grateful Dead was a friend of his, a down to earth guy where the others were off being hippy royals holding court in Laurel Canyon.
With members retiring, escaping or falling prey to age over the years the core of songwriting guitarists Cyril and Chris Wilson bring a present energy to the stage. They are here to party not reminisce. Seasoned players Chris von Sneidern ("CvS")  on bass and Tony Sales (son of Tony Sales who formed part of Bowie's latter band Tin Machine) on drums match the veterans through their set at Under the Bridge. However, it's the audience that is really vibing out. Admittedly I've seen the Groovies perform stronger sets but when the sharp chordal punk of Shake Some Action and Slow Death pulses through the crowd the reaction is electric.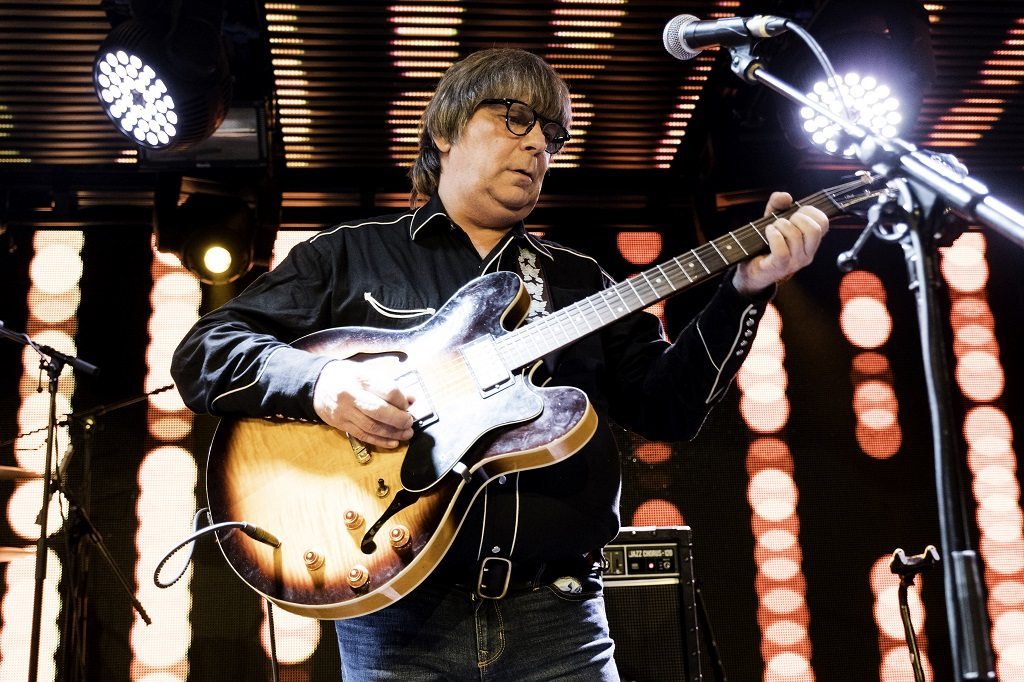 While the music of the Flamin Groovies' is now classic, listed and dissected in the 2nd quarter of rock's canon, the joy  and lack of nostalgia at the show really marks it as something special. It often appears that many young acts these days are merely biding time till they're rediscovered and refactored into current trends. The new turks have already adopted the sounds and postures of older milieux which, while themselves a refactoring of previous influences, at least did it originally. The Flamin' Groovies might have a strong claim to the past, but they don't perform it. That is both a relief and a revelation.
Will anything ever slow the band down? From this performance it's assured that where an audience craves the primal perennial energy of Rock and Roll, Cyril and Chris will oblige.
Fri Sept 21st 2017, Under The Bridge, London
Images: Jonathan Lappin Photography

Setlist
Down Down Down (Dave Edmunds cover)
You Tore Me Down
I Want You Bad (NRBQ cover)
Don't You Lie to Me (Tampa Red cover)
Hungry (Paul Revere and The Raiders cover)
Way Down Under
What the hell is going on
Teenage Head
Shake Some Action
Slow Death
Encores
Jumpin' In The Night
Let Me Rock