[dropcap style="font-size:100px;colour:#46ffa5;"]T[/dropcap]he annual Great British Tattoo Show once again descended on Alexandra Palace during the late May Bank Holiday weekend.
With burlesque performances and fashion shows to entertain and entrance, the main focus was, of course, on the ink. Not only for the expert, the convention was devoid of snobbery and was just as welcoming to the curious first timer who didn't know their trash polka from their neo-traditional.
Perhaps due to the influence of footballers and celebrities, black and grey tattoos have
risen in popularity in recent years, and this was reflected in the proliferation of artists carrying out that style at the convention and in the industry more generally. Like much in life, the popularity of certain styles ebbs and flows according to the fashion, with the Celtic bands of the 1990s and the stars of the early millennium being replaced by geometrical patterns, and the boldly lined old school red roses being replaced by soft pink watercolour versions. That said, traditional styles will always maintain their fanbase and brightly coloured surrealist designs are starting to gain a foothold.
"Lucinda dripped hot wax down her fishnetted legs"
Tattoos aren't only about creating art on your body, however, they can also be used to disguise scars, both self-inflicted and medical.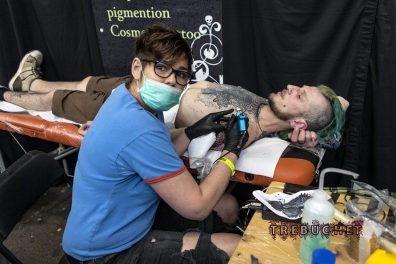 Michaela Kirtley from Hertfordshire based Genysis Tattoo specialises in improving the appearance of scar tissue through both tattooing and the use of fillers. She also creates tattoos that give the appearance of nipples for women who have undergone mastectomy due to breast cancer and only charges for the ink and needles.
[dropcap style="font-size:100px;colour:#46ffa5;"]J[/dropcap]ust as those tattooed all have their individual reasons, many tattoists have their own tale to tell. For one man, a forced career chance led to him discovering his talent for tattooing. Lucky Charlie (luckycharlietattooartist@facebook.com) lost his left arm in a motorbike accident on a racing circuit, meaning that he had to give up his work as a towbar fitter.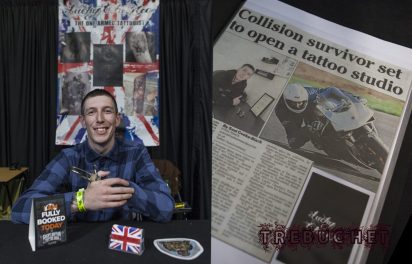 Having always had an interest in art and tattoos, he decided to become a tattooist and now has his own busy tattoo studio in Stroud, Gloucestershire. Although he most enjoys working on traditional style tattoos, a glance at his previous work gives you a flavour of his versatility with some intricate realism, as well as his striking black and white work, for which he won first prize at the Hamm Tattoo Convention in Germany. He uses sport tape to stretch the skin but other than that, feels that his disability is irrelevant to his tattooing. His advice to others, "Don't let anyone tell you that you can't".
Despite the name, the convention featured a number of renowned international artists. Lucas Patterson from Club Tattoo had travelled from Scottsdale in sunny Arizona,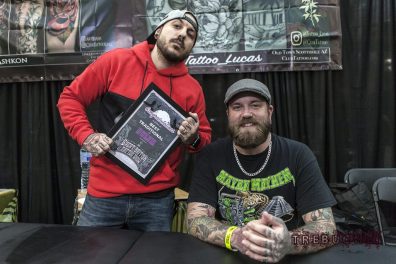 where traditional American styles are particularly popular. With branches across the state as well as in Las Vegas, Nevada, Club Tattoo have inked many a celebrity and rock star.  Such is the benefit of the tattoo convention, offering the chance to be inked by leading artists from across the globe.
"Another fabulous year of pleasure in pain"
Faced with an array of stalls at a convention, or some impressive websites and Instagram pics, how can the uninitiated punter identify the true masters of the craft rather than the photoshopped chancers? The webpage i/U Ink is hoping to become the premier comparison site of the tattoo world. With advice on what to look for in a tattooist and aftercare, as well as guidance on different tattoo styles, the site is a mine of information for the novice and enables you to search for tattooists by style and location. A forum is being set up for reviews by verified customers only so that nobody can skew their ratings by getting their mates to post positive scores. As well as assisting the customer, the site is also designed to assist tattooists themselves so that they can gain more work in their chosen specialism rather than fill their diary with football tattoos.
[dropcap style="font-size:100px;colour:#36ffa5;"]A[/dropcap]way from the smell of saline solution and the buzz of the machines, crowds formed around the burlesque performers on the main stage. Aurora Starr played with fire in both senses of the word, with one of the blades from her sword show almost slicing our photographer. Lucinder dripped hot wax down her fishnetted legs in one performance, and then keep five hoops gyrating around her body in another. With mint green hair, underwear to match and a lot of cheek, Suzie Sinfest swung poi balls and later juggled fire, while the strong and sultry Chiqui Love performed pole-dancing acrobatics firstly to a latin routine and later to Metallica.
Although there seemed to be fewer merch stalls than in previous years, there were a couple particularly worthy of your bucks. Sass and Sew combined old fashioned cross stitching with sweaty messages and phrases with attitude, while Sicaru had some eye-catching pieces of Mexican folk art.
When it came to the prizes, Jarda Tattoo dominated the main awards. Spendlo took a haul, coming away with the overall best of convention prize, as well as best of Saturday, best colour and best neo-traditional. His work combines a bold and vivid colour palate with clean almost realist accuracy mixed with anything from cartoon images to animals with an emphasis on the surreal. Best black and grey and best of Sunday went to his colleague, Zmetek. The other winners were Alex Alcaz (best avant grade), Fiumix and Qulia (best blackwork), Nick Brace of  White Heart Tattoo Collective (best traditional), Eric Kush of 71st Skin Slavery (best Oriental) and Ivan Korky (best realism).
Outside the venue, the May Bank Holiday had brought a carnival spirit to Alexandra Palace with a plethora of food and drinks stalls, and live music ranging from acoustic to rockabilly open to the public. Even the lollipop man was feeling the good vibes.
All in all, it was another fabulous year of pleasure in pain as many a tired but satisfied punter walked away with the tell tale clingfilm of newly decorated skin.
Sarah Corbett-Batson
Photos copyright Carl Byron Batson / Candace Arizona Gratton – not be reproduced without express prior written consent