[dropcap style="font-size:100px; color:#992211;"]S[/dropcap]tabbing a Dead Horse is a showcase tour featuring three bands from the more avant-garde end of the progressive rock scene, namely Trojan Horse, The Fierce and the Dead, and Knifeworld.
The tour came to an end with the final date at The Lexington in London. Sponsored by Prog magazine, their editor Jerry Ewing took on the role of between-bands DJ, opening with Yes' "Gates of Delirium" and ending with "Supper's Ready".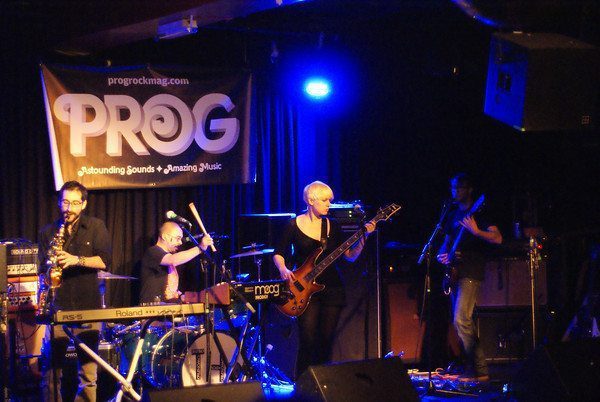 Pigshackle
In addition to the three advertised bands, there was an additional opening act. Pigshackle, who played a sort of jazz-metal, with some angular riffing, the odd burst of squalling sax, and even some cookie-monster vocals. The overall effect was like Red-era King Crimson crossed with Hawkwind, plus a touch of Frank Zappa, all played with a lot of energy and enthusiasm. Not bad at all for a support act.
Trojan Horse and The Fierce and the Dead have been alternating spots on this tour, and tonight was Trojan Horse's turn to be the first of the two. Unfortunately they suffered from a lot of technical problems in the early part of the set, starting off with a blown amp right at the beginning.
Worse was losing the keyboards, hence the line "You will have have to imagine the Mellotron on this song". Without keys, their material took on a grungy, punky feel, with songs about how crap racism is. Eventually they did manage to fix the keyboard problem, announced with the line "We have Mellotron! We are Prog again!".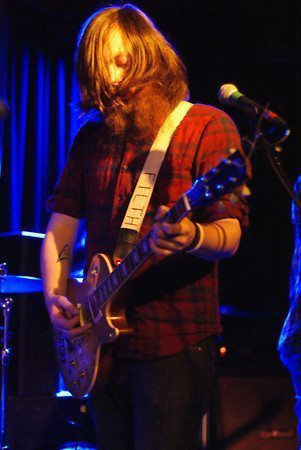 Trojan Horse
The Fierce and The Dead are an instrumental four-piece featuring Matt Stevens, well-known as the solo looping guitarist who's supported the likes of Barclay James Harvest and Panic Room. They play a form of post-rock with a melodic edge, with enough guitar effects to produce a rich sound without needing a keyboard player.
They're an interesting enough band on record, but their music really does take on another dimension live, and even for an all-instrumental band Matt Stevens makes an engaging frontman with a lot of stage presence. The interlocking guitars of Matt Stevens and Steve Cleaton occasionally recalled Discipline-era King Crimson, as well as the instrumental-era Twelfth Night.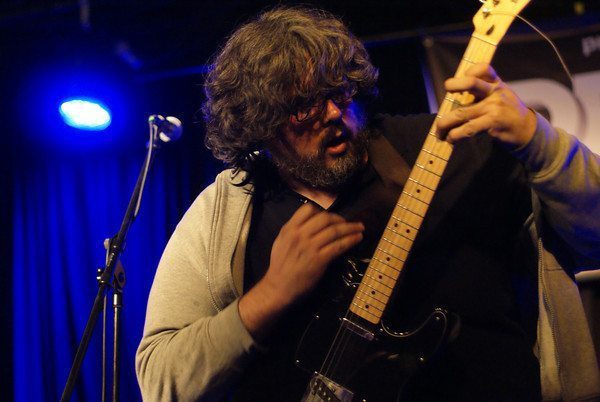 Matt Stevens
At times they produced a shimmering tapestry of sound, at other times they approached metal, especially when Matt Stevens finally cut loose with some shredding towards the end. There was even some audience participation in which the band had different sections of the audience clapping in different time signatures. What can be more prog than that?
Headliners Knifeworld were completely bonkers, but in a good way. The eight-piece lineup went way beyond the conventional guitars and keyboards to include a glockenspiel player, at some points three saxophones, and a bassoon (not one of rock's most common instruments).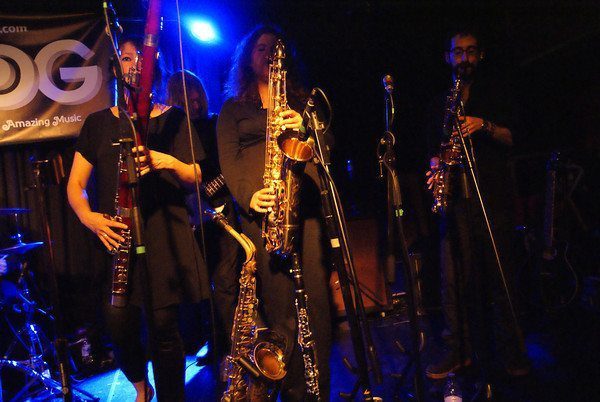 Knifeworld
Frontman Torabi does not look like your typical prog muso with his white semi-acoustic Gretsch guitar, but he certainly has a magnetic stage presence. The opening number had a folk-punk feel, though once the horn section got going the flavour was closer to Frank Zappa's big-band work, and there's a Zappa feel to some of Kavus Torabi's guitar work too.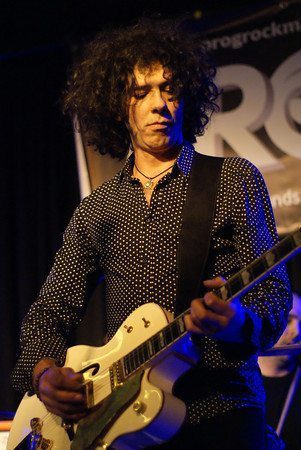 Knifeworld
The gig, and tour, was a remarkable success. It goes to show that the British progressive rock scene is now an increasingly broad church. The symphonic neo-prog bands that cite Pink Floyd and Genesis as their main influence now represent just one corner of the genre. There's whole scene of bands who take the wilder experimentation of King Crimson and Frank Zappa as their jumping-off point, and take the things from there.
Photos: Tim Hall