[dropcap style="font-size:100px; color:#992211;"]I[/dropcap]t may cone as a surprise that the six stringer for retro rock stoner blues project Spiritual Beggars is none other than Michael Amott, the axe wizard of Arch Enemy (Carcass too).
Prominent death metal musicians often have their own side projects which are at a totally different end of the musical spectrum.
This is quite a common occurrence in Scandinavia, most notably with the Norwegian black metal bands who tend to form side projects due to inactivity, touring downtime or internal issues. Audrey Horne and Sahg are two prime examples. It even happens on our own shores: Bill Steer of Carcass had his guitar driven trio Firebird and is also a member of Gentlemen's Pistols.
One reason could be that people just want some variety, another reason may be that the extreme metal is their job, the stable income, whilst the more accessible rock and metal is their passion and preferred choice to play. Either way, these bands usually have a real great kick to them and they also serve as a testament to the musicians' abilities when it comes to their technique, playing style and overall delivery.
Brief introductory snippet aside, Sunrise To Sundown is the ninth studio album from the Swedish stoner outfit. Formed in 1993 in the wake of Amott's departure from Carcass, Beggars have been blasting the rock and roll with that dirty vibe for well over twenty-three years. Having had three distinct eras due to three different vocalists, the current line up features Former Firewind vocalist and music teacher, Apostalos "Apollo" Papathanasio, former Opeth keyboardist Per Wiberg, and Arch Enemy bassist Sharlee D'Angelo (with Ludwig Witt on drums). With this being the third album in the Apollo vocals era, lets see what the record has in store for us.
From the off, title track 'Sunrise To Sundown' hits with a classic 70's style rock vibe. The rich guitar tone in combination with the Hammond Organ effect of the keyboards just slips around you, then transports you back to the early 70s. Hard rock vibes, flair filled vocals and a real foot stomping, hip shaking groove permeate the track and the big building feel of the chorus into the main riff of the track just begs to be played at full volume.
Simplistic in structure with no needlessly overcomplicated riffs or progressions, its memorable hooks stick with you. The only bit of technical excellence involved is the guitar solo which has some wonderful melodic phrasings. In all, this is one hell of an opener.
From here, strap yourself in and enjoy the ride through classic hard rock with a surreal stoner edge. "Diamond Under Pressure" starts off rather similarly to the classic Deep Purple track, 'Woman From Tokyo' with its Hammond organ intro and powerful vocal delivery over the steady pace and crisp guitar/bass delivery. Packing a punchy groove which has that hypnotic ability to make you shake your hips in time, it's a straight up rock and roll track with some sweet sounding lead work from both the guitar and organ towards the end of the track.
"What Doesn't Kill You" has a heavier and darker sound to it. With an ominous sounding intro composed of some serious riffs and a cutting lead, it dives right into a pounding rhythm with some chugged chords and good augmentation from the keys in the verses. In the chorus it gets a bit more uplifting, a soaring sensation with some good lead melodies and guitar/organ interplay to give it a massive sound. Vocally it has a hint of Ronnie James Dio about it – it has that power in the delivery and a sense of grandness about it. Featuring a guitar and organ solo trade off, this track has it all.
"Hard Road" takes us to another hard rock band's style in that it has a feel of The Scorpions about it. The big guitar riff has a biting feel and the vocals have that raw and slightly dirty edge to them. Simple riffs once again lay down a memorable hook and foundation to build from and the leadwork is sublime. Great harmony lines transition into a ripping bluesy rock solo with copious amounts of wah applied to really let some of the big notes wail out in full. The magic moment comes after the solo when it goes back to the memorable guitar riff alone, before kicking back in with a resplendent full sound to finish.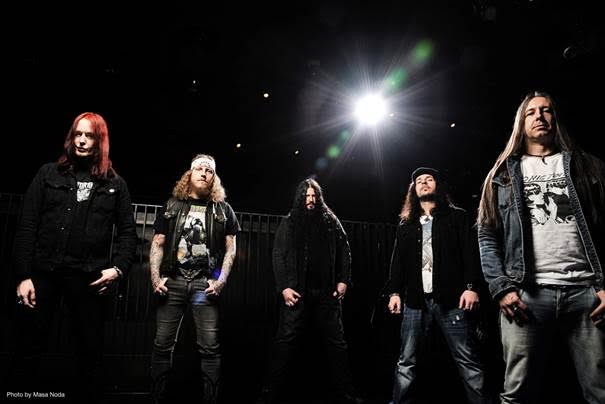 "Still Hunter" has a hard hitting rhythm section intro with a pounding feel and the bitchin' guitar riff just adds to its infectious nature. This could sound huge in a live setting. Building up through the pre chorus, it shifts into full gear for the massive chorus. Big Hammond organ blasts and solid guitar riffs round it out well but it's best when it shifts back into the verse.
Keeping with the steady delivery, "No Man's Land" brings a stoner feel to its sound. Thicker sounding guitars which cut through the mix with a fat sounding riff in the intro make way for a predominantly keyboard and drum heavy verse with some fantastic vocal deliveries. Simplistic riffs sound much bigger thanks to the vocal and organ work in the chorus, and it sounds like this track is just your simple slow-paced rocker.
This changes at the halfway point when it gets…. Strange. An old time feel descends on the track with some ringing piano lines and effects-laden vocals which just disrupt the flow. Sure, psyche and stoner genres are known for throwing some curveballs, but this just sidetracks it totally and makes it feel a little… pointless. Thankfully it comes back to normal afterwards with the first real example of some virtuosity on the guitar. Amott lets fly with a rapid fire series of swift licks and arpeggios, laced with wah and delivered with all the flair and style you'd expect from a guitarist of his caliber and from here, we go back to the chorus to wrap it up.
"I Turn To Stone" brings back the hypnotic effect of the rhythm section, especially with the drum pattern used. The subtle introduction of the organ sound helps raise the mood and the effects-laced vocals give it a haunting edge, building the tension and drama around the track which just teases at an explosion into something bigger. It continues taunting, building anticipation for what is coming and, finally, it delivers. A colossal noise explodes. Intense and frantic, the guitars come in, the synth gets more disjointed and the feeling of being in the vortex of a tornado or the centre of a maelstrom grips. Swirling and growing, all with the haunting synths adding that edge, it's a real psyche hit!
"Dark Light Child" thankfully saves us from the chaos, dragging us back via a real rockin' track with an initial feel of Deep Purple's 'Hush'. Another track with a sinister edge to the guitar tone, this one's low register riffs create a driving feel behind it, reminding us that we are firmly in stoner metal territory here. The guitar solo is a slow burner, starting subtle before exploding into a bluesy lick-fest with some real wailing moments. The drum solo which follows it gives the track a slight breather before it comes back with an infectious groove and more dramatic delivery of the chorus. More intense and even louder, it really goes all out for the ending.
"Lonely Freedom" keeps the stoner groove but this time instead of making you want to get up and lose yourself in it, it's more laid back. Infectiously groovy, the simple riff is perfect to sit back and nod along to whilst partaking in what you choose to. Spaced out guitar and synth fills dance their way across the intro, before the resonant organ-filled verse. It keeps things at this pace for the majority of the track, only really unleashing some stored up energy for the solo which starts off slow and expressive with a real smooth flowing feel, before exploding into a breakneck display over some solid rhythm section work.
"You've Been Fooled" pulls us out of the stoner territory and back to the hard rock realm. Fast paced and massive sounding, the vocals sound huge and the infectious rhythm brings back that stomp and hip shaking urge. Like a hybrid of Lenny Kravitz and Kansas, we'll go its way and won't be wayward!
Closing up this rock fest is "Southern Star". A big filthy sounding riff, laced with fuzz is delivered at a slow and steady pace. Vocally it comes in soft, painting a picture and telling a story with the lyrics, helping build it up. Deep bass and touches of organ round it off as it creeps towards the chorus. Ever dramatic, the organ and vocals really shine in the chorus whilst the drums keep it steady. With subtle piano lines creeping in during the second verse, the sound fills out as it continues at a leisurely pace, until we get a massive blues solo. Singing out with every note, the expressive lead and the back up from the piano, organ, rich and tasty sounding bassline and vocals deliver what could be the best lead section of the bunch – a fitting way to end such an infectious album.
Time travel is possible and not in the realms of science fiction.  Sunrise To Sundown's 70's feel is so convincing it actually sounds like it could have been released back then and wouldn't have sounded out of place. Infectious, hook laden, simplistic but intricate. Engage time drive.
SPIRITUAL BEGGARS – Live 2016:
28.03.2016 Köln (Germany) – Club Bahnhof Ehrenfeld
29.03.2016 Aschaffenburg (Germany) – Colos-Saal
31.03.2016 Leipzig (Germany) – Hellraiser
01.04.2016 Hamburg (Germany) – Logo
02.04.2016 Essen (Germany) – Turock
04.04.2016 Pratteln (Switzerland) – Z7
06.04.2016 Kortrijk (Belgium) – De Kreun
07.04.2016 Rouen (France) – Le 106
10.04.2016 Paris (France) – Backstage By The Mill
12.04.2016 Munich (Germany) – Strom
14.04.2016 Karlsruhe (Germany) – Substage
28.04.2016 Berlin (Germany) – Desert Fest
08.07.2016 Oulu (Finland) – Jalometalli Festival
09.07.2016 Ballenstedt (Germany) – Rock Harz Festival
More dates to be announced soon…
Born in the 80s, grew up with the 90s and confused by the millennial generation, I am Peter, more commonly known as Fraggle (long story, don't ask, details are a little hazy!)
With a degree in biochemistry, an ever growing guitar collection and a job handling medication, things are far different to how I expected them to have turned out, but the one thing which hasn't changed is how important music is in my life—it is one of my main passions, be it playing it, listening to it or attending it and experiencing it in the live setting (the way it is meant to be).
Blessed with a 'proper punk/metal spirit' (quote from Kailas), you will often encounter me at gigs or festivals with a beer firmly clutched in one hand and shirt in the other… Or these days, a pen and notepad too, maybe a camera if needed.