[dropcap style="font-size:100px; color:#992211;"]S[/dropcap]ympathy, integration, interaction and inspiration.
All fairly standard terms in art criticism, without dipping into the rarified lexicon of Euro Artspeak. What is rare though, is a chance to see them in action. NOW Gallery in Greenwich hosts Simon Heijdens this Autumn, commissioned to create an exhibition in which the gallery space is an integral part.  Heijdens went one better, and involved the entire landscape in Shade, an installation which harnesses the sunlight and wind of the Greenwich peninsula.
19th September – 19 December. NOW Gallery
---
Simon Heijdens is to turn London's newest gallery – NOW Gallery – into a kaleidoscope by day and a lighthouse by night from 19 September to 19 December 2014, as part of his first ever UK solo exhibition.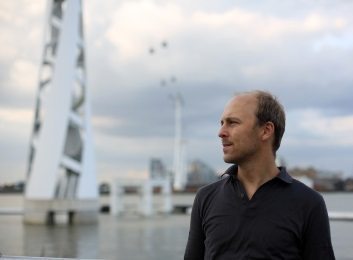 Using cutting-edge technology, Heijdens will animate the gallery space through clever manipulation of sunlight and the prevalent Greenwich Peninsula wind. Heijdens' most expansive and ambitious work to date, this installation consists of an intelligent, computer controlled skin wrapping the NOW Gallery's 7m-tall windows. Choreographed by the elements, the skin is made up of 1920 triangular cells, each 'programmed' to react to wind, creating a kaleidoscope of light and shadow, translating the unplanned natural timeline of the outdoor to the indoor space. By night, the building will convert into a 'lighthouse', with interior light beaming out through the continuously changing skin, echoing the nearby Trinity Buoy and becoming a new local beacon.
Both a formidable sculptural work and an invisible technical feat, Heijdens looks at the impact of manmade structures on the natural landscape, opening up the built environment to coincidence.
"Nature is becoming rare in our daily life" says Heijdens, "In the way our urbanising world is generally built and planned, our everyday surroundings have become perpetual and static through conditioned climates and 24 hour lighting. When unpredictable natural elements such as a lifting breeze, a sudden shower, or a setting sun are planned out of our surroundings, the timeline of our everyday is lost."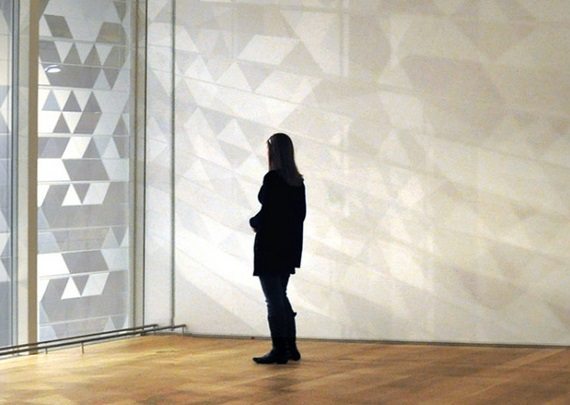 Conceived as part of the on-going regeneration of Greenwich Peninsula, NOW Gallery sits within a hub designed by architects Marks Barfield moments from the O2 and North Greenwich station. The hub, formed of two curved glass pavilions linked by a patinated brass-edged canopy – longer than the wing span of an Airbus A380 – contains NOW Gallery, a cafe, restaurant, sky bar and charcuterie. As visitors emerge from North Greenwich tube station and look to the right they will see the pavilions, the art installations within and also through them to the Emirates cable car along a line of latitude.
As part of the on-going programme to celebrate Heijden's work, NOW Gallery are curating a series of Friday Late openings – NOW Laters – on the last Friday of every month.  On September 26th and 27th, Florence Peake will perform CONSTRUCT SHIFT, a new sculptural performance work with music by ReviveHer's Henry Bennett.
Jemima Burrill, NOW Gallery curator, said "In the last six months we have seen two conjoined buildings by Marks Barfield go up before our eyes.  A new creative space has appeared – a galley like a giant fish bowl which will display three exciting and unparalleled installations a year exploring the diversity of art and design. It is the perfect place to introduce Simon Heidjen's work which has a grand subtly that surprises and delights."
Simon Heijdens: Shade
19 September – 19 December 2014
NOW Gallery
The Gateway Pavilions
Pavilion Square
Greenwich Peninsula
London SE10 0SQ
Opening Hours:
Free Entry
Mon-Sun, 10am-6pm
[button link="http://nowgallery.co.uk" newwindow="yes"] NOW Gallery[/button]
The aim of art is to represent not the outward appearance of things, but their inward significance. – Aristotle