[dropcap style="font-size:100px; color:#992211;"]T[/dropcap]rebuchet sat down to catch up with Silverstein singer Shane Told on a chilly evening in Huddersfield, before they took to the stage on their most intimate UK show promoting new album 'Dead Reflections'.
You're currently in the midst of a worldwide tour to promote Dead Reflection. How's the reception been?
It's been unbelievable. We knew we had something special with this album, but you never really know how things will translate live. Well, it's been crazy! I'd say Afterglow get the best reaction of any song in our entire set. Very surprising because it's not a heavy song at all. But people freak out and it's a great feeling to have your newest stuff go over the best.
How do the venues on this run compare to the last UK tour (Rise Up rotating headliner with Devil Wear Prada and Memphis May Fire/support from Like Moths To Flames)?
They're a little more intimate, a little more punk rock. And we like that. Anytime we can avoid a barricade we do. It's amazing to be playing right on top of our fans. I think one show we played was 180 capacity! And it was so fun!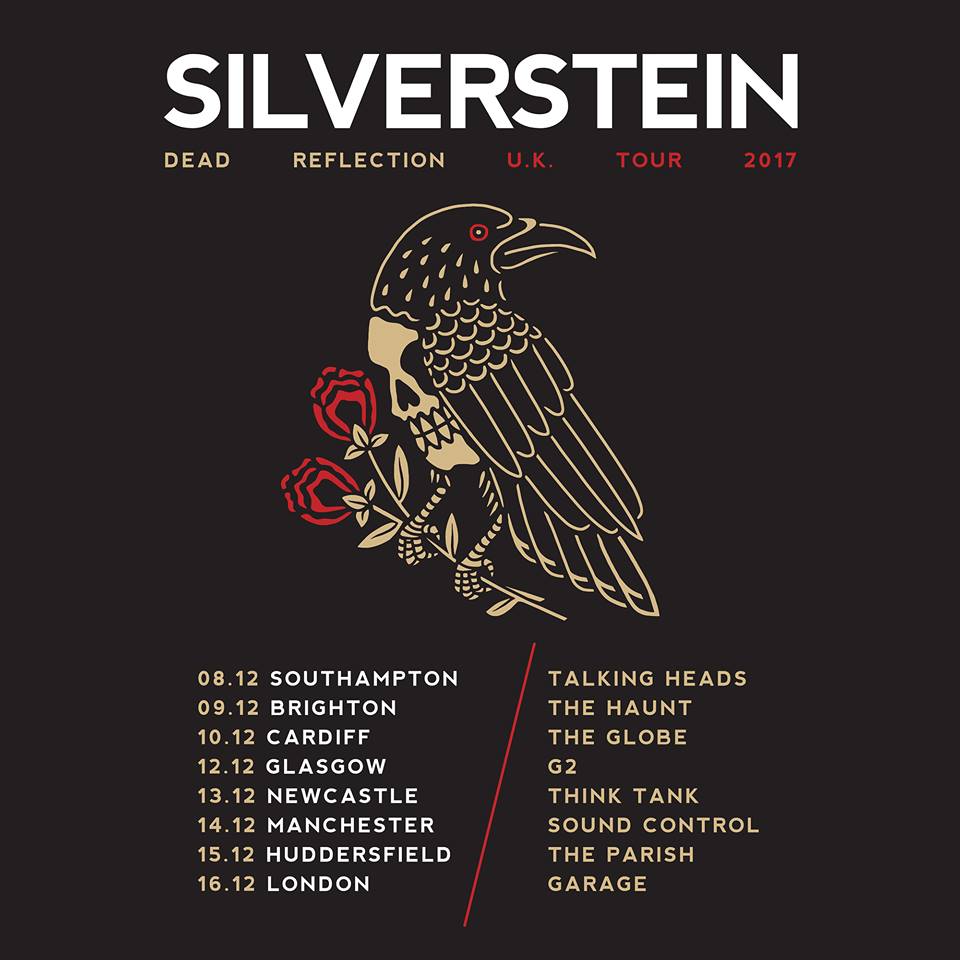 Do you prefer playing to Silverstein crowds or having the opportunity to win some new people over?
I think at this point we've done it all, and we enjoy it all. Support tours are fun, getting new people hyped up, but then when it's done and you do your own headliner – it's an amazing feeling to have every single person singing every single word. But… once that our ends and you can go back to bigger rooms and supporting, it's fun again. It's a great cycle.
Will we be seeing you on any UK festivals any time soon?
Looking into it! I know we have a bunch of Europe festivals going down so we'll see if we can squeeze in a couple UK ones as well.
Going back to winning some people over, do you feel that your recent releases are bringing new people into the fold? They certainly seem to be going down well live.
They definitely are. But at the same time the old school fans dig the new stuff too. It's really quite amazing we are able to seemingly please new and old fans and also ourselves. But I look out at the crowd and I still see young spoke out there in the pit and so excited. A lot of them were in diapers when our first record came out, so it's cool they are discovering our music a generation later.
For me, I Am Alive In Everything I Touch was a stunning release for Silverstein and Dead Reflection seems to build on from this thematically. What can you tell us about your writing process?
Every record and every song is different. You can't just put every single thing through the same procedure and expect it to have the magic. It's not science, it's art. So IAAIEIT was a record sort of built on nostalgia, of reflecting back, with sometimes a sense of regret but also a bit of a smile – chalking the past up to youthful mistakes. But 'Dead Reflection' was written in the moment. It was written in the middle of a very very dark time in my life. So they couldn't be more different in terms of inspiration. And musically it reflects that. 'Dead Reflection' is a much darker sounding record. I Am Alive has a brightness and a spunkiness to it that is different.
Do you feel like you're maturing as a band with every release, or is there that specific flavour you try to capture?
I think for us we get older and "mature" and we allow ourselves to take more chances. We aren't scared what people will think and we aren't scared it's going to flop. A song like 'Lost Positives' wouldn't have been possible 5 years ago. I think the flavour is dependent on the song. What story and message and feeling we're trying to put forth. Our records have a lot of dynamics within them. 'Afterglow' and 'Last Looks' could be different bands. 'Desert Nights' and 'Heaven, Hell & Purgatory'… same thing.
Where do you see Silverstein as a band in ten years time?
Well 10 years ago I didn't see us here. So my guess is as good as yours. I think we're okay with getting older now. I used to laugh at the idea of being 40 and still doing this. Well now I am 4 years away and I don't feel that old. I don't feel that different. So who knows.
Who are some of your favourite new or breaking bands at the moment?
Trophy Eyes, Trash Boat, Knocked Loose, and Darko (from the UK!)
Where is your favourite place in the world to play, and what separates those shows from everywhere else.
Southern California. It's the Center of the music universe (sorry London) and people go crazy, aren't too cool to dance, and are knowledgeable about music.
What do you miss most about home when you're on the road for a long stretch?
Harvey's. Best veggie burger ever.
…What do you want for Christmas?
Harvey's gift cards

Jed the Music Ed. is a Music Promoter/Booking Agent and general fixer with Rawkus Events. Jed's interests include a constant and reckless over-caffeination, irrationally spontaneous travel plans and maintaining an over-expensive (borderline hoarder) PC/retro gaming habit.