[dropcap style="font-size:100px; color:#992211;"]Y[/dropcap]ou leave the exhibition asking for more. As if each room at the Tate is an unfinished declaration of love.
You can't look at Sigmar Polke's work the same way you do other artists. He is a figurative artist, an abstract artist, a filmmaker, and a photographer and not one particular style can define him.  Pipe-smoking caterpillars, circus monkeys, and the sausage eating half-face are just some of the seemingly humorous characters left lingering in our minds as we come out the exit door.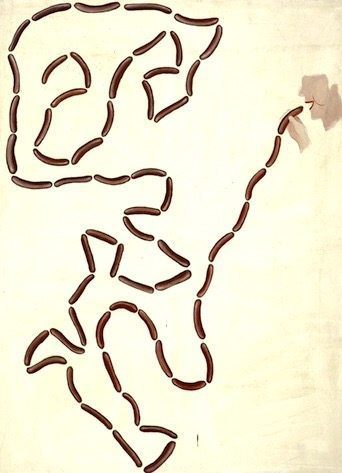 Sigmar Polke (1941 – 2010) The Sausage Eater (Der Wurstesser) 1963
But Polke's humour wasn't sarcastic, it was a form of rebellion. His volatile artistic tendencies that leave us breathless in awe were his way of shedding each and every conceptual artistic form. It was his way of exposing the cliché that has become abstract art; just another stylistic form of design, another kitsch tendency.
A rumour in artistic circles over the past few decades is that American expressionist abstraction was sponsored by CIA objectives of promoting boundless constraints of thought and imagination (or at least giving the impression thereof), and a recent article published by Frances Stonor Saunders of The Independent confirms it.  Let's assume for a moment that is true, in which case the polarity found in Polke's abstract works comes to life even more so.  The tension he creates by  using both politically dense images and apolitical expressionism such as that brought forward by American Liberalism is his way of deconstructing Constructivism and disturbing its iconic power.  His misguiding approach to expressing his views was deliberate.  He created a school of thought, a constant state of mind, in which we, as an audience, are propelled to always make and break ideas and to always question the cultural endeavours of local politics.
Polke's art as set up in the Tate retrospective creates an intellectual stage.  His works are in dialogue with each other and in conversation with us.  They seem more interactive, allowing the gap between the artistic stage and the audience to narrow.  The conversation brought forward by his art was also between two political structures, the more capitalist West and the state-aware governments of the East.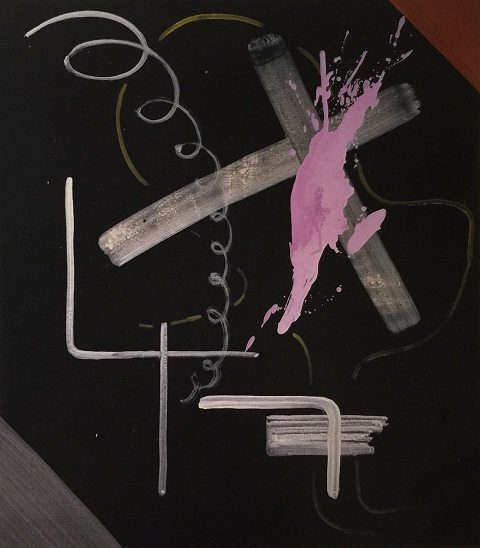 Sigmar Polke, Modern Art (Moderne Kunst), 1968
The Capitalist stage seems lacking in ideology when compared to the monumental concreteness of the Soviet government, with its orchestrated abundance of "realism" and its propaganda-led images of glory and victory.  The Capitalist stage seems empty and emancipated allowing you to step-up on it.  Its a stage pretending to be strong and powerful, yet its power does not lie in its ideology but in our participation.
As Mark Godfrey states in his essay, 'From Moderne Kunst to Entartete Kunst: Polke and Abstraction': "for Polke the process was not about arriving at the essence of a form but a way to corrupt an image and create something new with it". Polke's artistic stage becomes a politically motivated facade for negotiating destruction, a destruction that doesn't claim to provide an ideological truth, but brings us closer to it.  [quote]the longer you look and the closer
you look, you can see that from
within, the particles are
kaleidoscopic and volatile[/quote]
In the formal sense of the word, staging, or more precisely artistic staging, demands a subject.  A subject demands representation and representation becomes a formulation. Polke wanted to rid his art of any formula by allowing us to explore through his journey and through his constant experimentation the abstract concreteness of Capitalist expressionist art. He was both an artist and a curator, and the mental space he creates lies outside any political structure, outside the gap. His art does not presume or predetermine an audience, it does not narrate a story nor an idea. His art simply and masterfully allows for an experience to happen. We begin to challenge the notions of probabilities and absolutes, and we begin to speculate.
But there is also magic to Polke's creations. Some of them seem mythical and mystic. You first approach his work like a puzzle. You get drawn in by the random use of imagery, textures, and pigments. Although you try to learn as much as you can about these images and compositions, you eventually disregard their literal meaning, you go beyond the painting and directly into the socio-political questions they raise. This interaction is the staging between art and audience that Polke's work humorously and mischievously develops. His art creates an apparatus of confrontation between withheld memories and the mental space in which they constantly rebel. And although some of his works portray a cosmic perspective whereby the surface of his canvases seem harmonious and static, the longer you look and the closer you look, you can see that from within, the particles are kaleidoscopic and volatile.  We walk out the exit door mesmerised, and as if in a trance-like hallucinatory state, we crave to know more; more about Polke, more about his art, about ourselves and where we are.
"The lines of life are various; they diverge and cease Like footpaths and the mountains' utmost ends. What we are here, elsewhere a God amends
With harmonies, eternal recompense, and peace."
—Friedrich Hölderlin, "To Zimmer"
Until February 8th 2015 at Tate Modern
[button link="http://www.tate.org.uk/whats-on/tate-modern/exhibition/alibis-sigmar-polke-1963-2010″ newwindow="yes"] Exhibition Details[/button]

Faten Hakimi, Artist and Fine Art Consultant, MA Fine Art City & Guilds www.fatenhakimi.com