[dropcap style="font-size:100px; color:#992211;"]M[/dropcap]oving lightly across the stage shrouded in a performance-enhancing cape of sorts: surrounded by a black and dark grey outfitted group of individuals each with their instruments in hand, they (Shura and her band) were ready.
With pale blonde (a lot like her skin tone) tresses covering her face, head well down towards her keyboard, she dropped her first beat in Rescue Rooms, Nottingham. There was a sense of vulnerability and beauty to how Shura looked onstage: hiding behind her mane of hair; moving to the rhythm of her own sound and cultivating her surroundings, she was sexual fever ready to take off.
Like a brace of young lovers, Shura got going quickly: passionately embracing the crowd with a sound which ebbed and flowed to the tuneful power of her quality harmonics, making easy work of the situation (which was a less-than-lacklustre turnout for a gig in Nottingham. Put that down to the students going home for the holiday season; people being poor; it being a midweek gig, and things along the line of austerity, climate change, pre-Christmas panic etc.).
Anyway… her band must not be forgotten. The drummer hit the cymbals and bass drum with the weighty abandon of an enraged bull, the guitarist moved about like a firefly, the keyboard man (second to Shura's lead) was pouncing on his keys and walking backwards and forwards to the beat of the music. It was all rather going well. And then it kept going well.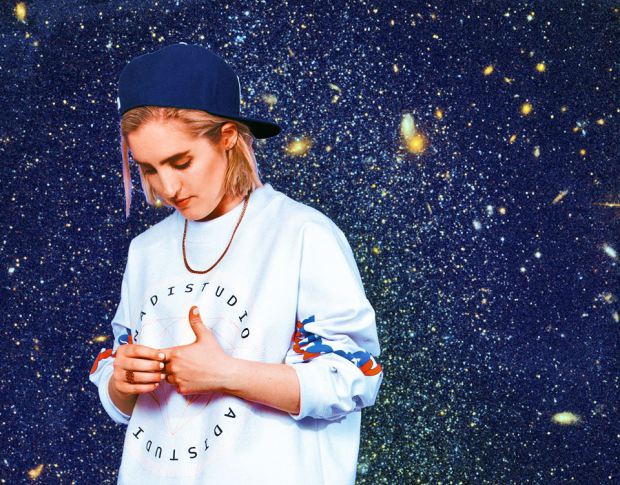 Getting into the show, Shura claimed the shared stage as her own through a mirage of dance and verbal swagger, a lady that knows she's moving forwards in her music career, no matter the number of people in the venue. And this is when the cape came off. Enter the Adidas-sporting ragamuffin. She's still hitting the keyboard. He's still hitting the drums like a demented bull. He's still dancing like a firefly. And the other keyboardist is still walking back and forth. But the cape is off!
Shura's hair has been swept back and she's starting to make moves on that Roland keyboard of hers. It's all good. Without spelling out the entirety of Shura's lyrics, something that does stick in the mind is that she possesses a kinematic soulful approach to lyric writing. Without giving her approach away any more than that, I suggest that you get on your streaming service and search her out, then find this clinically deft artist at a gig near you.
Shura is playing as a part of a spectacular line-up at Brighton's The Great Escape festival.

NAP & Nico. is a writer, a painter, a poet, a illustrator and writer of a disabled squirrels children's storybook . An academic yet to set the world on fire, but who is holding a Zippo beneath the Zepplin carrying modern society's scene that will wonder why they hadn't heard of NAP & Nico before.