[dropcap style="font-size:100px; color:#992211;"]A[/dropcap]Smaller Divide is the fruit of a long-distance collaboration between Berlin and Antwerp-based artists Yves De Mey and Peter Van Hoesen and is their 2nd album after 2012's Geotope.
While there's an underlying creative logic apparent here, A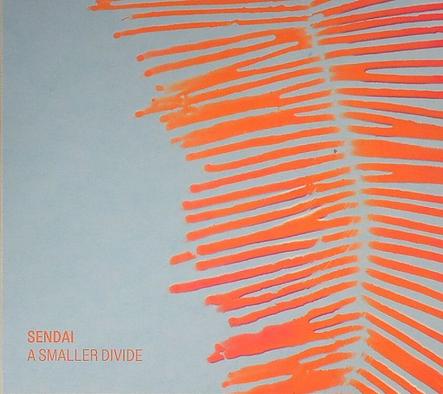 Smaller Divide is an unstable mass, full of dynamic, sometimes unclassifiable sounds that bleed, smear and mutate. In a world of generic over-production, it instantly passes the test of distinctiveness.
'Capstan' is an uncompromising and demanding start based around abstract percussive elements. There are some superficial similarities with recent Emptyset tracks, though Sendai is not quite as harsh or brutal and adds a little more colour to the mix. In contrast, the third track 'Second Uniform Estimate' is a brighter piece.
Based around a shuffling beat and an almost kitsch bleepy sequence with a harsh, technical undercurrent. It comes across as a kind of new age music for software developers that shouldn't quite work but somehow does.
From the title track on the pace accelerates. It's tougher and more rhythmic, blending dark chords and staggered beats very effectively.
This is followed by the superb 'Triptiek', which combines cold chords and coiling, metallic textures. It features two false endings (or repetitions of the opening) followed by a heavier, distorted but more groovy end sequence.
'Sequential Convex"s quasi-electro beats run alongside a dynamically spiralling/mutating chord sequence that gives way to a more abstract end as centrifugal elements come to the fore and the beats drop away.
'Self ADjoint' is one of the album's shorter, more atmospheric tracks – a colder, beatless, soundscape of dark textures and blips. It's structured but unstable, sounding like a degraded radio transmission.
One of the highlights is 'Kanton3' – a  bizarre slab of hardcore machine-funk, that could make a real impact in the hands of the right DJ and which seems to be crying out for a more linear dance remix. Its structure simultaneously evolves and disintegrates, achieving a strong impact. The closing 'Tetras Part' is the aftermath of the controlled chaos that's gone before.  It's cut through by jagged textures but has a slow, serene, pace.
There's a very interesting and productive tension between chaos and order and light and dark running through the album. If the brighter tracks occasionally flirt with the uncritically idealistic strain of electronica, it somehow always keeps this in check by maintaining the tension.
Sendai – A Smaller Divide
Archives Intérieures
AICD02