[dropcap style="font-size:100px; color:#992211;"]L[/dropcap]onglisted for 2013's Saatchi New Sensations Award, and hailed as one of Ireland's top painting graduates by the Irish Arts Review (for the 'formalistic delight' of his work) Dublin's Sean Molloy combines painterly tradition with intense formal experimentation.
Karen Shidlo puts some questions to the painter.
---
Your current body of work shows a historical imagery with the modern Ben Day or pixel patterns. How did you start this style of painting? And how has it evolved since you began?
The style of painting grew from various experiments I carried out whilst preparing work for my undergraduate degree show in 2011.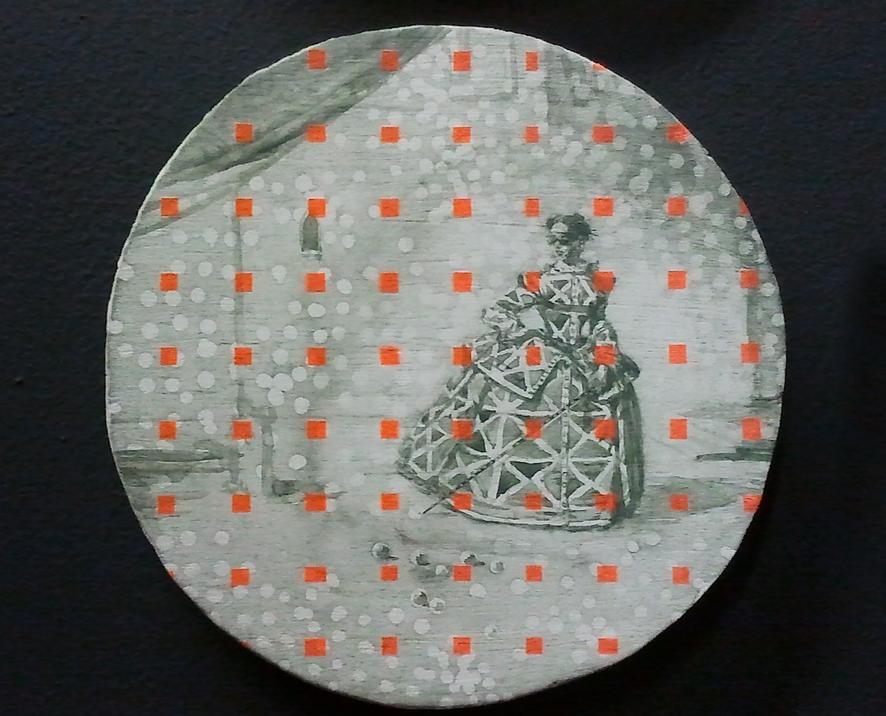 Sean Molloy, Auratype I
The subject matter began as a series of drawings, sourced from a variety of art historical references. My intention was to avoid a hackneyed approach to this particular subject matter and to allow chance to dictate the end results.  When the initial narrative-inspired compositions neared completion, I began the process of overlaying on top of them what I term 'optical devices' (Ben day dots,stripes, pixels).
Since graduating, my style has evolved from simple everyday subject matter (draped tables) to full-blown compositions aping the style of the French and Dutch masters of the 17th century. I also reference a variety of 19th and 20th century figurative painting as sources, from Ingres to Balthus alongside early and late 20th century archive photography (Sander and Becher).
What is it about the 19th Century paintings that appeals to you?
I suppose when I think about 19th century painting I think of it in terms of its relationship to the invention of photography.  Painting suffered a sort of usurpation by the new invention, but what I find interesting is the reciprocal exchange between the ancient practice of painting and the subsequent responses by early portrait photographers to mimic certain aspects of the works of the old masters.
[quote]artists like Degas embraced
the new invention (photography)
as part of  their working
method. Degas introduced
effects like cropping and
asymmetry[/quote]
The use of the cabinet photographs in my current work (especially the 'Auratypes') was really a chance happening and not something I'd planned, so I suppose that's why I'm mentioning photography here. When I think of 19th century painting, I also tend to think of artists from the pre-photography era like Ingres. Despite the fact that he lived through the first three decades of its evolution, and that 'the camera never lies' his work is particularly noticeable for the licence he took when depicting human anatomy.
Later artists like Degas embraced the new invention (photography) as part of  their working method. Degas introduced effects like cropping and asymmetry, despite his being heavily influenced by Ingres' style.
You must enjoy the research aspect of your art making. What books and references do you look at?
I recently read a book titled The Devil's Cloth, a history of stripe and striped fabric by Michel Pastoureau, a French medieval historian. Translated into English, the text is a little clunky, but it's a fascinating read. I initially began reading it as part of my research into the use of the stripe, which featured quite a bit in my undergraduate work.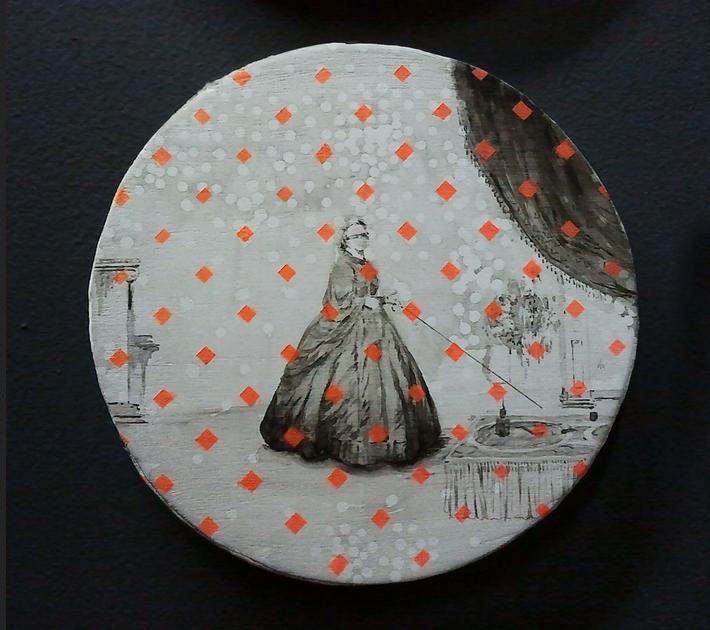 Sean Molloy, Auratype II
I also delve into technical books on painting, especially Ralph Mayer, Max Doener and Charles Lock Eastlake. They're such large tomes that there's always some surprising nugget of information on painting technique that I've overlooked,  so they're like bibles on painting for me. I'm currently referencing August Sander's archive photos, and vintage photo archives alongside 'the usual suspects' – Velazquez, Goya, Poussin and Balthus.
Why the shift from rectangle or square canvases to circular ones?
[quote]The area I live in,
in a way, motivates me
to work on ways to
overcome its inherent
ugliness[/quote]
As part of my undergrad research I began experimenting with circular-format canvases and panels. I had previously restricted my work to square-format canvas and panels. The circular shape was born out of the square's symmetry. On further research into the 'tondo' – to give its technical name – I happened upon the Desco de Parto or 'birthing tray', a tradition popular in Renaissance era; the 'desco' was a small tray used to bear wine, sweetmeats and fruit to a woman whilst in a period of 'confinement' directly after giving birth.
I wasn't particularly interested in that aspect of the history of the tondo, but having this knowledge may offer some interesting opportunities for reinvention. The miniature 'Auratypes' are in some ways a result of that research.
Which artists and genres inspire you?
Off the top of my head I'd say Velazquez, Goya and Ingres, for pre-20th century painting; then Balthus, Bonnard, William Nicholson, Tonks, Orpen and Sorrolla. The selection is a bit old-school I'm afraid, but contemporary artists like Neo Rauch, Glenn Brown and John Currin also speak to me directly because they're all figurative painters. So I suppose figurative painting is, broadly speaking, the genre that concerns me at present.
I adhere to the idea that developing a sufficient technical facility as a painter, without making a virtue of this facility, offers a well-informed jumping-off point from which you can invent and create worlds.
Why do you use watercolour?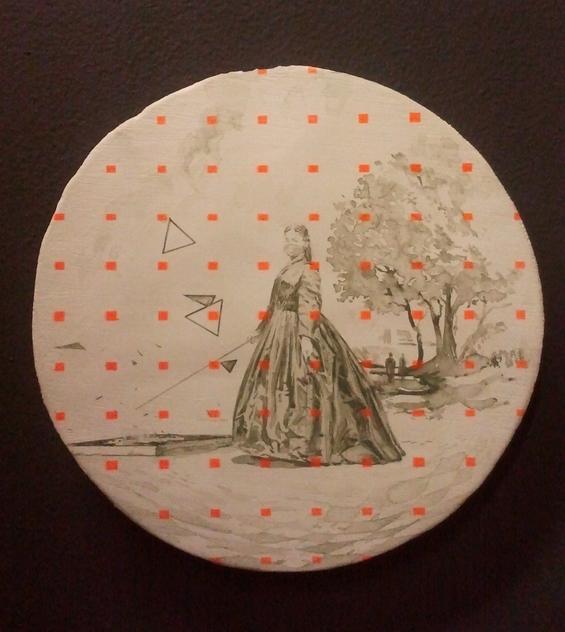 Sean Molloy, Auratype IV
I decided to use watercolour for the miniature works ('Auratypes') because traditionally this was the primary medium that the early miniaturists used. So the dimensions of the works dictated the medium to use. It was also a challenge to paint watercolour on wood, I had to research the proper materials to achieve the results I was looking for.
How much does your immediate environment influence the work you make?
My immediate environment influences my work by my actively not including it in my work. I gain inspiration from the fact that the area I live in is part of a cluster of late-Victorian terrace houses on the outskirts of Dublin. The area I live in, in a way, motivates me to work on ways to overcome its inherent ugliness. I suppose this is where the element of fantasy plays a role in my work.
What are you working on at the moment and what is coming up for you?
Over the past two weeks I have been working on a series of charcoal drawings.  I'm using August Sander's 'People of The 20th Century' photographs as a starting point. I plan to use this material for a series of large-scale narrative paintings. I will also shortly begin work on another series of the 'Auratypes'.  In terms of what's coming up, I've recently had eight of my works selected for a group show at the Taylor Gallery in Dublin on November 7th and also another work accepted for the Rua Red Gallery Winter Open Exhibition, also in Dublin.