Sarah Lucas's exhibition Ordinary Things is a meditation on sex, memories and death.
Spread over three rooms the show is an intricate melange of her most iconic works and newer forms.
Gallery 1 confronts with ʻAu Natural' one of her most prolific works,  made in 1994 and depicting two people, pre coital. Their forms are clearly defined by fruit, vegetables and a bucket. Gallery 1 is a homage to youthful exuberance. The bright colours of melon yellows, green and red in ʻAu Natural', and the bright salmon pink of ʻSpam' are typically energetic. Even the penis cast in ʻTreenob 1' seems to have a smiley face on its tip.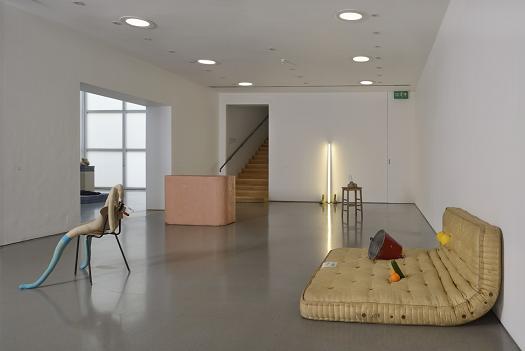 In contrast, gallery 2 is quiet and contemplative. The space is made up of beige, white and grey tones in plaster and cement. The subject of death, mortality and procreation hang heavy in the air. The beige tight-filled forms, aptly named NUD, are paraded on concrete plinths. They seem to flow in and out of each other in constant state of penetration and reemergence.
These forms act like vague memories of Lucas's former glories.The subject of art history and the idea of art as an object is referenced in them, Lucas's stance on the subject seemingly quite glib. Almost like an altar and a statue of a deity the ʻKing' takes pride of place in the room, white pieces cast  from plaster resembling the end of a scythe, death's customary prop, dangle from the ceiling. The idea of the cyclical nature of life and death are culminated in this piece.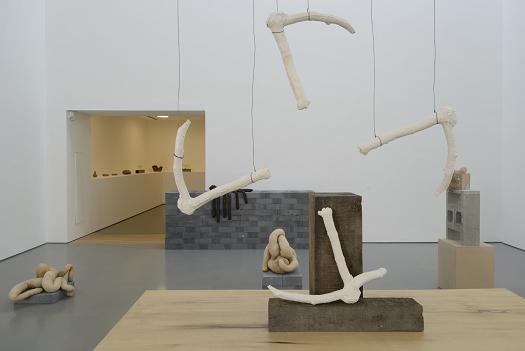 The last gallery has the air of a cabinet in a history museum, holding precious and found artefacts. These works are rough concrete casts of what looks like a courgette, sweetcorn and a pie. Casts of penises complete the visual sweep of the room. This display of objects seem to comment on civilisation on a grand scale. The remaining objects, resembling the findings of an a archeological dig, seem to comment on the simple nature of own existence:
we eat, have sex, give birth and die. The objects are roughly made and clearly look like casts.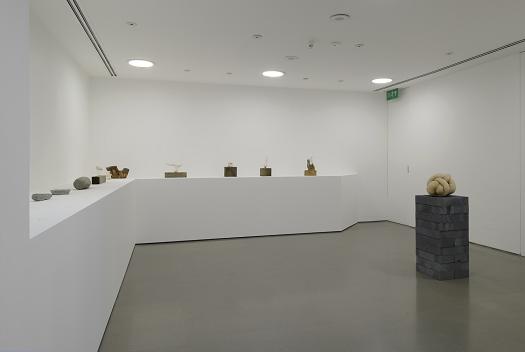 Interestingly enough there are also nods to her British contemporaries. Tracey Emin's quilts emblazoned with the union jack are referenced in ʻPlop!'. Damien Hirst's ʻAway From the Flock' and ʻBlack Sheep' find themselves reborn in the form of a sheep's skull in Lucas's piece ʻGalaxia'. Also the plastic case in ʻBig Fat Anarchic Spider' are reminiscent of Hirst's encased formaldehyde sculptures.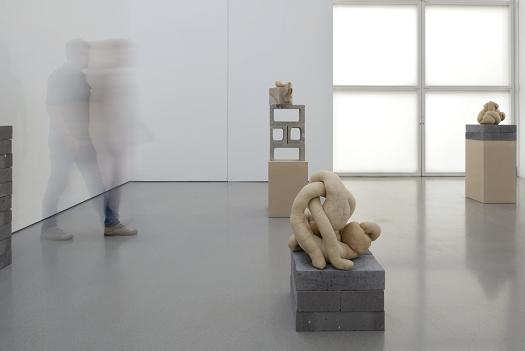 All of these references seem some what tongue-in-cheek and act as a comment on her own personal art history and a nod specifically to the Sensations exhibition curated by Charles Saatchi, in which all three artists exhibited in 1997.
The three stages of life outlined in the Sphinx's riddle in the ancient story of Oedipus seem to run through the exhibition. While the first gallery is full of youthful exuberance, fun and virility, the second room is much more calm and contemplative. The last room is a wonderfully quiet memento mori.
However, there is an overarching question hanging over the exhibition: how will Sarah Lucas be remembered as a woman and as an artist? This is a question that only time can tell. The show is a great source for anyone interested in learning more about post modernism and Sarah Lucas's art.
Sarah Lucas Ordinary Things is at The Henry Moore Institute, Leeds, until October 21st
Photos: Emma Sywyj

Emma is an artist and photographer. For nearly ten years she have been making art and taking photographs and is currently represented by the A.Gallery in Glasgow, Scotland.