Death of a Beat Group
As both commentator/journalist for Trebuchet magazine and the singer/composer for the now-defunct King Mob beat group, SWP finds himself in the rare position of being able to interview himself about the demise of the band:
---
SWP: So, why the decision to quit?
King Mob: I have been dead since the December of 2011. My huge carcass has been deteriorating on the sterile sands of the weeping desert, drawing filth, flies and fools hoping to feed on my remains.

SWP: I see. It sounds serious. And how does it feel to be dead?
KM: There are tunnels and vague lights. My work continues.
[box] kick out the jams and play some sweaty rock and roll[/box]
SWP: Well, I've always been a little vague about the work thing. I thought this would be fun. You know – step out of the shadows, recruit some brilliant veterans and a new kid, kick out the jams and play some sweaty rock and roll with a fresh twist.
KM: A failure to fully understand and broadcast the esoterique vision has resulted in unacceptable inactivity.
SWP: Well the entertainment industry is tough on the soul. Everybody's struggling, but at least you now have music on your CV. You've been a street activist, a comic book character and lately a rock band. What next? The movies?
KM: I have been forced to distil my essence into a substance known as RED 23. This new element has been installed in an oak-lined room somewhere in the Silent City.'

SWP: Dare I ask why?
KM: Huge spirals of force are intersecting. There are deadlines that must be met.
SWP: Ok. Well it's been a strange pleasure to work with you and I would like to wish you all the best in your future endeavours. Is there anything you would like to say to your loyal subjects before we wrap up?
KM: The means of salvation are always at hand.
SWP: Very uplifting.
For a fuller explanation of why King Mob have ceased activity please refer to: kingmob-beatgroup.com
Those who wish to channel the King himself are recommended to light up a Molotov cocktail and open a random page of any copy of Grant Morrison's Invisibles comic book while listening to 'The Secret Song' from a vinyl copy of the Force 9 album. Side effects of the full King Mob experience may include: drowsiness, delirium, radio poisoning, severe hair growth, waxy pallor, vitriol spray, flushing, unexpected time manipulation and space breath.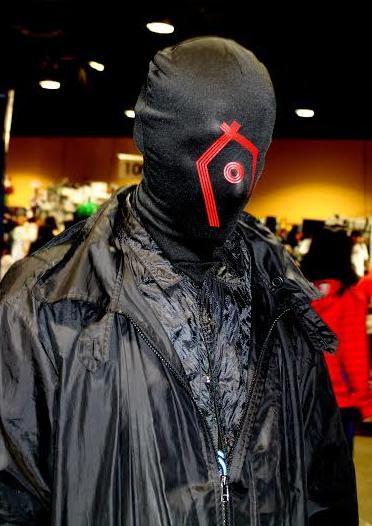 Having completed principal photography on phase one of the Sharks revival SWP is now preparing to edit the One Last Thrill feature documentary. Sharks themselves are 'dropping a big one' by releasing a double album Dark Beatles/White Temptations in April 2018.
In his spare time the author kayaks the muddy river Ouse and walks the South Downs which gently enfold his home town of Lewes.