[dropcap style="font-size:100px;colour:#46ffa5;"]
T

[/dropcap]he legend that is "Whispering" Bob Harris OBE has been out on the road touring the much respected Under The Apple Tree Sessions. The new UTAT tour has been headlined by indie/folk trio Wildwood Kin and regional acts handpicked by Bob for each show.

What's Under the Apple Tree tour all about?  Well, it states, "Under The Apple Tree is the UK's foremost online/live platform for the best in country, Americana and roots music. UTAT is a music brand that focuses on bringing attention to amazing artists who deserve to be heard by everyone". Now that's a bold statement but it's one that is absolutely bang on the money. If the UTAT show at Islington's O2 is anything to go by, these shows will blow your bloody socks off.
---
[dropcap style="font-size:100px;colour:#46ffa5;"]K[/dropcap]icking things off early on this school night, it was a four band night folks, was  The Blue Highways. This band sparked some intrigue when seen on the bill as thoughts immediately jumped to William Least Heat-Moon's book about those little towns in America and the much sung about blue lines connecting them.
"The Harrow boys brought a misty layer of early Memphis to Islington"
The band came out piece by piece, increasing in numbers with every song and subtle layers with every band member. A clean powerful distinctive lead vocal coats everything in molasses and the musicianship belies their tender years, even swapping bass duties with a saxophone. The boys put on a performance that pulled people into the wings and stopped the usual retreat to the bar, a rare thing with a four band line up like this and testament to the sheer quality of the acts that UTAT has put together.
In parts there was an underlying feel of fifties country and the very germ of a rock and roll beat. For us, the Harrow boys brought a misty layer of early Memphis to Islington, you couldn't put a finger on it, perhaps it was the pared down percussion or smooth little guitar licks, or perhaps it was the rhythmic bass guitar prominent in the mix with flashes of Johnny Cash.
"Totally unfamiliar with Ferris And Sylvester, there was an expectation of something akin to Trevor and Simon's Swing Your Pants"
Weirdly, The Blue Highways set could have easily been a soundtrack for the aforementioned book. Having travelled the blue highways and experienced these small towns personally, the music fit perfectly to that kind of road trip. If Lost Soul doesn't squeeze your heart strings you may be dead already. It may be a good idea to see these boys up close and personal in smaller venues while you can before they blow up big time.
Catching up with the boys the day after, we asked them how the shows were going and further plans.
"Last night was brilliant, Bob Harris has got a really great line-up for this tour. They've done a great job curating bands that really work together like Wildwood Kin and Ferris And Sylvester.
It's cool to do something a bit different for these sort of gigs, you'll usually find our drummer behind a full kit as opposed to out the front with a tambourine, but we get asked to do enough stripped back sets that we've developed more of an atmospheric folk sound for these sort of gigs.
Generally, the band is at a really exciting point, we've finished recording our debut album here in London. We're getting closer to announcing a release date but the end of summer is looking good at the moment, and hopefully have a UK tour to go with it, and maybe a few dates over in Europe.
The band is based up in Harrow, sort of outskirts of North London. We argue it's London anyway even if no one else ever wants to travel outside Zone 2 on the tube (we're at Zone 5…) It might be far out but it does have it's advantages, and having a room big enough for us all to rehearse in is a pretty rare thing to have in London!"
[dropcap style="font-size:100px;colour:#46ffa5;"]W[/dropcap]orry Dolls, Zoe Nicol and Rosie Jones, delighted the swelling masses with tracks from their debut album, Go Get Gone. If you haven't yet had a listen, this is an absolute jewel of record. Recorded in Nashville and produced by Neilson Hubbard (Mary Gauthier), a veteran of East Nashville's music scene and featuring songwriting collaborations with Jeff Cohen (Teitur), Ben Glover (Gretchen Peters), Joe Doyle (Reba Mcentire) and stunning playing from Wild Ponies, Eamon McLoughlin (Ashley Monroe), Kenny Hutson (Little Big Town) and more. Available on CD, Vinyl & Digital at all reputable stores now, or right here. Mixed in with pitcher of sweet tea, this will surely be one of our back porch sitting favourites this summer.
Cambridge Folk Festival, The Great Escape and Americana Fest UK are just few of the accomplishments under the Worry Dolls' belts to date. Flame haired Zoe's fleet-fingered banjo picking was a very welcome injection (we love a banjo). Thrusting into the mix, the sparse and sometimes stark plucked notes rang out plaintively against the guitar which provided both the chords and the beat. Not quite call and reply, not quite a battle and not quite a combo, it was an original and fascinating collaboration setting them apart from other folk duos.
[dropcap style="font-size:100px;colour:#46ffa5;"]T[/dropcap]otally unfamiliar with Ferris And Sylvester, there was an expectation of something akin to Trevor and Simon's Swing Your Pants. Oh boy, how wrong and unprepared can you be for what unfurled.
"Just like those juicy falafel sausages, the main event on tonight's menu was Wildwood Kin"
To tag them with a Bluesy Americana label would be a lazy injustice. Punter beware, if you don't have your senses about you Ferris and Sylvester kind of hit you like a sledge hammer, a great big fricking sledge hammer of frantic country / rock / blues / folk joy.
Issa Ferris and Archie Sylvester just work. Strong and wonderfully different individually, strong and wonderfully harmonious together, they play off each others energy throughout the whole show. With an essence of Joplin thrown in for good measure Issa at times looked bat-shit crazy, occasionally spinning off to a third dimension whilst Archie plays it just a little straighter, keeping the beat with his feet and then breaking into the most incredible blues licks, what a guy, what a blinder of a set. This duo is capable of great things.
When Wildwood Kin  hit the Trebuchet radar a couple of years ago, it interrupted an afternoon of pipe smoking and a discussion about Kafka and falafel sausages which looking back hasn't been fully resolved. Just like those juicy falafel sausages, the main event on tonight's menu was Wildwood Kin and it was inevitable this night would lead to an argument about Jack Daniels and burnt vegetarian spring rolls.
It was almost two years to the day at the very same venue we had the pleasure of the enchanting Wildwood Kin. Meg told us then that they were excited about releasing their first album and playing a number of UK Festival stages. That is now all past and these talented young women must be proud of the of the path they have ploughed and the status and respect they have gained, they've most certainly cracked their nuts. Having provided backing vocals for folk royalty, Seth Lakeman they are now very much carving out their own furrow in the field.
Lined up just the same as two years previous (no need to fix what ain't broke although we wished they'd turn up the lights), Wildwood Kin delivered a mix of great music and babbling banter. Their trademark vocal harmonies, sometimes beautifully haunting, sometimes purely joyful washed over the excited crowd (some overly) who lapped up every syllable , every note and seemed to know every word to every song. We said before that Wildwood Kin lit up faces with perfect happiness and absolutely nothing there has changed. The thing that has changed however is the increased confidence and relaxed demeanour these women displayed onstage, the payoff surely of the hard work they have put in around the circuit these past few years.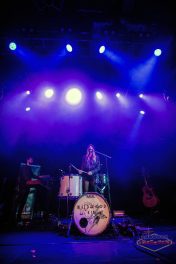 If you're one of the few that haven't yet experienced Wildwood Kin, they bring ethereal and immaculate polyphony, with the serenity of Enya and the vibe of 1970s hippy rock. These confident multi-instrumentalists break free from easy categorisation, utilising all the tricks of the folk trade without being a straight folk outfit. Their music has an underlying groove combined with an earthy spirituality that makes you want to kick off your boots and dance around the nearest stone circle. With the drums very much at the centre of their sound on stage, both physically and musically, the rhythm and musical layers provides some bite to the softly sublime singing
After the show, the band gave us the lowdown on plans afoot.
"Leading up to the release of our next album, we were really happy to have been invited to headline a special row of dates organised the wonderfully supportive Bob Harris and his Under The Apple Tree brand. It has been great to have an opportunity to perform  new songs live  from the upcoming album and the reception so far has been overwhelming. Thanks to everyone who has been to see us. We're now looking forward now to festival season and especially to heading back out on our next UK wide tour later this year. Eyes peeled for announcements…"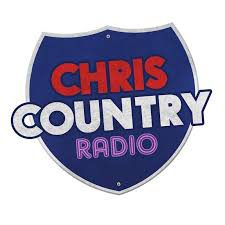 Just to add, fabulous news  that "Under The Apple Tree" joins my new favourite radio station, Chris Country for exclusive series of shows
Chris Country listeners are set to enjoy exclusive country session recordings, never before heard on radio, thanks to a new partnership with Under The Apple Tree.
The new "Under The Apple Tree Radio Show" will run for eight weeks from Sunday 28th May, and is presented by Miles Myerscough-Harris, son of Bob Harris. The programmes contain sessions recorded at their famous studio in Oxfordshire. CLICK for details.
Wildwood Kin Info HERE
Ferris and Sylvester Info HERE
Worry Dolls Info HERE
The Blue Highways Info HERE
If, like us, you really do love to Swing Your Pants – Click HERE
Photos: copyright Carl Byron Batson (not to be reproduced without express prior written consent)          

Photographer, published poet, former party animal, body builder, grave robber
to the stars and renowned chainsaw juggler, Carl can often be spotted on his
Harley Davidson pretending to be in Terminator 2. He is also frequently seen in
the press pits of old London town, camera in hand, avoiding being hit by bottles
of wee and crippling his opposition with secret Kung Fu moves.