[dropcap style="font-size:100px; color:#992211;"]T[/dropcap]he Edible Art Movement's Urban Rice Paddy art installation evoked honest toil and body/soul nourishment.
Previewed in Trebuchet last month, the event took an artistic look at humanity's roots – inviting the audience to touch the soil that their food is grown in at a paddy field grown by artists… in the middle of the contemporary city-heart of Singapore.
Installation contributor Julio Etchart explains some of the context:
---
As a photo-journalist, I have been covering environmental and development topics for many years. My main clients are NGOs who work with grassroots organizations. More recently, I have gone on field trips to document the efforts of fair-trade companies that source responsibly grown and produced foodstuffs as well as health and beauty products.
One such recent assignment took me to the highlands of Indonesia to cover the work of The Learning Farm, an organic rice and vegetables growing co-op near Cianjur, in west Java.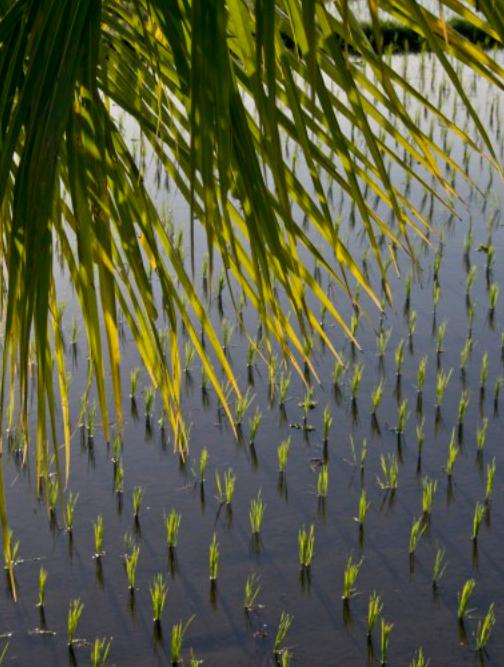 Their innovative training program is an intensive, goal-oriented course aimed at providing the youth with well-rounded training to gear them towards creating viable farming businesses in the long term. It consists of two integrated components: organic vegetable production and marketing and youth training and community development.
Forty young men and women from disadvantaged backgrounds across the Indonesian archipelago are selected for a four month stay which transforms their lives using the medium of farming and caring for nature.
The Learning Farm youth come from diverse backgrounds: from the streets of such cities as greater Jakarta, Yogyakarta, in Java, Lampung in Sumatra as well as rural areas like Karawang, Bogor, Bandung and also eastern parts of Indonesia like Timor, Ambon and Sulawesi. Their ages range from 16 to 24.
Most of the street youth come to the centre through a referral system from other organizations who work with street children and other vulnerable youth. Some of those who attend The Learning Farm are illiterate while others have graduated from high school. Many are without families and have lived for years on the streets while others come from single-parent homes or impoverished households. Some have experiences with drug addiction and have spent time in prison, while others have never been away from their villages.
Youth training and community development occurs in two phases. In Phase One, the youth participate in an initial 15 weeks program of life skills, vocational and entrepreneurial training activities with the emphasis on obtaining a basic understanding of organic farming.
The reinforced cycle of learning and application of new skills help the youth become increasingly capable and self-realized individuals. At the end of the initial 15 weeks, they decide whether to seek employment with other organic farm enterprises or to stay on for Phase Two. Phase Two lasts an additional 15 weeks during which two participants are involved in a more individualized and self-directed learning process, widening and deepening the knowledge and skills gained during their initial training period at the farm.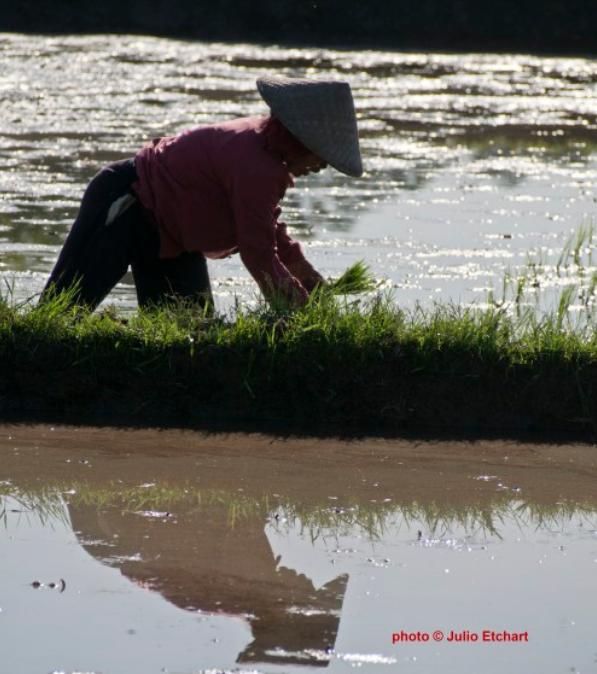 Higher in the hills and terraces above the community, the time-honoured cycle of sowing and harvesting continues, and there I meet Hendri and Sitka, some of the founding members of the original cooperative. They are planting the seeds of the new rice and pleased to know that their hard work and vision has given new hope to the troubled urban youth.
Siska confirms that most of the local young people have long ago left for the cities:
The new generation don't want to work the land anymore. They think is 'dirty'. They leave for the cities but don't know what awaits them there. They end up in the slums, getting very badly paid work or taking drugs and ending up in jail. I am glad that some of them are now coming back and learn the old skills of the farm. A person should know how to grow their own food….
Saying that, she bends again to put a new seed in the fertile soil of this mesmerizing landscape.
© Text and photos by Julio Etchart
---
Julio Etchart grew up in Uruguay and later moved to the UK where he studied Documentary Photography and Photojournalism at Newport Art College in Wales.
He has since traveled round the world for the international media and has also produced multimedia material and touring displays for several NGOs like War on Want, Save The Children, OXFAM, Christian Aid, CAFOD, VSO, UNESCO, the British Council and the European Union.
He is a recipient of a World Press Photo First Prize in the Environment category and
works at the Communications and New Media department at the National University of Singapore, running workshops in participatory image-making with migrant workers and other marginalized communities, as well as documenting their plight.
[button link="http://www.julioetchart.com" newwindow="yes"] Julio Etchart[/button]
[button link="http://www.edibleartmovement.com" newwindow="yes"] Edible Art Movement[/button]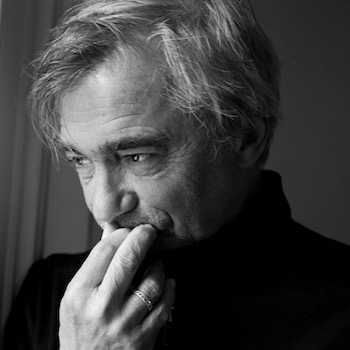 Julio Etchart is a documentary photographer, poet and artist.