[dropcap style="font-size:100px; color:#992211;"]F[/dropcap]or 27 years now, Présence Autochtone (Montreal First Peoples Festival) has been championing the lives and culture of the indigenous people of Canada and further afield, at the annual festival in the Quebec Province city.
What was originally a somewhat niche film festival, has grown into a much larger event encompassing all of the arts. Films are still very much at its core, with offerings from across the globe showing in cinemas and other venues around the city. Documentaries make up a large part of the feature film programme, as there are still many issues to be investigated and tackled, but the fictional films also address them, and often in a more palatable way. And some films cross into both genres, such as Kuun metsän Kaisa, which mixed fairytales, animation, archive footage and social history of the Skolt Sami people of Lapland. The film went on to win the festival's best film and best documentary awards.
What was particularly encouraging to see was not only the number of short films showing, but also how the quality has also grown with the quantity. This can primarily be attributed to the ongoing work that Wapikoni Mobile is doing, taking filmmaking and other media skills to the First Nations communities. They work almost exclusively with the youth, many of whom are disillusioned and unsure of their identities. Through filmmaking, they are able to explore the conundrum between tradition and the digital, social-media driven world. The project is uncovering a lot of talented young storytellers, who would otherwise have trouble expressing themselves.
The amalgamation of heritage and modernity was perfectly displayed in the art exhibition From Smoke to Cyber Signals at Espace Culturel Ashukan. Artist Carmen Hathaway has combined digital and 3D art with ideas from traditional stories and myths, which are then printed onto canvas. Some of the images are very finally detailed and look like they are created with brush and paint or airbrushes.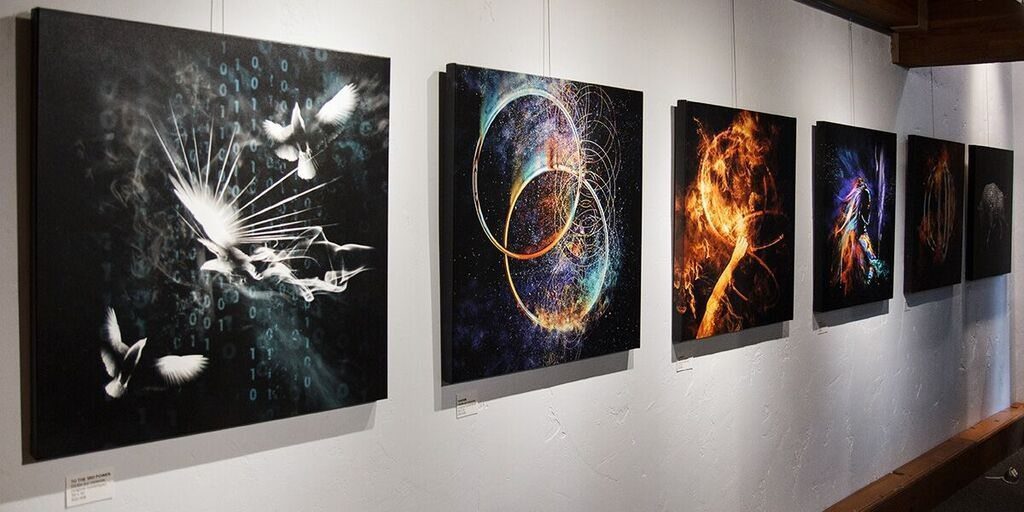 This fusion of traditional and contemporary cultures was also extended to the food that was on offer in Place des Festivals, which is very much the public face of the festival, with its giant teepee dominating the square in the downtown entertainment quarter.
Usually when one talks about fusion food, one thinks of traditional food that has been spoilt by Westerners who think they can improve on dishes that have been perfected over centuries and millennia (I'm specifically thinking of Indian and Middle Eastern/North African food, where the combination of ingredients and spices take on health-giving properties). However, in this case, indigenous chef George Lesner has taken a different approach.
"I want to define what indigenous food is. I do not think it solely consists of ingredients and recipes from pre-colonial contact. That was such a long time ago, and what has happened to our land, people, culture and relations have changed our diets and needs dramatically over the years. What we cooked 600 years ago to survive was completely different to what we cooked when our meat was taken away by colonisers, and rotten flour was given to us instead. With my food, I want to represent our peoples' struggles, and innovations we were forced to go through. I want to showcase that we are a contemporary peoples, as well as make a statement that we may have had our land taken away. Colonisers may have taken many of our lives but our resilient spirit is still here, and our resistance is not going anywhere."
As such, he has created dishes that use local ingredients and are prepared with influences of French cuisine, that appeal to the sophisticated palettes of the Quebecois.
Read Part Two of Presence Autochtone 2017 here.
More coverage of Présence Autochtone 2017 to come.

Chris Patmore is a photographer-designer-writer in order of creative satisfaction, or a designer-writer-photographer in order of current earnings. After becoming totally disillusioned with the world of film journalism he has returned to his first loves: music and photography. Sirius Flatz, manager of Molotov Jukebox, says, "Chris has what one could call a musical eye, capturing bands in their perfect moments."