[dropcap style="font-size:100px; color:#992211;"]A[/dropcap] joyous soundclash of choral harmonies and polished brass, Perhaps Contraption bring the visual aesthetics of Willy Wonka to the grubby lifestyle pornography of the Argos Christmas catalogue, mixing it all up onstage with a mouthful of kitchen cutlery and a pramful of Oktoberfest oom-pahs.
A marching band combining the absurd, the punk, and the political. Brassier than a home-bleached blonde, more Beef Heart than the butcher in Mr Gum. Founder Squier Squier talks to Trebuchet's Kailas Elmer: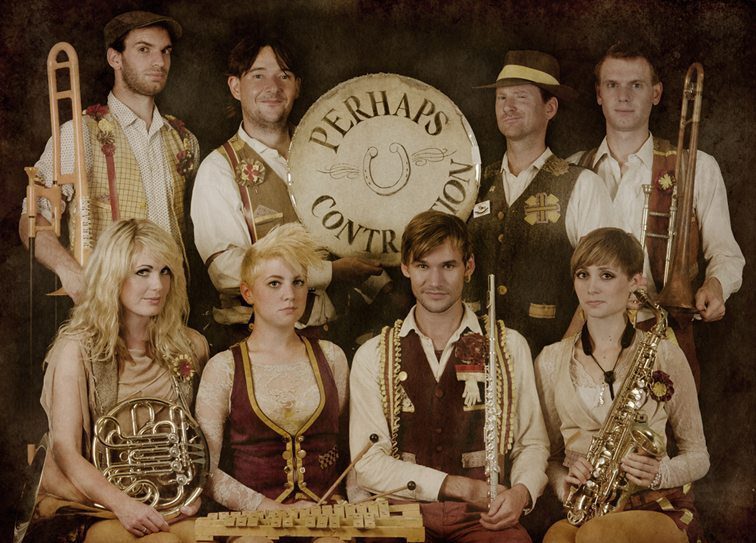 Why a marching band?
Perhaps Contraption: I got tired of lugging amps around, and being bound to wires, bad venues and bad promoters. I'm a guitarist first and foremost, yet my ears were becoming bored by this ubiquitous instrument in much of the music I was listening to. I'd worked on three albums with guitars at the epicentre, so felt the need for shift and a challenge – to write compositions that could work completely acoustically; roving and without chordal instruments.
Why costumes?
Perhaps Contraption: I think costumes help enhance a performance, they help to separate the moments therein from ordinary reality. I've always been interested in the potential for theatre to bleed into standard gig settings, and costumes help to accelerate that. Ours were constructed by my housemate; an extraordinarily talented fetish designer called Am Statik. We put our heads together and came up with these designs (which also include a smatterings of latex).
One the whole, I just like prancing around wearing plum and yellow like a neo-dandy twat.
Which came first; the band or the trombones?
Perhaps Contraption: The band. It wasn't until I witnessed the power of the illimitable Mickey Bones parping in his band The Display Team, that I realised how important it was that I had an abundance of trombones in my life.
[quote]I want to be transported away from the tripe the world churns up[/quote]
Personalities within the band; playful and surreal – what's wrong with good ole reality?
Perhaps Contraption: Reality can make me gag. It sticks in the back of my throat, it's around me everyday. When I play music, and connect with other musicians, I want to be transported away from the tripe the world churns up. Pseudonyms are a part of that. Each one we have chosen somehow adds to the character it was ascribed to and the roles we have within the band. Plus, I really like Captain Beefheart.
The history of the band – apparently more guitars at the beginning. What caused the change?
Perhaps Contraption: Since 2004 I have been ploughing this little field, with many amazing musicians and minds helping me along the way. Yet, a few years ago I began falling out of love with distorted guitars. I began shifting my composing onto flute and voice, and tried to engage with ways of performing outside of the conventional gig circuit.
An epiphany arrived after I was invited to converge with a number of radical marching bands for a string of performances at Burning Man in 2010. Playing in this way completely shifted my perspective. Suddenly I was able to play anywhere and everywhere without relying on stages or electricity. And often, these situationist antics created much deeper and rewarding experiences for the listener and performer.
I adore the way we can instantly transform a banal street into a joyous, irreverent celebration.
Though this doesn't mean I'm ruling out guitars altogether. I'm working on a solo album right now where finger-picked acoustic guitar is the backbone, and I'm also planning to start merging some guitar back in with the next batch of Perhaps Contraption material.
Steampunk: Influence celebrated or vile co-incidence?
Perhaps Contraption: It's a co-incidence, though vile is a strong word! I don't try to avoid or fabricate any connections with Steampunk, we just are what we are.  I'm not sure what Steampunk as a musical genre is, and it's direct relevance to what we are doing. If anyone knows, please give me a nudge.
As an aesthetic, I can see some parallels. Though, I liked to dress up like a disheveled member of the aristocracy at festivals long before I knew what Steampunk was. Our drums are housed in an old Victorian pram because it's immensely practical for festivals, it carries our equipment and it looks awesome (our drummer actually rode in this very pram as a baby!).
What would be the greatest success you could achieve as a band?
Perhaps Contraption: Christmas number 1 with a dissonant, polyrhythmic, croon-power-ballad ugly motherfucker of a song clocking in around 20 minutes long.
What's been the hardest moment in the band's history to date?
Perhaps Contraption: Birthing our first album, Sludge & Tripe. The whole process took around five years, and in the final stages I was very broke, confused and exhausted. The core band fell apart, a new one had to be assembled. I was also trying to learn facets of production, promotion and playing all on my own. I felt pretty desperate. But finally I managed to purge the beast and instantly felt much lighter and fired up for the next batch of recording.
[quote]sweaty male-ness[/quote]
Doesn't it make it easier to get gigs having girls in the band?
Perhaps Contraption: Probably. Guys like watching girls and girls like watching girls rock, so I suppose it's good no matter what your genitals look like. Having an almost equal mixture of male and female in the band is wonderful. It balances out all the sweaty male-ness, makes the performance more dynamic, and makes us feel more like a family. Also, we have orgies on a regular basis which is a great way to relax after a gig.
How many times have you heard jokes about getting the horn?
Numerous. I'm sure that gag still makes our brass arsenal wince every time it's uttered. I can sympathise with them; I'm a contact juggler, so am always getting hilarious puns about "my balls".
Have you considered either a more stripped down version of the group and/or a bigger version with lots of people!
Perhaps Contraption: Indeed. This summer at Secret Garden Party we premiered our "Megatraption" ; a fifteen-piece ensemble which created a massive, symphonic din. It was such a joy to be parading around the festival with three french horns, two drummers and two sousaphones. If budgets and logistics were simpler, I would play with bigger lineups more often. It makes everything much more intense.
Conversely, there is also a stripped down 2-3 piece show that we used to peddle a fair amount. It was based around acoustic guitar, stripped-down arrangements of the songs and Susie Shower's poetry. There is an album of this stuff still waiting patiently in our vaults….
If you are pushing the marching band concept what would innovation look like? Electro-clash country?
Perhaps Contraption: I don't know what this means.
What's it all about?
Perhaps Contraption: Joy and autonomy.
Will it change?
Perhaps Contraption: Yes. This device is a capricious thing.
Will it bend?
Perhaps Contraption: Yes. We are nubile, agile and tenacious.
Does it travel to Europe?
Perhaps Contraption: Yes. We made our first trip to Italy this Summer for an incredible street festival called Artisti in Piazza in an idyllic medieval mountain town. We were blown away by the response, and are keen to book another visit there and around later next year. If there's any interested tour bookers out there, please get in touch!  As it stands we are completely DIY and independent, and keen to explore new lands….
What does the future hold?
Perhaps Contraption: Well, we are already working on the next album, and preparing a whole new show for next festival season.
There are a couple of wonderful music videos brewing away too; one will involve dancers and an amazing lighting designer, the other an origami master….
There are a couple of exciting collaborations with the One Taste Collective and Rumpus on the horizon.
I'm also working on my first solo album, which will feature many members of the troupe, and should be complete by March 2013.
Finally, I'm hoping to get the whole troupe out to the USA for a West Coast tour, Honk! Festival, Burning Man and a visit to New Orleans.
[button link="http://perhapscontraption.co.uk" newwindow="yes"] Perhaps Contraption Home[/button]