The time it takes to make a painting makes it personal. You're close up connecting with the canvas. It's receptive and it gives with pressure. Depending on which material the painter is using often the painter will have to leave the painting to dry before proceeding. It's a relationship. 
But what informs the relationship between painter and canvas is what the painter wants to paint? What is the intention behind the physical process and what how does that get channelled from the eye, down the arm, through the brush and into the stroke of colour that will, with others, tell a story?
For Gisela McDaniel she uses her internalisation of stories shared with her to produce works of history, culture and personal meaning. And so far these stories have been highly successful in connecting with audiences around the world.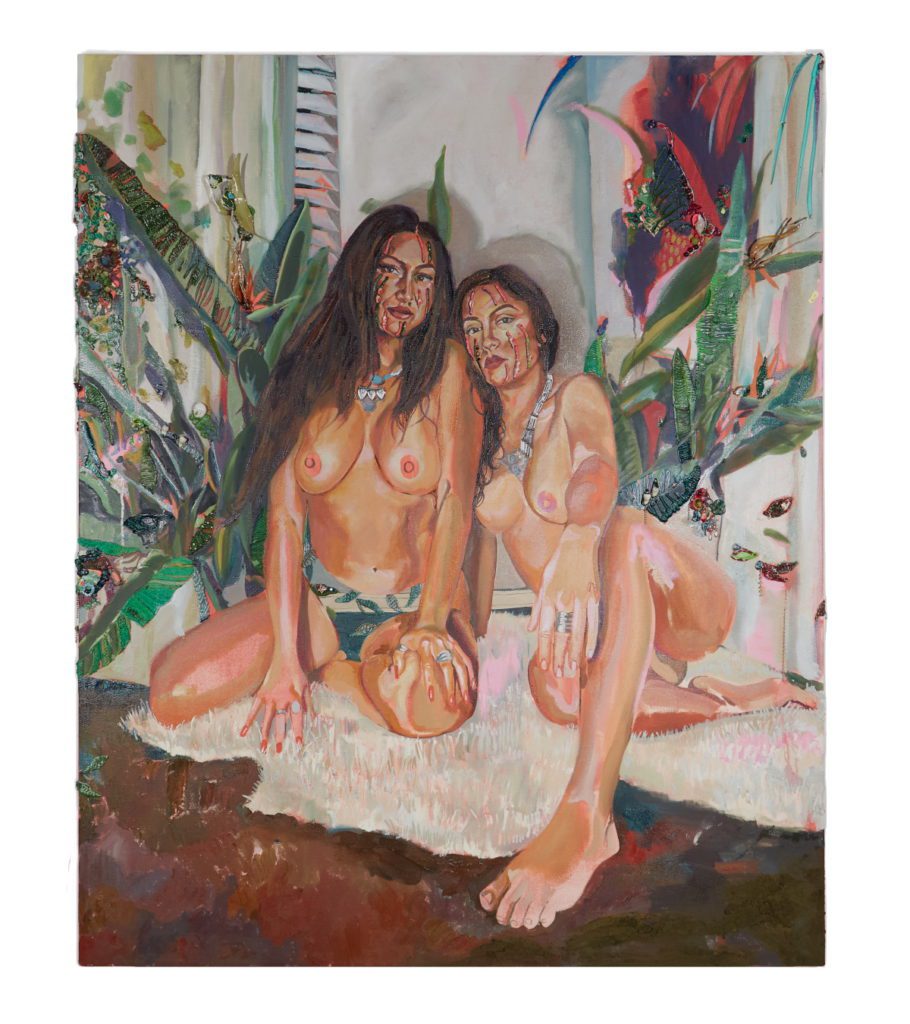 Born 1995 in Bellevue, Nebraska. McDaniel lives and works in Detroit, Michigan. With a diasporic, indigenous Chamorro background her work has been classified as being;
'based in healing from her own sexual trauma and reflecting the healing of womxn and non-binary people who have survived sexual trauma. Interweaving assemblages of audio, oil painting, and motion-sensored technology, she creates pieces that "come to life" and literally "talk back" to the viewer upon being triggered by observers. She intentionally incorporates survivor's voices in order to subvert traditional power relations and to enable both individual and collective healing. Working primarily with women and non-binary people who identify as Black, Micronesian, Indigenous to Turtle Island, Asian, Latinx, and/or mixed-race, her work disrupts and responds to historical/contemporary patterns of silencing in fine art and popular culture' (PilarCorrias)
Since 2018, she has exhibited internationally with solo and group shows including: Manhaga Fu'una, Pilar Corrias, London (2022); Sakkan Eku LA, The Mistake Room, Los Angeles (2021); Dual Vision, MOCAD (2021); Making WAY/FARING Well, Pilar Corrias, London (2020); Dhaka Art Summit, Dhaka, Bangladesh (2020), and speaking to Trebuchet for our process issue she describes the history of her relationship with painting and what it's taught her as well as what it's allowed her to present to others. 
With such a quick rise to prominence it's important to ask what aspects of McDaniel's work has created this vortex of interest around her figurative works? What aspects of contemporary life has she brought to the surface that has such a strong resonance with people often quite different to those she portrays in her work, as well as herself. In this interview we are looking to find what parts of the universal she has found in the particularities of cultural history and personal experience.
Maybe you could give us a bit of the history behind your work
Yes. This has always been a very personal project to me. I have been painting about this topic for the past six years which jumped-started after I moved to Detroit 2017. I was going to events and meeting people. And if I was comfortable with someone, I'd invite them to work on the project.
I made it clear from the start, that they could have full control over how they wanted the painting to look and how they wanted to be represented. A lot of my work is layered upon that first critical aspect of the relationship that I have with the subjects as equal collaborators. You see, to me the most important part [of my practice] is building genuine relationships.
I see art as history and artists as historians. [I]f I'm going to paint someone, I'm going to make sure that people that I love and care about are remembered, because historically… a lot of these voices have been erased… silenced. To give [these voices] a platform and to build this archive of stories… is a form of [historical] research, which in itself is important. The good and the bad, it's important to remember all the things that honour people's lives and to not only document that journey but celebrate them. The parts of my work that I'm most excited about…. It's not everyday that you get to ask, or you get asked to, sit for an oil painting. As much as possible, I try to make it a fun and meaningful experience for them.
In that respect, do you consider yourself a portrait painter?
I definitely consider myself a figurative painter. And figure painting inherently involves storytelling, although traditionally, the stories or "gaze" were always imposed by the painter and the audience they catered to. As an indigenous woman my approach radically departs from this approach because, as I see it, if you're meeting a person, there's always going to be that moment when you look into that person's eyes and you meet them somewhere. Emphasizing that story, making sure that there is a concrete story that reflects and is primarily controlled by the person depicted as they engage in telling their story to and with you has always been important to me.
With some people, I know right away that it's meant to happen (meaning sharing stories and arranging for a sitting). With other folx (inclusive of 'folks'), you have to meet multiple times. It depends on the person and the situation. It's different every time. Everybody comes wanting to get something else, something a little bit different out of it. I use my instincts to find the people I have genuine connections with. You follow your heart and your gut. I'm lucky to be in a beautiful community and to be connected to the communities around Guam, where many connections have come from word of mouth. 
Have you asked yourself whether it's time to move on?
No. I don't think so. But the work is always transforming to address my own needs and interests and what I'm able to do at the time. Because I can't do this work unless I'm 100% well or I feel 100% confident. Honestly if my mental health isn't where it needs to be, I won't be doing interviews…. I have to make sure that I'm good to be able to do this work. [In that sense] it's always transforming day to day which is what I feel painting and storytelling is always going to reflect my own capacity to engage in my practice. It's always going to be something I care about. Especially when you talk about violence against people, which has always existed, which has always been a problem. It's a global problem. I've listened to a lot of people speak about coming out of difficult situations and [them] wanting to make sure it doesn't happen to anybody else. And a powerful way to do that is to share our stories and make it not taboo. Because, this happens all the time. It happens every single day, everywhere. And to make it something that's not scary to talk about, to create space to [allow people to] set it down is incredibly important. For me as one person, it's not always easy. I get triggered as well. A lot of it's heavy. Transforming the way that I take in things and how I handle things is something that's a necessary part of my growth. That I'm also working on for my own well-being and work as an artist.
Can you talk about how you process these stories, their weight, and perhaps their burden?
That's been something that's been on my mind quite a lot. Especially during the process of editing these sound pieces. For me, the audio is not necessarily for people who have survived things. It's more of a gift to everybody else to learn from that so it doesn't keep happening.
In practice, I try to do this visualisation where I'm sitting with somebody and we let the heavy words roll onto the floor and we both walk away rather than me physically absorbing everything as I am. I can be sensitive and things definitely do affect me and it's difficult to say things sometimes, but somebody has to. It's important that these stories are captured verbally, because for me, as somebody who has survived things, it was important for me to tell my own story. It was important for me to realise that I don't need to be ashamed of this and that many of us go through these things. And if we talk about it in a public sphere then maybe we can find solutions, we can heal.
When I am sitting with people, the exciting parts of our conversations are when we tell the story but then we reflect on what we are proud of ourselves for. There's a lot of it that is not trauma, let alone about so-called trauma porn. It's a celebration that we're all still here, we're all much more than that violence, or that trauma. I hate to use the word resilience, because I wish people didn't have to be resilient in this world. But to talk about the accomplishments, and the love, and the way you show up for yourself and your family every day despite carrying some very heavy things: that's something to celebrate. And people – especially the communities I work with and am from – don't get celebrated enough [on any given day]. For me, the paintings are a celebration, the audio is a gift for everybody else to learn from. It all goes into an archive. There's many similarities between a lot of these stories and when you put them all together, when you pile them all up, on top of each other, it's hard to ignore this incredibly large problem. It's happening all the time. And all these people are echoing each other. So, yes, it's [about] building an archive. [Creating the archive]… it's not easy. It's not fun.
The fun part is the painting. The fun part is having relationships with friends, building something real between people, celebrating people, and seeing the paintings go out into the world and be further celebrated and experienced is exciting. But the audio accompaniment is something that is more a tool that I hope that people will "get". [This is why] I try to handle these stories with care.
Does this mean that all your paintings are dealing with the connection of people to their trauma? Would you say there's a dangerous line about defining people in this way?
Well, quite honestly…
Continued next week…
Gisela McDaniel is represented by Pilar Corrias
The aim of art is to represent not the outward appearance of things, but their inward significance. – Aristotle