[dropcap style="font-size:100px; color:#992211;"]T[/dropcap]he first thing that comes to this mind when hearing the word 'pagan' is Vikings and their so called 'ungodly' acts in the name of their warring deities.
That may be a result of too much wishful thinking whilst watching Kirk Douglas films, but suffice to say I was instantly intrigued by The Well's Pagan Science as soon as I laid my eyes on it. With a name like that you're not quite sure what to expect, it sounds deliciously like something your mama would condemn. Then again, if you're into paganism she's probably given up on you years ago anyway, right after you took that wrong turn onto the path of doomy delights and heavy riffs. Unless she followed you down that crumbling heathen path herself. It happens.
As a big fan of The Well's 2014 debut album Samsara, expectations are high for the follow up, so I slouch down, put my headphones on, close my eyes and absorb and inhale the album, all 39 minutes of it.
As the record finishes I'm left with feelings of excitement and despair – excited about the fact that they've made an album that's both melodic and ambitious without becoming pretentious, driven to despair by the fact that it's only, as mentioned above, 39 minutes long.
Pagan Science takes us on a journey through various genres, as they've made a delicious mix of stoner rock, doom, blues and classic heavy rock.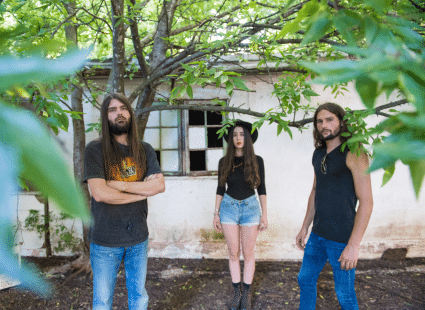 Hey, they've even thrown in some folk and occult choir vocals just for the hell of it, and it works a treat (Crosby, Stills and Nash's 'Guinnevere' gets a gutsy and almost unrecognisable treatment).
With guitarist Ian Graham and bassist Lisa Alley sharing the vocals throughout the record there's an autumnal wealth of haunting and eerie harmonies, and Lisa Alley's soft voice works incredibly well as a contrast to the hard and heavy riffs.
Despite sticking to their guns and keeping their distinguished sound, The Well still manage to surprise by adding elements of mid-eastern influences and hand percussion. I could easily dive into each track individually, but I've already used 300 words to say something I could have said in less than ten: Just go get the record, it's absolute killer.