[dropcap style="font-size:100px; color:#992211;"]I[/dropcap]n a tradition of fetish photography, the work of photographer Alva Bernadine displays a distinctive visual identity in a mileu distinguished by visual identities.
How does one stand out in a genre which, by its very nature, is loaded with visual stimulus, codification, objectification, semiotics of power, and formalist symbolism?
Alva Bernadine clearly does so, with shoots for fetish bible Skin Two and a Vogue/Sotheby's award bagged early in his career, his eye for a provocative tableau has echoes of surrealism (particularly Manuel Alvarez Bravo), underpinning the more established visual lexicon of sexual power dynamics as documented by, say, Robert Mapplethorpe, Eric Krohl or Richard Kern, with a jarring domesticity which draws the viewer to feats of interpretation above and beyond the usual call of smut.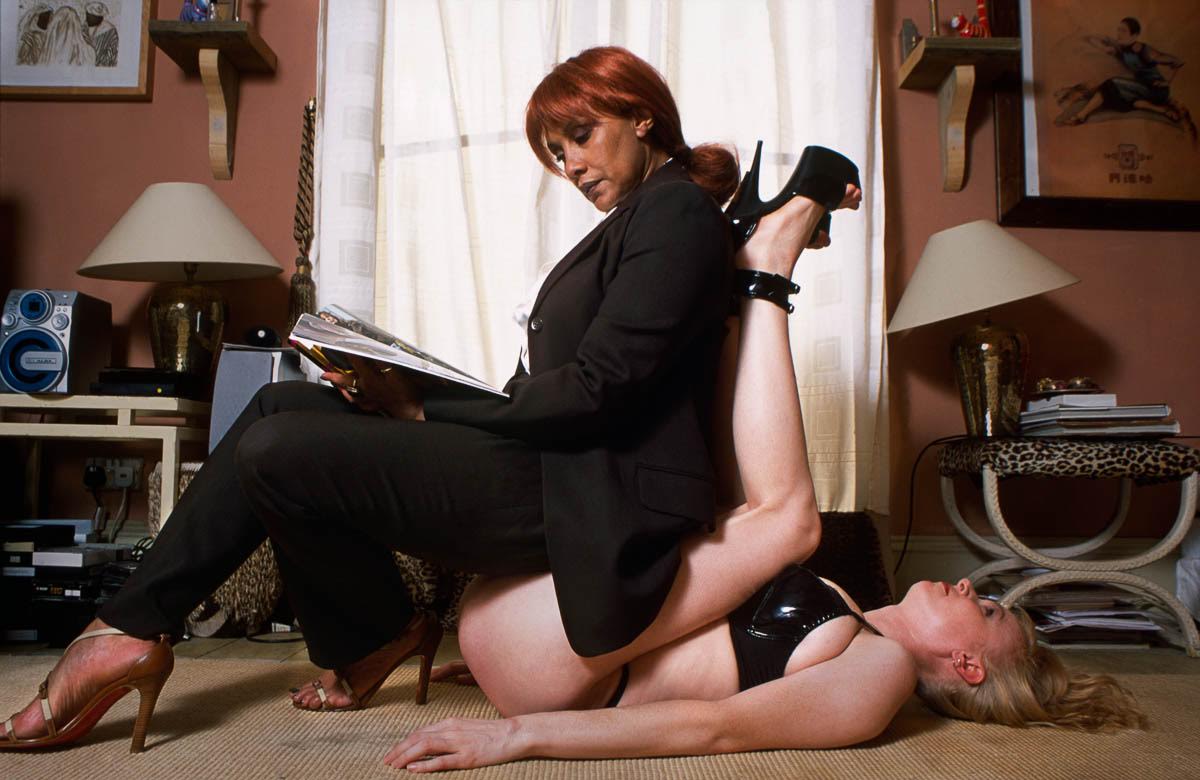 Currently exploring the visual opportunities presented by forniphilia (a form of BDSM where a person is used as household furniture. The best example being Allen Jones's 1970 sculptures of table, chair and hatstand, immortalized in the opening sequence of Kubrick's Clockwork Orange), Bernadine took some time out to explain his approach.
How did you get started?
I am self-taught. I was born in Grenada, West Indies. I came to Britain at the age of six. I bought a toy camera at ten with which I took blurred snaps. Later my form tutor gave me an SLR with a broken aperture which I fixed. At 21 I started thinking seriously about photography.
I knew it was something I would be good at. I would look at the pictures and adverts in magazines and knew I could do that if I had the right sort of lighting. I have never been daunted by the technical aspects of photography.
Why human furniture? Do you think there is a heightened dynamic of submission than in 'regular' bondage? As in – the submissive subject could not possibly be mistaken for a coerced victim.
For someone like me who favoured surreal and out-of-the-ordinary pictures, this was redolent of all sorts of exciting possibilities. Here were human Transformers who could change into tables, chairs, standing lamps or whatever their master commanded.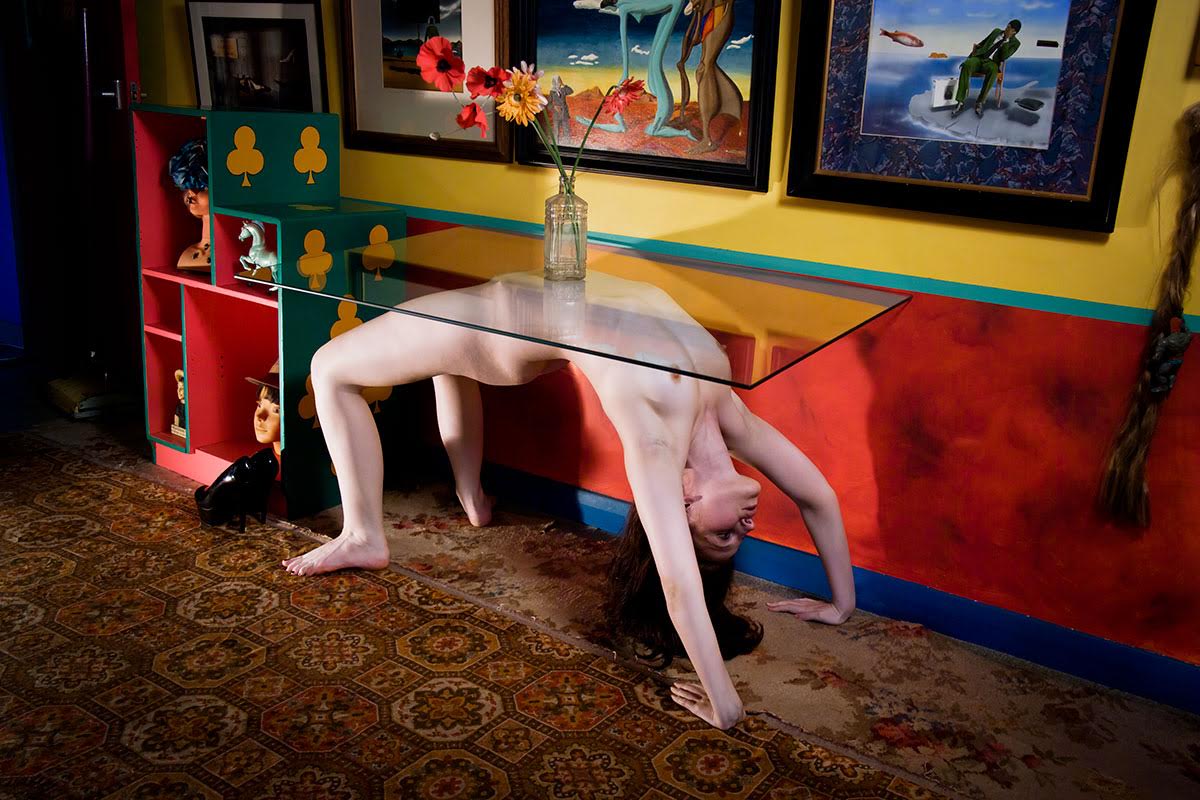 Someone with ideological reasons to dislike BDSM would always find it abusive even if the subject enjoyed it. After all, is this not the very epitome of objectification?
Who influenced you in the beginning?
I first fancied myself as a neo pictorialist and took pictures of London tourist spots, during which I saw Rene Magritte's paintings and wanted to do something like that. The next spring I came across the work of Guy Bourdin, and the German Cheyco Leidmann. They were the biggest influences on me. I sketched out ideas and by the summer I was ready to go. Among the now-demolished derelict buildings next to Battersea Power Station, I taught myself how to take real photographs. In 18 months I had gone from seeking direction, to a recognisable style.
In 1987 I wrote a manifesto and since I was the only one in my art movement, I called it Bernadinism. The manifesto was entitled; The Bernadinian Universe, The view From The Edge, The Artist As Megalomaniac. My tenets were summed up in five words:
Astound
Confound
Provoke
Intimidate and
Gorgonise.
I went on to draw a map of my "Solo System" and on T-shirts I printed my own Theory of Special Relativity:
Bernadinism: 2 + 2 = 22
And my slogan "I Am a One Man Subculture".
I made a photo album with 198 screws stuck through the cover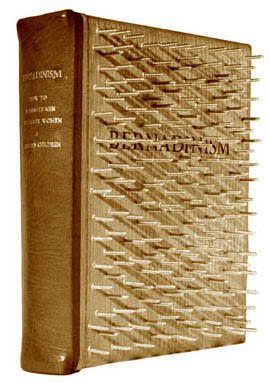 , in which I penned my writings and my early photographs. The spine was stamped with "Bernadinism: How to Dominate Men, Subjugate Women and Stupefy Children", a chapter title from a Dali book. Volume two had 16 loaded mouse traps and I photographed it with a dead mouse on the cover. Photos from them formed my first book.
Who influences you now?
The internet. When you are young and casting about for inspiration, it is then that you are at your most receptive to influence. When your style is more mature, the influence of others is not as great. I find that I am now influencing youngsters in my turn.
How would you describe good photography?
Good and bad is a question of taste. I have no taste. I just try to take the type of picture I like to see the most.
Do you consider how people will react to your work?
I do not believe the job of an artist is to primarily consider questions of taste or consensus or be mindful of who a work may upset. If I was afraid of alienating people I would have taken up landscape photography.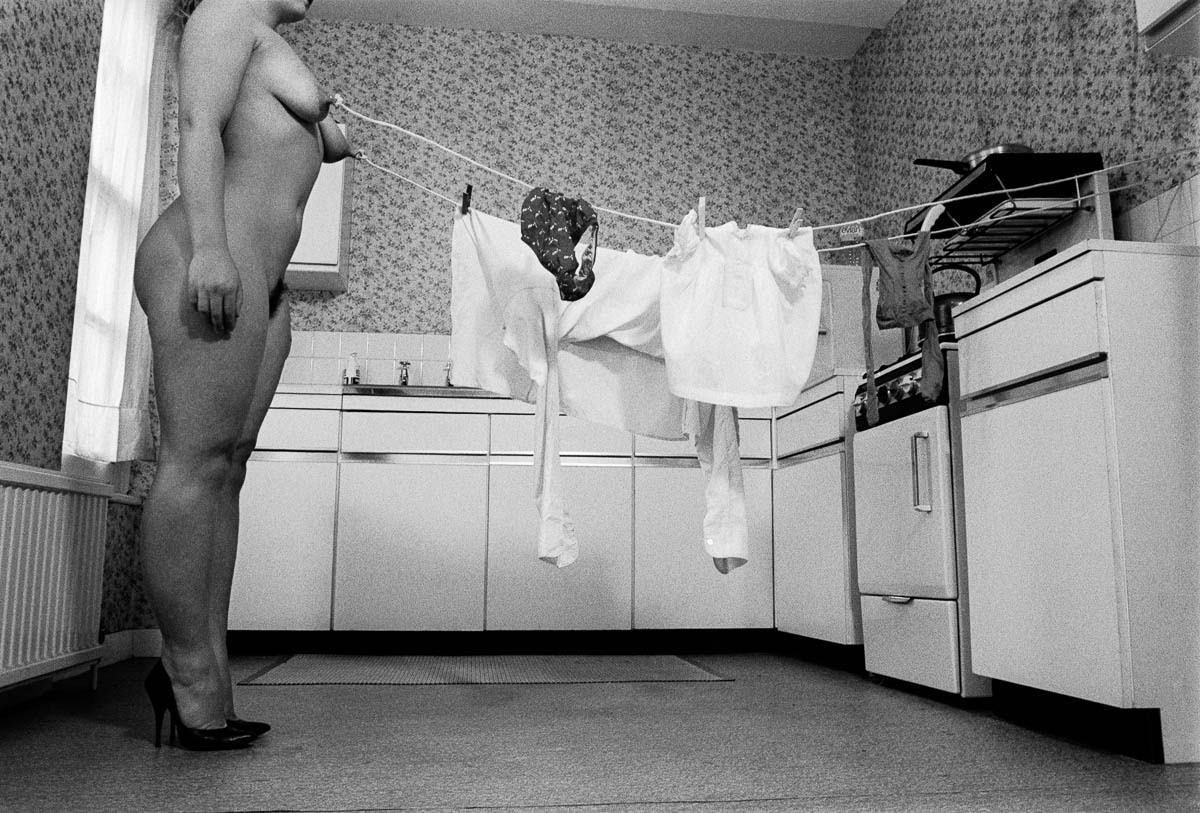 Young women are among my biggest fans. 48% of my facebook fanpage followers are women and 73% of those are under 35. Why more young women than young men want to see my erotic images of women is a matter for conjecture. Personal experience tells me there is a Sapphic element to it. The last British sex survey showed more women were having sex with each other.
Nothing I do seems to shake them off. In a project on violence I did the picture 'Murder by Roses', in which a strangled woman on a flowery carpet in a flowery dress hiked up to her waist had rose petals between her bloody labia. To my astonishment some models told me it was one of their favourites. Recently one of my photos was used as the cover of a controversial feminist book in Argentina.
To what extent is emotion a component of your work?
In my early adulthood I was Splendidly Unhappy and this was reflected in my work in the form of unease. I wanted tension and mystery. I strove for an ugly beauty that would entice the viewer and repel them at the same time.
Do you think your photography subverts or reinforces the dominant gender stereotypes of our society?
If you are vanilla it may subvert what you think of as normal and if you are into BDSM it may reinforce what is normal for you. If as an artist you come across wondrous material do you walk away because somebody somewhere might object? Sex has no ideology so nobody is going to let a political movement prescribe the ways they can get off.
I did not come into photography with a political agenda. My approach is personal and intimate rather than the universal and grandiose
In the internet age, is there any shock value left in photography of this sort? Do you hope for shock/controversy, or are you more concerned with documentation?
I am not expecting these pictures to shock, we should have got over that since Allen Jones first showed his sculptures so long ago in 1970.
Shock is a bullet in the artist's arsenal which was legitimised by twentieth century art. The thing about it though, is that its power diminishes on repeated viewing and once shock subsides, to be good, the art still has to resonate and display an engaging sensibility behind it.
Even if you want to be controversial it is not that easy. First of all you need a platform and the gatekeepers to these platforms are far more conservative than they like to think themselves. The agenda is always "Will it sell?"
I stage photographs, I do not document.
What project are you working on at the moment?
Can pornography be art? My answer is yes. But if it is any good, won't people just call it erotica and rob it of its power? Or will it just fall down the gap in between – too indecent for an art gallery and too distracting to masturbate to?
I am re-editing a film called Pornography As Art, where I filmed outside and inside London galleries such as Tate Modern, National Gallery, Gagosian and White Cube. I replaced banners and paintings with "artistic pornography" with the aid of CG. It is oddly amusing to see people queuing beneath an inappropriate banner, waiting to get into the Pornography As Art exhibition at the Royal Academy, or walking in front of a massive photo of conjoined twins performing fellatio in the Saatchi Gallery.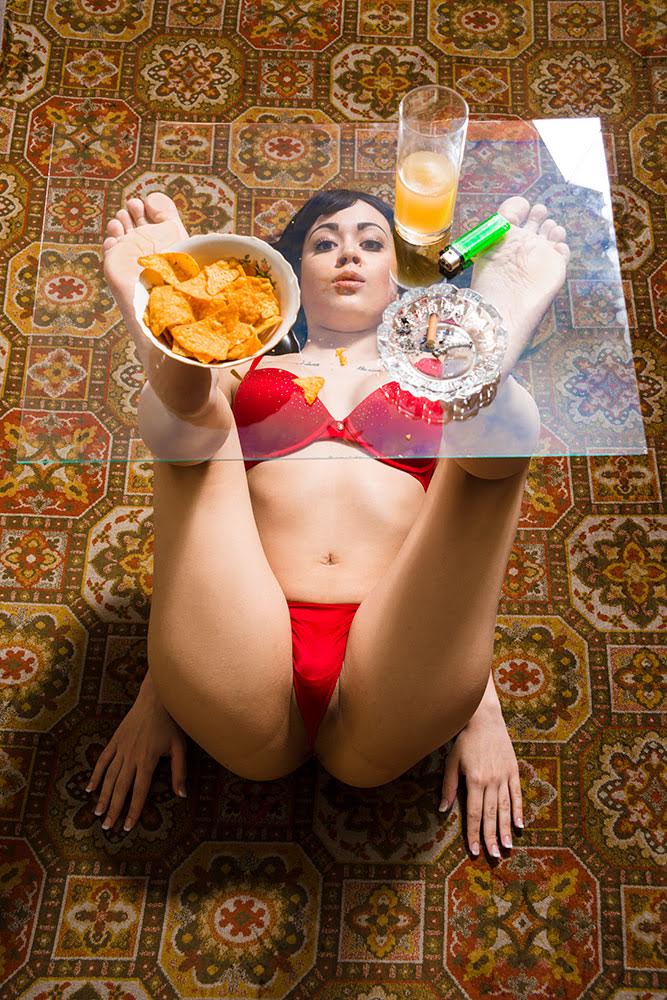 I have touched upon pornography before in a film featuring manipulated female bodies in my video, Succubus. My favourite so far is A Gnashing of Teeth (Vagina Dentata). There is a very unhappy ending for the man in the film. It got my account deleted on blip.tv.
I am also working on my  Cunt Flower series that I started in 1998. Do flowers look like vaginas? Well, I have snapped close-ups of over 70 to date and put them in grids alternating with close-ups of flowers. Latterly I been colorising them and making them into Op Art. At a distance they look like geometric patterns and up close you can see the split beavers and flowers. They would make great wallpaper.

Sean Keenan used to write. Now he edits, and gets very annoyed about the word 'ethereal'. Likely to bite anyone using the form 'I'm loving….'. Don't start him on the misuse of three-dot ellipses.
Divides his time between mid-Spain and South-West France, like one of those bucktoothed, fur-clad minor-aristocracy ogresses you see in Hello magazine, only without the naff chandeliers.
Twitter: @seaninspain