[dropcap style="font-size:100px; color:#992211;"]T[/dropcap]he release next Monday of Universal Music's 6 CD Collection, Marc Bolan at the BBC has prompted us to briefly forage into the mystical misty woods of Bolan.
In doing so we have unearthed a little gem from the late Nikki Sudden.
Before his untimely death in 2006, Trebuchet had the pleasure of sitting down for an intimate chat and a cold one with Nikki, quite fittingly at Camden's Underworld.
As many of you are no doubt fully aware, Nikki Sudden was an English singer-songwriter and guitarist who co-founded the post-punk band Swell Maps with his brother.
The band broke up in 1980 and Nikki started a solo career as well as releasing records with Dave Kusworth as The Jacobites. Dave Kusworth had been a member of the Dogs D'Amour and led his own band, The Bounty Hunters.
As well as The Rolling Stones and Johnny Thunders, Sudden's influences included T-Rex and his love of Marc Bolan has been well documented.
Among others he also collaborated with Mike Scott and Anthony Thistlethwaite of The Waterboys, Jeff Tweedy of Wilco, members of Sonic Youth, Mick Taylor of The Rolling Stones, Rowland S. Howard, Ian McLagan of Small Faces and The Faces, members of R.E.M. and Al DeLoner of Midnight Choir. The Lemonheads covered The Jacobites' tune 'Pin Your Heart' on their 1997 single 'The Outdoor Type'.
Sudden also wrote for a number of music magazines, such as Mojo and Bucketful of Brains. At the time of his unexpected death, he was writing a history of the Wick (an estate in Richmond once owned by Ronnie Wood, currently owned by Pete Townshend). Sudden was also working on his autobiography and was due to perform in London on the 29th of March.
Nikki Sudden reportedly died of a heart attack / drugs overdose after a concert in New York City on 26th March 2006.
A chat about his beloved Marc and the early days of stalking his hero was a sure fire way to get Nikki animated and this is what he had to say.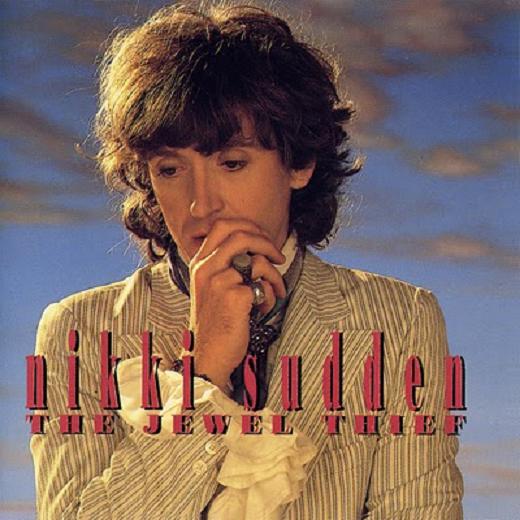 "I used to watch T-Rex on Top Of The Pops and began to buy all their records. The first single I bought was 'Telegram Sam' and the first album was Electric Warrior. I wanted to see T-Rex on their 1972 tour at the Birmingham Odeon, which was close to where I was living, but I couldn't get a ticket.
The first time I got to see them was on the 1974, Zinc Alloy tour.
I started to notice an address that was printed on the sheet music, it was the address of the T-Rex offices and in 1974 I went down to London to try and find it.
When I got there the builders were in. The T-Rex offices had moved to Bond Street. The builders let us take what we wanted so I took some notepaper and publicity photos. I went round to the new offices in Bond Street and talked to the girls who worked there and then to Essex Music. They gave me some stuff as well.
I moved to London in 1975 and I just used to hang around the T-Rex offices everyday, there was a whole gang of us that used to hang around outside.
One day when I was outside, Marc Bolan walked out the door. I was surprised and just said 'Marc, Marc'. He said hello and got into a car and was driven off.
[quote]As for the fan
club, they are
odious.  They have
no respect for
Marc or his music[/quote]
I kept meeting Marc and eventually got talking. He got to know my name. It got to the stage that if there were a group of us he would come over and talk to me. He was always very friendly, very friendly.
On the 1977 tour I went to every show. I knew The Damned so I was backstage. I bumped into Gloria Jones in the corridor and she said "Come in the dressing room and see Marc". Marc said hello and told me to help myself to some drinks. He then invited me backstage every night and we just used to chat. I knew other people in the band but they weren't really interesting.
My band was going in the studio to make a single. I told Marc about it and he said he would love to hear it and would do what he could to help. We went into the studio on the 14th September 1977 to record it and Marc died a day and a half later.
A friend rang me at about six thirty on the morning of the sixteenth and said he had heard about Marc's death on the news.
We were going to have a big T-Rex party on the thirtieth (Marc's birthday) and Marc said he would come along and play. The party went ahead anyway. Marc was one of the nicest guys I've ever met.
As for the fan club, they are odious.  They have no respect for Marc or his music. They know nothing about him and as far as I'm concerned they haven't got a clue. I hate all those people dressed up in velvet jackets and covered in badges.
I don't have a lot of memorabilia now; I've sold most of it. I don't believe in fans hoarding things. I think if people have things they should share them around.
My favourite album is The Slider, the sound on that is so pure and my favourite track of all time would be Telegram Sam. I also loved the stuff he did with John's Children; I thought that was fantastic.
I think the worse thing he's ever done was Celebrate Summer. It's quite worrying to think what he might have done if he hadn't died. Up until a year before I don't believe he did anything bad.
The Marc shows seemed great at the time but looking back they were awful.
If he'd lived I believe he would still be having the occasional hit. He would never have become a pantomime dame like Gary Glitter. I would hope he would have re-found his direction that he lost in the last few months of his life and he wouldn't be surrounded by so many yes men".
On that note Nikki was summoned to sound check for his evening show. Thanks were exchanged and with a beaming smile and a flounce he was gone.

Photographer, published poet, former party animal, body builder, grave robber
to the stars and renowned chainsaw juggler, Carl can often be spotted on his
Harley Davidson pretending to be in Terminator 2. He is also frequently seen in
the press pits of old London town, camera in hand, avoiding being hit by bottles
of wee and crippling his opposition with secret Kung Fu moves.