[dropcap style="font-size:100px; color:#992211;"]A[/dropcap]n exquisite pop-soul singer, Nicole Atkins opens an important chapter with her album, Slow Phaser.
The story so far sees  her move from mid-chart contender  to a role as one of the most unique and developed voices in non-conformist contemporary pop.
Fans will recognise her rich timbre,breathy depth and soul stirring peaks; here more than on previous records we're given a deeper musical experience. Stronger material meets an aggressive confidence in the creation of a classic summer album that's hard to fault and easy to love.
"In the gutter you discover all the things you miss"
Slow Phaser rises with 'Who Killed the Moonlight?', a sensual song that propels itself forward with aspects of Sophie Ellis Bextor's vocal delivery, until it kicks into overdrive with a funky workout of tight trap syncopation and infectious basslines. Of particular note is the outro, where Atkins uses her impressive voice to soar to even greater heights where A-grade songwriting separates the great from the adequate.
[quote]an album of vignettes that,
while emotional, exhibits a diversity
beyond the singer's own and thereby
transcends the pitfalls of
contemporary pop[/quote]
Without resorting to formula, 'Who Killed the Moonlight?' is a good  introduction to how many of the songs operate, exhibiting Atkins's talent for unexpected harmony, contrast (she builds her voice through the song, only letting loose the full force later in the finale), swing, measure and depth of writing. However on 'It's Only Chemistry', with its Kurt Vile choruses and folksy banjo melodies, we get a sense of how accomplished Atkins has become since her Columbia Records days.
Rebellious lyrics, wry humour, rousing choruses – we've always been drawn into her world, but this time it's more about art and narrative than easy catharsis.
Slow Phaser marks her first collaboration with veteran drummer/producer Jim Sclavunos (Nick Cave & The Bad Seeds, The Cramps, Teenage Jesus & The Jerks), who co-wrote three of the songs,  and a continued relationship with producer Tore Johansson (Franz Ferdinand, The Cardigans) who jointly helmed her 2007 debut, Neptune City. The album was recorded at Johansson's  Malmö studio with his able assistance, and utilising the residential studio to create a purer sonic approach to push the song before the production feels fresh.
"Beg for forgiveness, cry for reprieve, because the ties that bind don't come undone as fast as you'd believe. "
– 'Red Ropes'
Over the course of the album Atkins and Johansson worked carefully to defy specific genre assignations, but areas of Dance-soul abound on tracks like 'What do you know', and 'Gasoline Bride' which, inflected with country and psychedelic touches,  exhibit a spacey vibe while never losing touch with their acoustic roots.
Never is this better shown than on 'The Worst Hangover', where a standard drum set up is worked into an interstellar barn frenzy. Over repeated listens it becomes an unlikely favourite, conjuring the story-led telephone blues of 'Operator' by the Grateful Dead (see also Death Letter Blues, The Letter and a host of communication-themed blues-country), the White funk of Moloko and the post-trip, smoked out guitar of the Steve Miller Band. Irrepressibly catchy. As the hair-of-the-dog syncopated drum beat lifts, you're hopping along into the heart of the beat, before the eerie creep of the dying coda leaves you surprised and suspended.
Whatever happens after the closing bar, it's not clear whether you want to be there.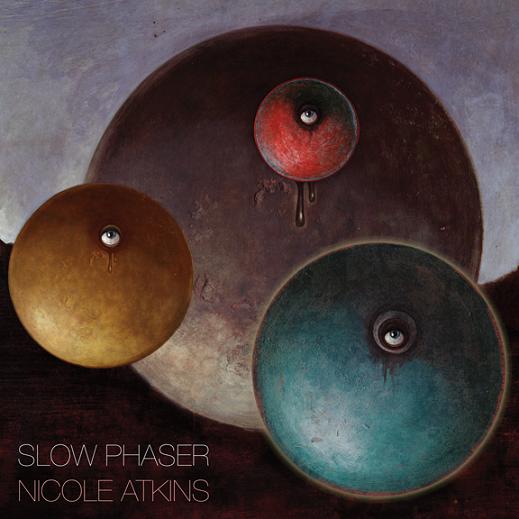 Fans of 'Maybe Tonight'-era Nicole Atkins will find a lot to like in Slow Phaser. It still contains the poppy elements of 60s girl groups, but here we're seeing Atkins eclipsing her influences, and to some extent her biography, by constructing an album of vignettes that, while emotional, exhibits a diversity beyond the singer's own and thereby transcends the pitfalls of contemporary pop. The album stands on it's own feet regardless of Nicole Atkins the performer, and in an era of interchangeable music led by celebrity, is a  thing to cherish.
Criticism of previous albums noted that Atkins was slightly lost within a myriad of orchestral hits and  swells, overproduction and embellished bombast. Slow Phaser by contrast is a perfectly balanced sword of forward-reaching pop that revels in the songs' structure rather than hiding them. Careful listeners can find an exploration of the sweet melancholy themes from Neptune City over much of Slow Phaser, which while never becoming bitter, certainly reflects some of the sadder stories of Atkins' beloved but flooded New Jersey.
Atkins champions a long form of song writing where the art form contains a journey within the structure. Unlike her previous efforts, the arrangements neither go too far (Neptune City) or are too difficult (Mondo Amore), but find an organic balance by limiting the number of  instruments heard at any given time to what a 5-piece band might achieve onstage. This lends the album a natural ease by letting the audience into the music, rather than just selling a face, a dance or a lifestyle.
Many of the songs give the listener the feeling of running alongside her, until the decisive lap when she streaks ahead for a champion finish. On Slow Phaser we're shown Atkins' talent for narratives that put the audience right in the middle of the song. We're drawn in with intimate observations delivered in a catchy singalong fashion, before she shows us how good she is and blows the roof off the songs.
Simply put, this an album full of great songs that captures instantly, begging repeated plays and loves with every new listen.