[dropcap style="font-size:100px; color:#992211;"]B[/dropcap]loodstock 2014 is, to be blunt, looking bloody good.
Chasing last year's meritorious festivities (led by headliners Slayer, Lamb of God and King Diamond) bears a weighty responsibility for the B.O.A folks, given the Catton Park faithful's high expectations. However, the early recruitment of Thrash titans Megadeth, joined by Down and Emperor, has ripped open Lucifer's closet to another mead-sodden offering.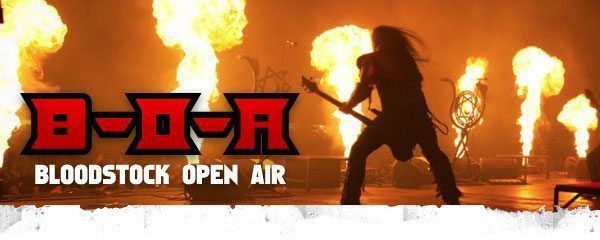 As always with a Bloodstock lineup, there's a hugely eclectic mix of Metal sounds and subgenres taking to the stage; more still, with the impending addition of 'Metal to the Masses' battle of the bands victors to the 'New Blood' stage. It's a wonderful thing, given the divisive nature of subgenre heads, that for one sunny (…please?) weekend everyone manages to shelve the clique squabbling in favour of a spot of late-night bin jousting.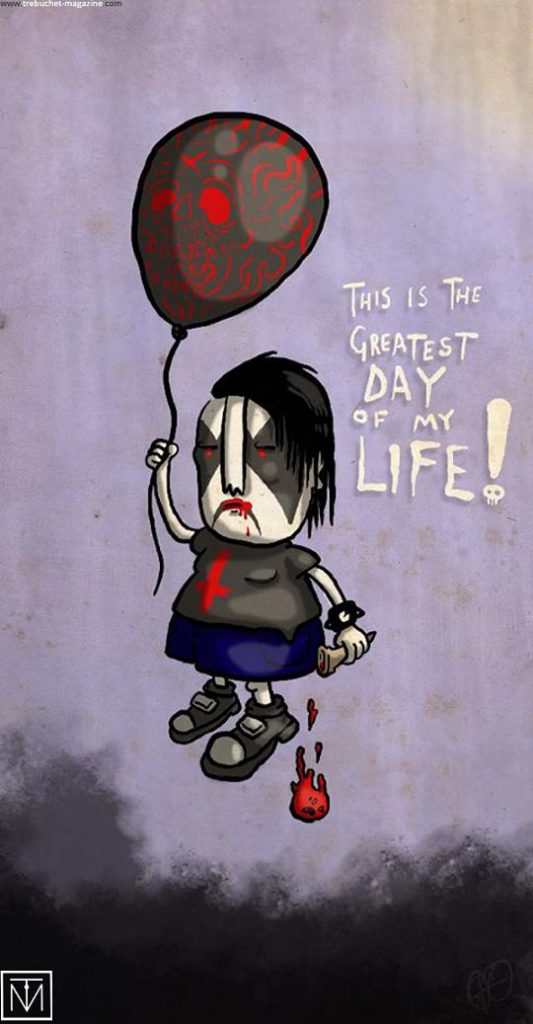 Besides the obvious attractions, there are some absolute gems stashed just below them on this dark and evil bill – most notably for returning heads, Evil Scarecrow's bludgeoning performance last year has earned them a cracking Saturday main stage slot. Personally, I absolutely cannot wait to watch a full strength Bloodstock mob 'Crabulon'-ing and 'Robototron'-ing 'til someone starts leaking ale and has to find a change of clothes. Make of that what you will.
Looking to the Jagermeister stage, you'll spot a decent mix including Carnforth Hard Rockers (and all-round nice dudes) Massive Wagons. Wagons play some properly head-thumping Classic Metal jams that are guaranteed to hit the spot, with their outstanding consistency of performance leading them to Les-Fest, Hard Rock hell and now to Britain's biggest independent Metal festival. I'm sure they won't mind having a chat after they play either, once vocalist Baz has sellotaped his mic stand back together. He does like to swing the poor dear about.
Over on the Sophie Lancaster stage you'll find some ridiculous variety. I can't help but be intrigued by Krokodil, featuring members of Sikth, Hexes, Canaya and Cry For Silence, with Radio 1's Daniel P. Carter opposite Gallows' Laurence Barnard on guitar. We're promised beards and riffs, and while I can't absolutely guarantee that Krokodil won't make your skin fall off, it seems like something you should lend an ear to. After all, even if the fleshy bit falls off, the ear-hole's still there, so the riffs should make it in with better sound quality than if you'd slapped on a set of Beats at home.
Sophie is also home to the dirty aggression of HELLYEAH, supporting upcoming album Blood for Blood, which is bloody fitting really. Like Krokodil, HELLYEAH are a supergroup of sorts, with Mudvayne vocalist Chad Gray alongside Nothingface's Tom Maxwell and Pantera/Damageplan's Vinnie Paul. Their sound is as uncompromising as you'd expect from a Metal band with a penchant for ALL-CAPS. (Disregard that last if you follow Disturbed's David Draiman on Twitter – you're probably desensitised to capitals by now.)
If you're a fan of Black Metal, you'll more likely than not be looking into Friday's Sophie Lancaster headliners Rotting Christ, who bring a welcome sonic variety to their work with the incorporation of bagpipes, horns and piano working in tandem with mythical lyrics and more rugged beardedness. An atmospheric performance is assured from the Greeks, as their reputation precedes them. Additionally, who can forget Heavy Metal institutions such as Satan and Phil Campbell's All Starr Band (headlining Thursday and Sunday respectively), delivering intoxicating and finely-matured material to firmly backhand the young 'uns back into place. It's alright, we're all friends here.
Main stage, then… First up on my 'must see' list for Friday are Flotsam and Jetsam. Sticking the Phoenix Thrashers on the Friday lineup is in some ways a bit of genius – sure, Flotsam then Megadeth would be an excellent billing on the face of it, but the resulting headbang-related injuries would mean leaving Catton Park with a neck wibblier than any of Dave Mustaine's shredding.
Actually, I take that back. Is that even possible?
Either way, Friday evening brings the raw hardcore-influenced hostility of Hatebreed, the return of Swedish Black Metallers Dimmu Borgir and, most notably, the sludgy might of headliners Down. Saturday's picks include the aforementioned Evil Scarecrow… Crabulon, crabulon, crabulon….
Death Metal fans will have noted Decapitated's billing with some satisfaction, before Crowbar bring their filthy sludge/hardcore battery back to the main stage (following a top-notch workout back in 2012) with a scowl. Following in this contrasting vein are Lacuna Coil, bringing a Gothic flair and male/female harmonies poised atop a melodic bed of riffs. Finland's Children of Bodom are always good for a shot of the brutal stuff, and their placement before British legends Carcass and, of course, cult Black Metal headliner Emperor makes for another belting evening on the main stage.
Sunday is similarly strong, boasting New Wave of British Heavy metal stalwarts Saxon, drawing from twenty studio albums (and considerable chart success), before an absolute battering from Amon Amarth. Following this, there's just a small matter of, you know, Megadeth.
\m/
Illustration by Adam D Grant
[button link="http://bloodstock.seetickets.com/event//bloodstock/catton-park/727717″ newwindow="yes"] Tickets[/button]

Jed the Music Ed. is a Music Promoter/Booking Agent and general fixer with Rawkus Events. Jed's interests include a constant and reckless over-caffeination, irrationally spontaneous travel plans and maintaining an over-expensive (borderline hoarder) PC/retro gaming habit.